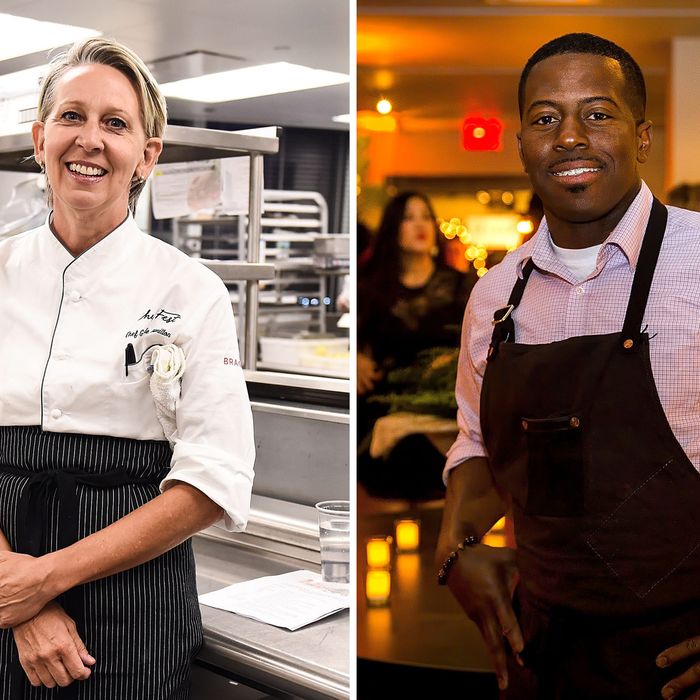 Chefs Gabrielle Hamilton and Edouardo Jordan were among the night's top honorees.
Photo: Daniel Zuchnik/Getty Images; Suzi Pratt/Getty Images
This year's James Beard Awards featured several momentous firsts last night. Gabrielle Hamilton won for Outstanding Chef at Prune, a restaurant she started two decades ago. Highlands Bar & Grill — an Outstanding Restaurant finalist for nine years straight — finally took home that top prize, and Dolester Miles, its pastry chef since 1982, was given her craft's top award. But the surprise that probably registers most, given a current restaurant-industry climate where women and minorities are often overlooked and subject to abuse, is the commendably diverse mix of 2018's recipients.
In all, 15 chefs got recognized by the Beard Foundation for their individual skills. Of these, more than two-thirds — 11 — were female or minority. Or both, in the case of Miles and Compère Lapin's Nina Compton, this year's Best South Chef. That marks a considerable pivot from past years, in which the awards went mostly to white men. (At 2017's awards, for example, only three culinary categories didn't honor a man.)
Hamilton, Miles, and Compton got their nods, plus the foundation awarded Outstanding Baker to Belinda Leong (of San Francisco's B. Patisserie) and Outstanding Rising Chef to Camille Cogswell (Philadelphia's Zahav). Also, Best West Chef went to Dominique Crenn, Best New York City Chef to Missy Robbins (Lilia), Best Northeast Chef to Karen Akunowicz (Boston's Myers + Chang), Best Southeast Chef to Rodney Scott (Charleston's Rodney Scott's BBQ), and Best Northwest Chef to Edouardo Jordan (Seattle's Salare). Another spot of his, JuneBaby, also won the Best New Restaurant category — the first time a black chef has received that distinction. Meanwhile, Scott is the first black chef to win the Southeast region, and only the second pitmaster to get a Beard.
It's also worth noting that, last week, the top book award went to Michael Twitty, for The Cooking Gene:
And of course, José Andrés was also named the Beard's 2018 Humanitarian of the Year, for his incredible hunger-relief work in Puerto Rico. This isn't his first win, but as he said during his acceptance speech, it is the Spaniard's first as an official U.S. citizen: