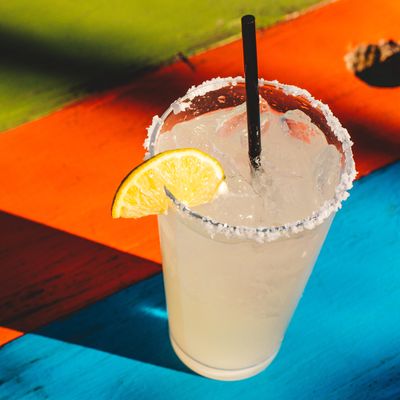 Photo: Jena Ardell/Getty Images
Cinco de Mayo falls on a Saturday this year, a boon for Mexican restaurants and tequila companies alike. (It also happens to be Derby Day.) But the holiday is more than just an excuse to booze: It commemorates the Mexican Army's unlikely victory over Napoleon III's French forces at the Battle of Puebla, a victory for underdogs and the preservation of culture, however short-lived. So this Saturday, celebrate heritage, be it Mexico's, or your own (just be mindful of appropriation). If you sip with discretion, check out our list of the Absolute Best Margaritas. And for those with more voracious appetites, here are 14 Cinco de Mayo specials you'll definitely want to check out.
Empellón Midtown
If you're serious about your Cinco, from 8 p.m. to midnight at Empellón Midtown, $95 gets you a premium open bar with Patron margaritas and Sombra Mezcal palomas, a raw bar, passed bites like shrimp ceviche and chicken meatballs, and of course, tacos. Then you'll be able to dance it off with a DJ and live entertainment. Tickets are available on Tock.
Seamore's
This week, Seamore's opened the fast-casual Seamore's on Ice in the Gotham West Market. To celebrate, combined with Cinco de Mayo, the market will be home to a fiesta on Friday (11:30 a.m. to 6:30 p.m.) and Saturday, of course (11:30 a.m. to 4 p.m., this time with a mariachi band), where vendors like Ivan Ramen Slurp Shop, El Colmado, and Ample Hills will be offering $5 holiday-themed specials. Seamore's contribution will be ceviche tostadas and $2 Tecate beers. Plus, free churros!
Threes Brewing
Cinco de Mayo meets the Kentucky Derby in this Cinco de Derby shindig, where you're invited to wear your best derby chapeau to pair with mariachi music and Mezcal Mint Juleps. Cemita and taco specials come courtesy of the Meat Hook and Latin vinyl beats are care of Names You Can Trust. It runs from noon to 10 p.m., but show up before 6 if you want to actually see the horse race.
Library of Distilled Spirits
In alternative naming, this Union Square–area craft-cocktail bar went with Derby de Mayo, and from 2 p.m. to closing, you'll get cocktail deals, specialty margaritas, and a screening of the race, all while being surrounded by a literal library of booze.
Dos Caminos
From Friday through Sunday, all five Dos Caminos locations will feature live entertainment, giveaways, and food and drink specials like Corona buckets, a special elderflower margarita, and a fiesta platter to stuff your face with jalapeño poppers, taquitos, chipotle BBQ wings, quesadilla potosinas, empanadas, and Mexican sliders.
Blue Ribbon Fried Chicken
We all have our ways of celebrating. Perhaps you will appreciate Blue Ribbon's limited-time Chicken de Mayo sandwich, available through the month for $8.95 at both the East Village and Hell's Kitchen locations. It's fried chicken with guacamole-mayo and salsa, crunchy chicken nachos, pickled peppers, fresh cilantro, lettuce, and for the final touch, a smoky and tangy chipotle-lime sour cream.
Rock & Reilly's
The massive Rock & Reilly's in the Renaissance Midtown hotel takes advantage of their space with a dual day party. On the outdoor patio, make your own Casamigos margarita, have a taco, and listen to mariachi. Wander over to the canopied area for the derby, with 16 TVs to catch the action, live bluegrass, VR horse racing, Bulleit bourbon juleps and live entertainment. It goes from noon to 9 p.m., for $65.
Jose Cuervo Presents: Cinco Saturday
Be rewarded as a Cuervo loyalist at this free party with food, drinks, make-your-own margarita machines, and DJ performances by Andy Pry & LLoydski of Tiki Disco. It goes down at Sound River Studios in Long Island City. Just make sure to RSVP here.
Añejo
The celebration starts early at both the Hell's Kitchen and Tribeca location of Añejo, where from 11:30 a.m. they'll have margaritas, cocktails, and Mexican distillations on hand. Later in the day, resident tequila sommelier Amanda Swanson swings through to shake up some signature margaritas.
Arlo Roof Top (A.R.T.)
For a side of Hudson views, head to the newly revamped Arlo Roof Top in Soho, where from noon to 5 p.m. Casamigos takes over for the launch of its new mezcal. From 6 p.m. on, it's a Don Julio party, with a build-your-own margarita bar and specials on tacos, chips and salsa, Mexican corn, and more.
Murray's Cheese
Turn Cinco de Mayo into a learning opportunity with this cheese and agave spirits pairing at Murray's. From 4:30 to 6 p.m., six premium spirits will be matched, with chips and salsa to top it off. Take your taste buds on a trip for $95.
House of Yes
Too often, Cinco de Mayo veers into cultural-appropriation territory, so the House of Yes remedies this with their cross-cultural International Fiasco party. A worldly roster of DJs is the background for you to rep your (and only yours) homeland and heritage any way you want. This being the House of Yes, entertainment options will run from circus superstars to German milkmaids, Thai massage, and Turkish wrestling. The only tickets left are to enter after 1:30, but hey, that's when things will be getting started.
Hester Street Fair
Mexican culture will be at the forefront of this Saturday's Hester Street Fair, where, along with piñatas and Bocanegra beer, Tamale Factory will be on hand and Alejandro Alcocer of L'estudio will offer a Cinco de Mayo mix-and-match plate with options, including grilled veggies, pork shoulder al pastor, homemade lamb chorizo, and more. On the vendor side, stop by Xaman Vintage, with objects and fabrics from Ginger Dominguez's time in Oaxaca and Arizona.
North River Lobster Co.
Take to the seas (or the Hudson) with a breezy North River Lobster cruise. Pair your lobster taco with $5 house margaritas and beer, or $25 margarita pitchers and beer buckets. On land, their Pier Bar will have $1 tequila shots all day.
Refinery Hotel
Refinery's party is mainly a derby affair where $125 gets you access to a G.H. Mumm Champagne Lounge in Winnie's Jazz Bar; a four-hour open bar featuring specialty cocktails; raw bar; passed hors d'oeuvres, including shrimp toasts; and mini-fried-chicken-sandwiches with bourbon BBQ, and a hat-decorating station. Apparently, somewhere in the space is a "Margarita Speakeasy" sponsored by Patron. Whether you find it depends on just how badly you want it, it seems.