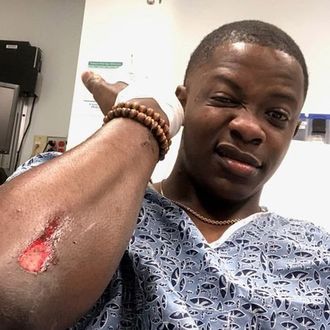 Shaw's injuries include a gunshot graze.
Photo: James Shaw Jr.
James Shaw Jr. is the person responsible for disarming the Waffle House shooter early Sunday morning — bravery that's earned him the nickname "Waffle House Hero," and Nashville police say he "no doubt" saved many lives. Since his own hospital release, Shaw has insisted that he was simply ensuring his own survival. Nevertheless, many people have asked, How can Shaw be rewarded for his heroic act?
Political reporter Yashar Ali decided last night that some money would be a good start.
Ali, who is a New York contributor, explains that Shaw has a 4-year-old daughter, and thinks "her college should be paid for." On the GoFundMe page, Ali writes that Shaw "put his life on the line" at Waffle House, and has shown "a level of humility that has inspired many of us" since then.
I normally don't get involved directly in these matters, but James' grace has inspired me to start this page to give him the support I feel he deserves.

According to news reports, James has a four-year-old daughter. Perhaps this money can be used for her college fund or some other education related expense. But I'd be just as happy if James used some of this money to take his family on a nice vacation.
Ali's tweet linking to the GoFundMe has been liked more than 10,000 times, and retweeted by public figures like Hillary Clinton. Not surprisingly, the page hit its $50,000 goal this morning.
Waffle House, meanwhile, has also been inspired to get into the spirit. The chain says it's got its own thank-you up its sleeves:
Ali's GoFundMe for Shaw has now cruised comfortably past its goal, and the GoFundMe Shaw set up yesterday to support victims' families only needs a couple thousand more dollars to hit $100,000.