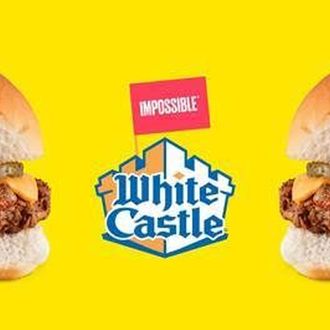 White Castle says its sliders put the chain on the "bleeding edge."
Photo: White Castle
Last week, Impossible Foods cryptically teased that its unstoppable Impossible Burger was almost ready to veganify the menu at a new "mainstream American" chain restaurant. Turns out, "burger" was a slight misnomer — starting tomorrow, America now has Impossible Sliders at a handful of White Castles. The chain says that this cute little plant burger is available all day long at 140 locations scattered across New York and New Jersey, and in the Chicago area. It will set you back $1.99, comes on the signature White Castle square bun, and is topped with pickles, onions, and smoked cheddar.
Impossible Foods' CEO Pat Brown says that making the high-tech veggie patties available at White Castle should yield insight into how to "popularize plant-based meat with mainstream burger lovers," which is clearly the company's top priority. It also means that they need to ramp up production, yet again. Last fall, the start-up's first high-volume plant opened in Oakland, occupying a full city block. However, demand is reportedly so great that Impossible Foods now says it's doubling the plant's production in the coming months.
In total, you can now order the Impossible Burger at 1,300 U.S. restaurants, among them Bareburger, Umami Burger, Fatburger, and even some upscale spots like Momofuku Nishi. White Castle brags, though, that it's the first fast-food chain, and also "by far" the largest restaurant company, to serve it. This week's rollout also allows Impossible to further test the waters: Will customers at America's oldest, simplest burger chain eat a newfangled "bleeding" vegan slider? If the smaller-scale answer is yes, expect the Impossible Slider to expand nationwide.
This post has been updated. A press release stated that the burgers would originally be released today, April 11, but they will instead debut tomorrow, April 12.