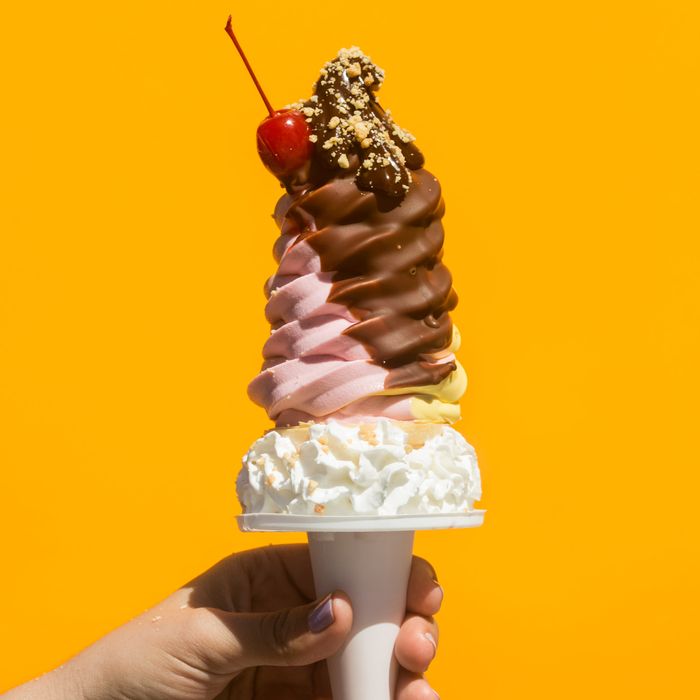 Mister Dips will unveil its new soft-serve flavors this Saturday.
Photo: Melissa Hom
We are hurtling toward summer and gloriously hot, humid days that more or less demand ice cream. New York's finest purveyors of frozen sweets have got the city covered this year, with new flavors, techniques, and entire shops that should get everyone extra excited for the season to come. (Not to mention some books and shows you'll want to check out, too.) Here is Grub Street's 2018 Ice Cream Agenda, a guide to the 18 ice-cream world developments that you need to know about. Start making your plans now.
Order all the new flavors at Mister Dips.
Beginning this Saturday, April 28, Andrew Carmellini's Mister Dips will once again post up in the park just outside Williamsburg's William Vale Hotel. And that means soft serve, ice cream, and soda floats galore. This summer, the Airstream trailer stand will debut two new dip flavors: chocolate-peanut-butter deluxe and banana-split dip with banana chips and whipped cream.
Go wild with the toppings at Mah-Ze-Dahr.
This West Village bakery, which started out as an online shop run by baker Umber Ahmad and chef Shelly Acuña Barbera, recently revamped its soft-serve menu (and its fantastic homemade waffle cones). Current executive pastry chef Erin Kanagy-Loux and Ahmad will roll out flavors throughout the summer, but they'll keep things classic to start: vanilla and chocolate, with toppings like brownie bites, meringues, and candied hazelnuts.
Try Empellón's new tequila-barrel ice cream.
You can always depend on Alex Stupak and the team at Empellón to roll out some seriously conceptual new desserts. The latest addition to the menu at his midtown restaurant takes its cue from the restaurant's extensive tequila selection: Ice cream is flavored with wood from tequila barrels, then encased in crisp meringue that — of course — looks like a block of wood, served with caramel sauce that's spiked with aged tequila.
Sample some mochi at Maison de Makoto …
This bakery and bar in the West Village pays homage to the ongoing love affair between French and Japanese cultures and during the day serves eight different flavors of mochi, the Japanese-American dessert that combines sticky mochi rice with ice cream. Flavors include matcha, vanilla charcoal, yuzu basil, or crème brûlée. At $5 for three mochi balls (or $14 for eight), this is a pretty affordable way to treat yourself.
… Then try Japanese-influenced cold treats at the Little One.
Another entrant into the Japanese dessert market is the Little One, a bakery and dessert shop at East Broadway and Essex that Eddie Zheng and Olivia Leung quietly opened in January. The shop specializes in charming (little) ice-cream sandwiches featuring buckwheat with chocolate-fudge ice cream or parsnip ice cream, plus burned honey caramel spread between corn-monaka cookies. There's also matcha and strawberry kakigori. And, the shop just introduced a new cashew-monaka ice-cream sandwich with extra-virgin olive oil and Maldon sea salt that should definitely be on everyone's must-cop list this spring.
Read The Perfect Scoop, Revised and Updated by David Lebovitz.
Eight years ago, pastry chef turned writer David Lebovitz shared The Perfect Scoop, which for many people became the ice cream, sorbet, and sherbet bible they so desperately needed. This spring, Lebovitz released a revised and updated version of the book with all-new photos, some new recipes, and a complete design overhaul. The package may be shiny and new, but the content inside is as classic and accessible as ever.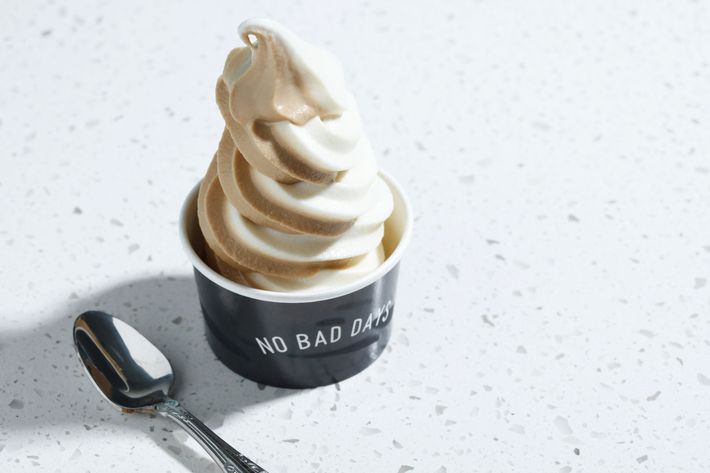 Grab a coffee and sundae at the new OddFellows.
OddFellows just opened a new shop in Nolita that's devoted to coffee and ice cream. This being OddFellows — who has previously offered flavors like "cedar Creamsicle" and "sesame, kumquat, pumpernickel" — there are off course all sorts of original spins on both items, including espresso topped with saffron-cardamom-pistachio whipped cream and a coffee sundae that might become your new warm-weather morning routine.
Start getting psyched for the new Morgenstern's.
Nick Morgenstern can turn even the most eyebrow-raising flavors — cardamom-lemon jam, black coconut ash — into must-try ice creams, and his Lower East Side parlor has a justifiably dedicated following. So it is very good news that he will next open a massive 2,000-square-foot location at the corner of La Guardia Place and Houston. The new parlor will serve even more flavors and could include both dining and liquor. The official opening date is TBD, but the current word is that they're eyeing a June debut.
Grab a cone at all five(!) new Van Leeuwen locations.
In honor of this Brooklyn-born ice-cream chain's tenth anniversary, Van Leeuwen will nearly double its presence in the city this summer, starting with five new shops. (Which brings the total number of locations to 12.) The first new outpost just opened at 45 Spring Street in Nolita, with locations on the Upper West Side (early May), Soho (late May), Upper East Side (June), and Prospect Heights (July) all slated to follow. The ice-cream company will also take a page from Shake Shack's book and introduce a themed treat at each new location. For Nolita's debut, there is a Classic Cannoli flavor made with a mascarpone base, chocolate chips, and cannoli pieces.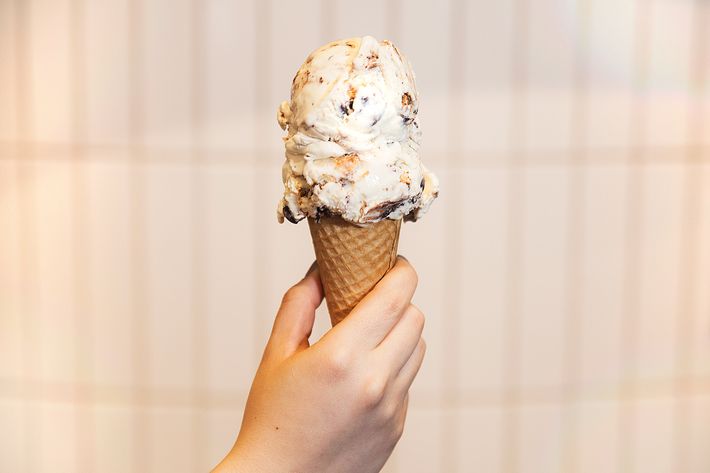 Throw a birthday party at the upcoming Ample Hills in Astoria.
Ample Hills has the distinction of having footprints in Brooklyn, Manhattan, New Jersey, and even Disney World. Next, the ice-cream institution will set up shop in Astoria, Queens. The new location, which will be at 34-02 30th Avenue at the corner of 34th Street, will host birthday parties and sell all of Ample's flavors, as well as a brand-new Astoria-inspired treat.
Watch Viceland's Ice Cream Show.
For those rare times when you aren't eating ice cream, you can also get your ice-cream fix through Viceland's new Ice Cream Show, which will follow Isaac Lappert, the owner of California's Cannabis Creamery, as he explores our obsession with the frozen treat. The show will premiere on Viceland tonight — April 24 — at 10:30 p.m.
Sample all of La Newyorkina's new Mexico-influenced ice-cream flavors.
If you find yourself sweating it out in Washington Square Park this summer, look no further than Fany Gerson's La Newyorkina ice-cream shop. As always, the shop is debuting some exciting new flavors this summer, including corn blueberry, chocolate tres leches, and crema with apricot and guajillo-chile swirl, as well as a new churro sundae and a smoky lime-mezcal chamoyada (shaved ice) with a sal de Gusano salt rim that's vegan-friendly.
Check out the ultimate artisanal Brooklyn team-up ice cream.
The recently unveiled birthday-cake ice-cream cone crafted by Butter & Scotch's Drunk Bakers and Blue Marble Ice Cream is like a fever dream of aspirational Brooklyn eating. It's also so good: The dessert features vanilla ice cream, fluffy yellow cake, rainbow sprinkles, and cream-cheese frosting. Find it at the Blue Marble locations at Underhill Avenue, Industry City, or Smorgasburg.
Eat all the ice-cream sandwiches in a hotel lobby.
If you find yourself on East 31st Street, dip into the Arlo NoMad hotel. Dale Talde is running an ice-cream pop-up in the hotel's entrance that's he's calling Dale's Ice C.R.E.A.M. SHOP. You'll find ice-cream sandwiches (sweet cream ice cream sandwiched between two compost cookies), scoops from OddFellows, and rotating shaved ice in flavors like tiramisu and strawberry. The pop-up is now open to the public.
Learn the best way to infuse some booze into your ice cream.
Next month, Tipsy Scoop is launching Boozy Ice Cream classes. They'll take place at the shop's production facility on Park Avenue, and attendees will learn how to make booze-infused ice cream and sorbet using a commercial-grade batch ice-cream-maker. At the end of the 21-and-over class, students will be sent home with two pints of ice cream and an insulated Tipsy Scoop tote. Tickets start at $79.
Order the new pistachio-and-fig ice-cream sandwich at Momofuku Nishi.
Momofuku Nishi's newer, Italy–meets–East Asia look extends all the way to dessert. This summer, David Chang and chef Joshua Pinsky will unveil a pistachio-gelato-and-figs panino, an ice-cream sandwich featuring pistachio gelato and dried figs cooked in sweet wine that are then enveloped with corn-based monaka shells flown in from Japan. Who says you can't have your cake and eat it, too?
Watch acclaimed chef Jordi Roca on Chef's Table: Pastry.
If you're reading this, then you likely know that ice cream can change lives. Just ask Jordi Roca, one of the stars of the new pastry-focused season of Chef's Table on Netflix, and the pastry chef at the critically acclaimed El Celler de Can Roca in Girona, Spain. The episode explores Roca's transformation from rudderless, inept cook to pastry tour de force, a transformation that was inspired by a particularly informative ice-cream-making class. Come for the mind-blowing, slow-motion shots of Roca's creations and stay for the inspirational, coming-of-age story.
Finally, try a gelato sandwich from Il Laboratorio del Gelato.
Most restaurants and pastry chefs don't have the time to make their own ice cream, so many of them turn to Jon Snyder and the experts at Il Laboratorio del Gelato to make them custom flavors. While that's still a big part of the shop's business, Snyder & Co. are also putting out new menu items for themselves, including their first gelato ice-cream sandwich, which will be available at their newest location on University Place. The sandwich — still a work in progress, and something of a secret — will make its debut in mid-May, according to Snyder.