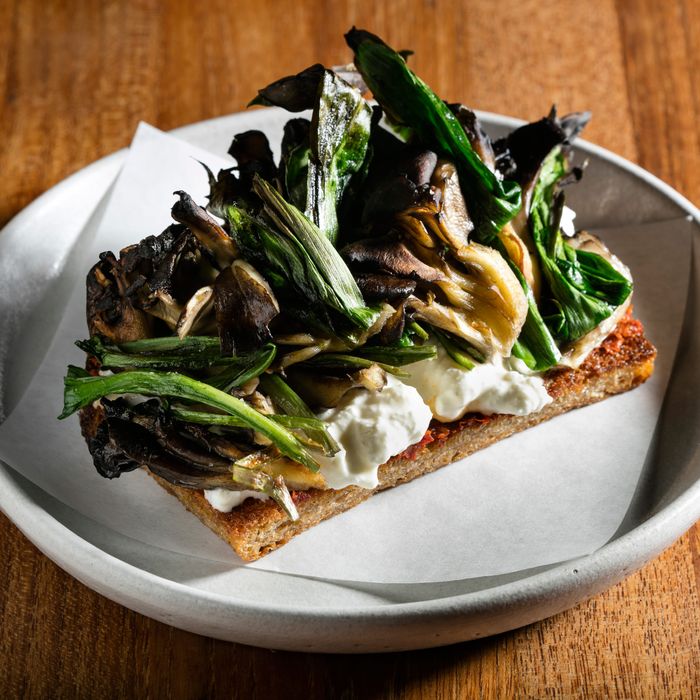 The Four Horsemen's burrata toast with ramps.
Photo: Melissa Hom
It happened, it seems, one night late last week. The ramps: They arrived. Everyone's favorite foraged allium is back on menus around New York, causing its annual fervor among locavore chefs and diners who don't mind some garlic breath. (It's worth noting that ramps are so popular that they've been in danger of over-foraging in recent years, so be smart out there and remember not to eat them all, or there won't be anything left for next spring.) Here, 18 dishes that will give you your ramp fix right now.
Morel Mushroom Wontons
Where: abcV
How Much: $26
Ramps are everywhere at Jean-Georges Vongerichten's restaurants, including, of course, his vegetarian spot abcV, where they're being served with morel-mushroom wontons with Meyer-lemon broth and sautéed fava leaves and spinach. You can catch them, too, at JoJo (roasted duck breast, $32), ABC Kitchen (ramp-and-goat-cheese toast, $15), and elsewhere.
Camarones Con Atole de Maiz (a.k.a. Carolina Shrimp and Grits)
Where: Alta Calidad
How Much: $16
Akhtar Nawab's genre-bending Mexican restaurant serves a southern dish, shrimp and grits, with a Mexican sauce that's made from an American snack (popcorn), and for now, ramps escabeche. He's also serving a Mangalitsa pork skillet ($14) with ramps puréed into the dough for tortillas infladas, which he says they made puffy like Indian poori.
Ramp Cappellacci Brigante
Where: Barano
How Much: $22
Chef Al di Meglio is back to his pasta high jinks, making a dish fit for Gandalf's birthday: the wizard's hat-shaped cappellacci, with Pecorino and a trifecta of ramps. They're in the dough, painting it green; pickled; and sautéed in butter. If you're looking for something lighter, his Williamsburg restaurant also offers a charred fava-bean-and-ramp salad ($16).
Polenta With Charred Ramps & Slow Poached Egg
Where: Bellwether
How Much: $14
The new Long Island City restaurant chars ramps by grilling them whole, then serves them with cheesy polenta and a slowly poached egg.
Ramp and Potato Paratha
Where: Bombay Bread Bar
How Much: $9
Fans of Floyd Cardoz know that the chef has a way with carbs, and his parathas at Bombay Bread Bar are particularly good. Right now, he's turning up the usual potato kind with some ramps.
Spaghetti
Where: Café Altro Paradiso
How Much: $22
The spaghetti here is a more robust whole wheat noodle; it's tossed with a pestolike mix of ramp greens and bulbs, Grana Padano cheese, chili flakes, crushed pine nuts, and olive oil; then finished with bread crumbs and more olive oil.
A La Plancha
Where: Cervo's
How Much: $18
It's a full-on onion fest: The downtown restaurant cooks ramps and spring onions on the flattop, serving it with green garlic sauce and romesco.
Gordita de Cabeza
Where: Claro
How Much: $14
Grilled ramps and ramp salsa verde are paired with pig's head for this gordita; if that's not enough, get another helping with the rabbit barbacoa ($24), with yet more grilled ramps.
Steak Tartare
Where: Clay
How Much: $18
It's twice as nice here, where ramps are pickled for steak tartare with celery root and cured egg yolk, or served with striped bass ($32), herb emulsion, endive, black garlic, brown butter, and cannellini beans.
Bucatini Nero
Where: Fausto
How Much: $22
Chef Erin Shambura takes the surf-and-turf route in this dish of rock shrimp, soppressata, and of course, freshly harvested ramps.
Burrata Toast
Where: The Four Horsemen
How Much: $18
This is like the ultimate toast: A thick slab of fried bread that's quartered and topped with a canopy of maitake mushrooms that are browned but still bouncy. Under is the slice of moist burrata, a slick of 'nduja used like sauce, roasted garlic, and finally the grilled ramps. During the weekend lunch ($28), there's a focaccia with ramps, too.
Cuisses De Grenouilles
Where: Frenchette
How Much: $24
Everyone, it seems, is in love with Lee Hanson and Riad Nasr's Tribeca brasserie, where you can pair your natural wine with a dish of frogs' legs, with the spring trinity of morels, nettles, and ramps.
Crispy Whole Skate Wing
Where: Gloria
How Much: $42
Make the ramps count: A whole skate wing gets seasoned with salt and a rice-flour crust, cooked until crisp, and served with sorrel chimichurri salsa and grilled ramps.
Frittata
Where: Hart's
How Much: $18
It's ramps on ramps on ramps: They're cooking them into a serrano-ham frittata for brunch; serving them with fresh ricotta, saba, and pizza bianca during dinner ($15); and offering them in a special dish next week: shrimp scampi on fried toast, where the shellfish is sautéed with the ramps. Hart's will start serving this dish on Monday, when they host Chicago's Giant for a pop-up of antipasto, and serve it for the remainder of the week.
"Calcots" en Bolsa
Where: La Vara
How Much: $19
The Spanish restaurant nods to the country's famous calcots by steam-roasting ramps in paper bags, and serving them in the bag along with romesco sauce and smoked olive oil.
Polenta
Where: Lilia
How Much: $16
Pair the Williamsburg restaurant's top-notch pasta with a dish of polenta with whipped ricotta, crème fraîche, lemon, and, yes, ramps.
Ramps Pizza
Where: Loring Place
How Much: $18
What's good on pizza? Onions. What's better? Ramps, with mozzarella, pickled cherry peppers, and honey for a touch of sweetness. Dan Kluger loves his seasonal vegetables, and he's also serving the wild onion with baked ricotta and pistachio pesto ($16), and arctic char ($32) with favas, sea beans, sugar snap peas, and ramp leaves and pickled ramps.
Chitarra
Where: Popina
How Much: $19
Pasta and wild onions: They go together like peanut butter and jelly. At the South-meets-the-boot restaurant in Red Hook, they've taken the usual spaghetti with clams, subbed in chitarra (a similar egg pasta), and thrown ramps into the mix. Plus, the arancini ($9) are being made with charred ramps and Cerignola-olive aïoli.