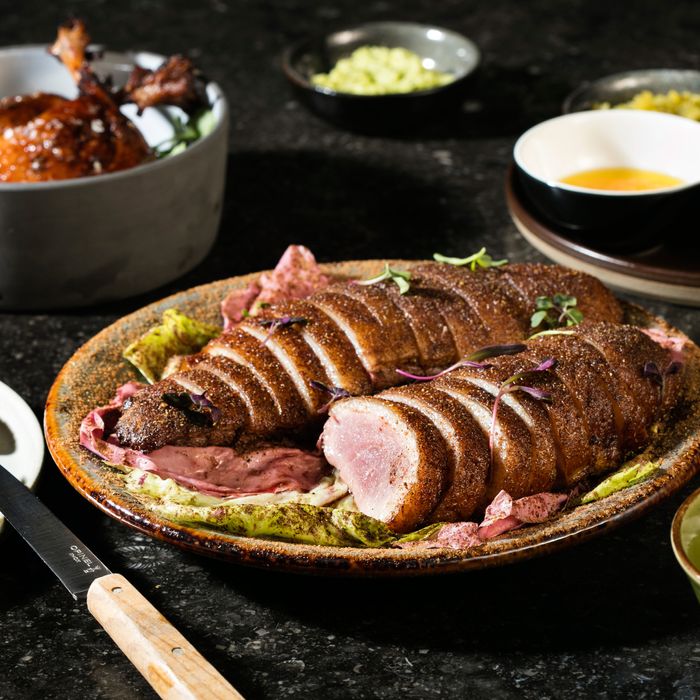 The (very impressive) duck spread at Ferris.
Photo: Melissa Hom
For years, the status protein of choice for the city's meat-loving diners has been steak, giant glistening slabs of rosy beef. Steak will never fall out of favor in this meat-mad city, but a cursory glance around New York's buzziest, busiest dining room reveals that chefs, at least, have focused their attention, energy, and considerable talents on a different type of red meat: duck. "Everything's really, really good in a duck," says Greg Proechel, the chef behind the six-month-old restaurant Ferris.
For Proechel, the arrival of DaDong — a Chinese-born chain known for its Peking duck — was the kick he needed: "I was like, great," he says. "I want to make a duck dish that's better than a place that's known for duck. Chefs are always competing with each other to see what's the most we can get out of an animal."
Proechel isn't alone. Dry-aged, beautifully roasted, rosy duck breasts are menu staples in 2018, and that's just the beginning. "We use every part of a plant; it's the same thing with a duck," Proechel explains. "Ducks are fun. There's a lot you can do with them, their livers, their hearts, everything. I'm excited to keep improving on it."
Here are nearly a dozen duck dishes, both new and notable, that you will want to check out immediately.
Duck on the crown
Where: Ferris
Price: $82 ($94 with optional aged duck legs)
This dish begins with duck from Long Island's Crescent Duck Farm that's aged for 28 days before being covered in honey and homemade five spice. The entire glistening breast is presented on the crown before being carved and served with a series of different banchan, including white kimchee with pear, garlic, onion, and ginger; and chili-marinated honeydew. (For $12, you can add duck legs that are aged for seven days, cured for 24 hours, and braised overnight in an aromatic broth with ginger and lemongrass before being flash-fried, dressed in reduced jus, and served in a ginger-scallion sauce. You'll want to do that.)
Duck-frites
Where: Frenchette
Price: $32
For proof that duck has stepped in to replace menu spots traditionally reserved for steak, look no further than this brand-new, super-popular spot from chefs Lee Hanson and Riad Nasr, where steak-frites gets swapped out for a big pile of fries that accompany thick, rosy slabs of glistening breast. The béarnaise sauce on the side is a nice touch, too.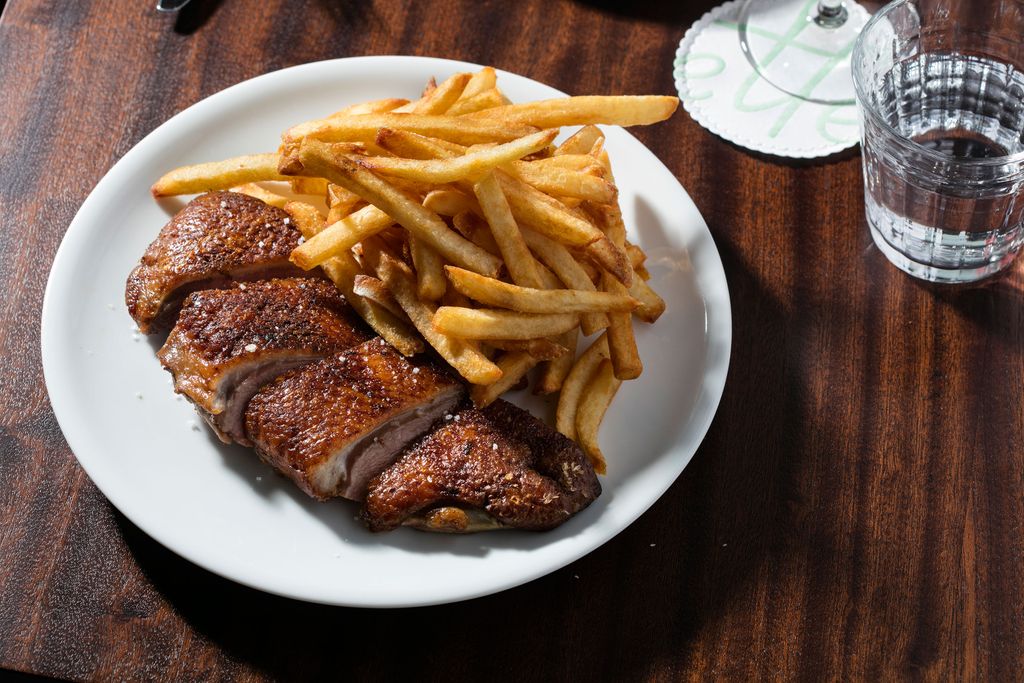 Duck with cabbage slaw
Where: Tetsu
Price: $16
At the ground-level dining room of Masa Takayama's Tribeca robatayaki, you can cop a few simple bites of roasted duck with Napa-cabbage slaw (spiked with orange juice, duck fat, hoisin, and homemade mayo) that's topped with crispy duck skin.
Honey-lacquered duck for two
Where: Legacy Records
Price: $80
Taking a cue from the famed honey-roasted whole duck that Daniel Humm made a centerpiece of the Eleven Madison Park dining room, chef Ryan Hardy's kitchen specializes this deeply caramelized version of the whole bird, rounding it out with rhubarb, fennel, and hazelnuts.
'Choucroute' à la juive for two
Where: Le Coucou
Price: $98
Chef Daniel Rose's riff on Alsatian choucroute garnie — made with daikon radish instead of cabbage — swaps out pork in favor of three types of duck: seared breast, classic leg confit, and gorgeous slabs of foie gras.
Peking duck
Where: Little Park  
Price: $145
Andrew Carmellini's farm-to-table restaurant in the Smyth Hotel in Tribeca just added a massive Peking-duck special on weekends, a giant feast that will feed up to four people. The whole bird — which receives days and days of care before being served — arrives with technicolor vegetable crêpes, lettuce, and homemade samba ideal for wrapping.
Teen ped prik tai dum
Where: Ugly Baby
Price: $14
True duck fanatics can head to this Carroll Gardens Thai spot to find simmered duck feet with black-pepper sauce. These aren't for the faint of heart — duck feet look just like you think they would, and there are more than a few bones to gnaw around — but the glistening, rich sauce is worth the order alone.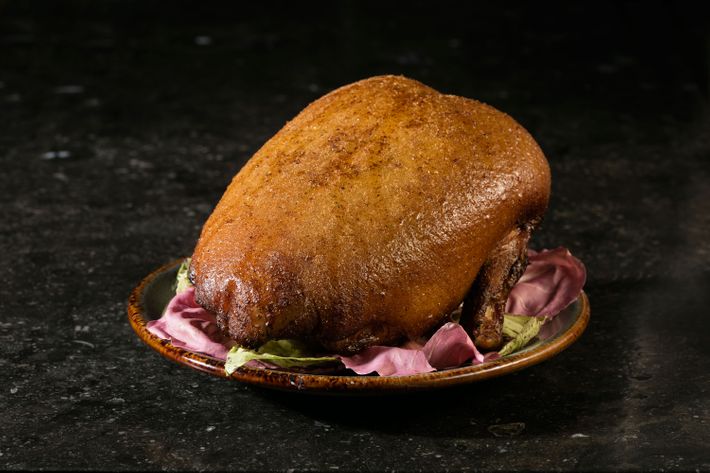 Duck pie
Where: Momofuku Ko
Price: $45
Sidle up to the new bar area at David Chang's most luxurious New York restaurant and you'll find this luxurious new option. Duck legs, foie gras, aged butter, and vin jaune are stuffed inside a golden puff-pastry crust, which is then served on top of a fermented black-bean sauce made with shallots, more vin jaune, and duck stock. Per the restaurant, there is a "ridiculously limited number" of these available each day, so plan accordingly.
Duck duo
Where: Olmsted
Price: $18
If you can manage to grab a table at Olmsted during brunch — Friday mornings are your best bet — then there's a double-duck dish you'll want to try. Think of it like the world's greatest breakfast bowl: Duck sausage and duck egg arrive topped with chilies and herbs, with some bread on the side for necessary sopping.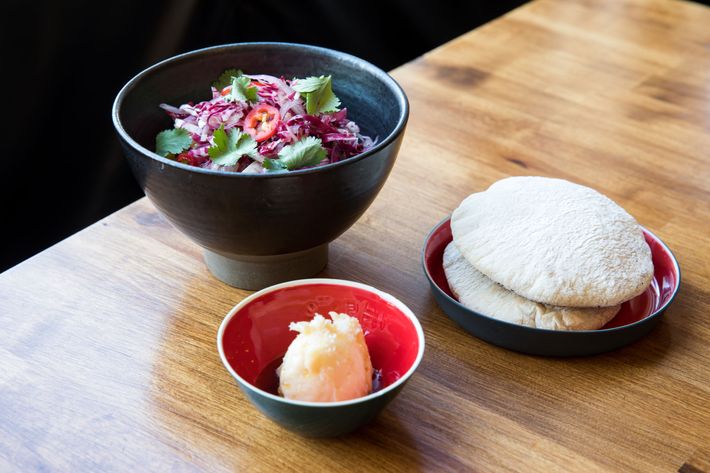 Fazio Farms duck tagliata
Where: Trattoria Italienne
Price: $35
Chef Jared Sippel's revamped Flatiron spot — which began life as Italienne — offers its duck on a bed of farro with rhubarb mostarda, Barolo vinegar, and a healthy dose of black pepper. (Perhaps true to the restaurant's name, the ducks originate in Modena, New York.)
Duck breast
Where: Otway
Price: $29
In keeping with this Clinton Hill restaurant's cozy neighborhood vibe, Hudson Valley duck breast is served with no-nonsense, textbook spring accompaniments of honey-glazed parsnips and some wild rice. Classicists should note that they can also start their meals here with foie gras and a glass of Sauternes — as it should be.