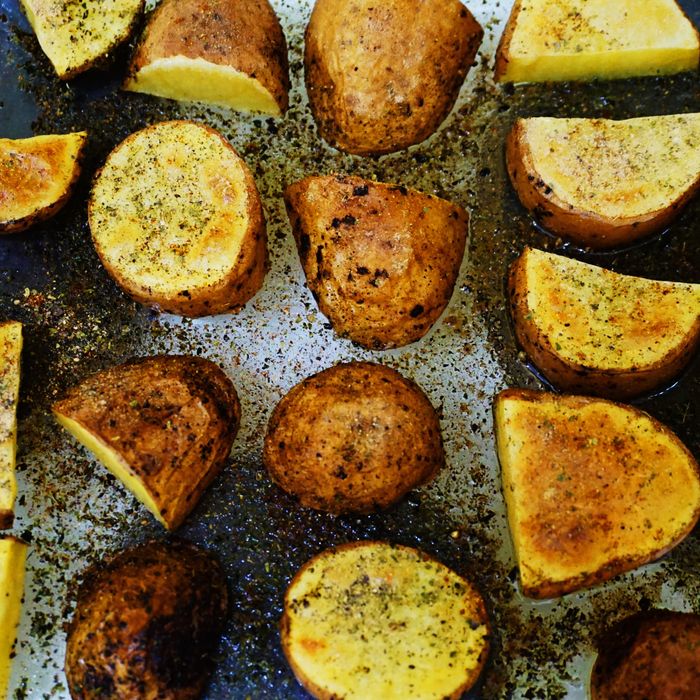 There will be potatoes.
Photo: Daphne S./EyeEm/Getty Images
Thanksgiving is the undisputed king of American food holidays. It is a holiday for everyone to celebrate, and there is only one real mandate: Stuff your face. We are, however, now roughly eight months out from Thanksgiving, and days that embrace — celebrate, even — the sheer joy of voracious eating are few and far between. Luckily, there is another food holiday on the horizon that very well may be just as satisfying as Thanksgiving. That day is Greek Easter, and for the uninitiated, it takes place this coming Sunday.
Greek Easter is, as the name would lead you to believe, Easter for members of the Greek Orthodox Church, which goes by the Julian calendar, not the Gregorian calendar. (Hence it's taking place a week later this year.) It is one of the holiest days in the church, and food, as symbolism for the blood of Christ or the Lamb of God, is a big part of the festivities. (Read all about it here.) But the beauty of it is that the people who observe Greek Easter, especially here in the U.S., don't care whether you're Greek Orthodox. What they do tend to care about is putting together an incredible feast of Greek food that goes way beyond gyros — spit-roasted lamb, whole goat rubbed with lemon and herbs, pastitsio, tzatziki, kourabiedes, spanakopita, dolmades, tsoureki, and moussaka — and giving you all the love and affection you might not have received at your own family's Easter celebration.
Basically, Greek Easter is the Thanksgiving of spring. Not only can you eat to the point of bursting, but there's absolutely no pressure to spend the day with your own family because it's statistically unlikely that your family is Greek Orthodox — less than one percent of American households are. Of course, those low statistics mean it is also unlikely that you've been invited to someone's home this year for Greek Easter. Luckily, many of New York's most enjoyable Greek restaurants will open their doors to anyone who wants to celebrate the holiday. Here's where you can partake in Greek Easter and drink retsina to your heart's content.
Pylos
What to expect: a rustic, low-key meal.
If you want to feel like you've temporarily escaped to the Greek countryside, then this East Village restaurant is your go-to. Below the dozens of clay pots hanging throughout the restaurant, diners are invited to enjoy a traditional Greek Easter midnight meal (egg-lemon soup, tsoureki bread, roasted lamb), priced at a super-affordable $65 per person.
Molyvos
What to expect: Greek Easter for people with money to burn.
Those looking to do it up fancy will want to drop by this midtown-west restaurant starting at 1 p.m. on Sunday. Chef Carlos Carreto is serving a four-course prix fixe dinner featuring everything from grilled lamb chops to organic beet salad with grapefruit and glazed walnuts. The meal is priced at either $75 per person or $120 per person with wine pairings.
Loi Estiatorio
What to expect: the one where you can bring your kids.
Starting at noon on Sunday, this West 58th Street eatery is dishing out a kid-friendly Greek Easter meal with four courses. Options include grilled liver with oregano and olive oil, mixed baby greens with kefalograviera cheese and pomegranate-petimesi dressing, and an anthotyro-honey cheesecake that's not to be missed. Adults are $85, while children under 10 dine for $49.
Periyali
What to expect: a family-style meal with games!
Priced at $75 per person or by the dish, this swanky Flatiron restaurant is serving a prix fixe meal featuring all the usual suspects (Greek Easter soup, roasted lamb, red eggs), as well as a few treats, including koulourakia (sweet Easter biscuits), galaktoboureko (custard-filled phyllo pastry), and a few rounds of tsougrisma, the infamous egg-cracking game known to break apart families. Here's a guide to winning the game if it means that much to you.
Avra Estiatorio
What to expect: Greek tunes and roasted intestines.
For an even more raucous take on the holiday, drop by Avra on 48th Street, where from noon to 5 p.m., the restaurant will host a Greek Easter brunch featuring kokoretsi (roasted lamb intestine) and Greek sweet bread, as well as a live Greek band and DJ for all the dancing you've ever wanted to do during Sunday brunch.
Estiatorio Milos
What to expect: all the lambs.
Over on West 55th Street, Estiatorio Milos is going all-in for Greek Easter and will have a dozen — yes, a dozen! — spit-roasted lambs on the sidewalk outside, which will be paraded through the restaurant's dining room at midnight on Sunday. If that's too late, feel free to roll in at 5 p.m. on Sunday for another feast. Both meals are priced at $115 per person and will feature tsoureki bread and magiritsa soup, as well as those telltale red eggs.