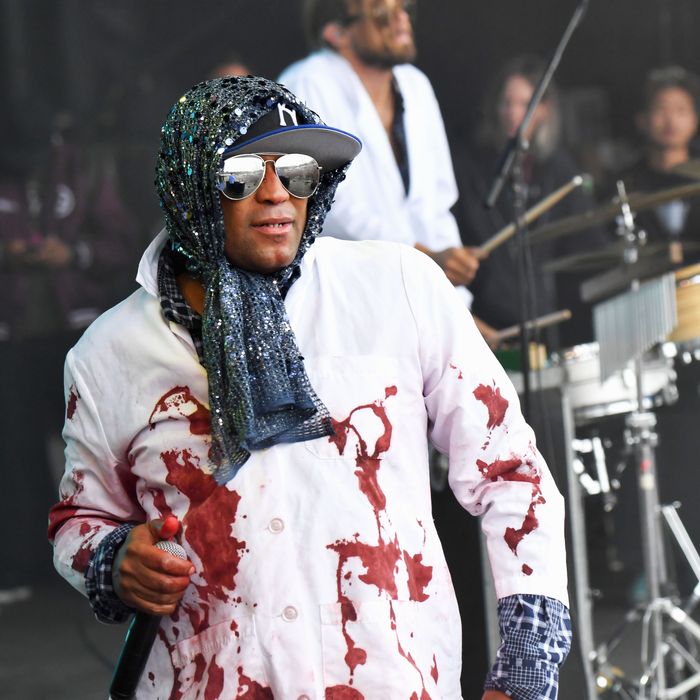 This weekend, Kool Keith reunites with DJ Qbert and Dan the Automator as Dr. Octagon.
Photo: Jeff Kravitz/FilmMagic
Events to check out this weekend, April 5 to 8.
1. Catch an up-and-coming star in a new country venue.
Find a slice of Nashville in the city with the recently opened Opry City Stage in Times Square, with four floors of cultural artifacts and venues to catch both up-and-coming and established country acts, and live shows streaming from the Grand Ole Opry. Plus, southern food. Tomorrow night, catch Indiana-born rising star Dylan Schneider before he blows up, for only $15.
2. Or settle in with some OGs.
Tonight, DJ Qbert, Kool Keith, and Dan the Automator reunite as indie-rap crew Dr. Octagon at Brooklyn Bowl in support of Moosebumps: An Exploration Into Modern Day Horripilation, their first album together in over 20 years. Handsome Boy Modeling School opens. If you're feeling more pop hits and aerial stunts, hit up Pink at MSG, with Bleachers opening.
3. Visit a picture show.
The Photography Show presented by AIPAD (the Association of International Photography Art Dealers) takes over Pier 94 today through Sunday, with 96 international fine-art photography galleries, book sellers, and talks on the present state and future of the medium. Plus three special exhibitions: A Time for Reflection curated by Elton John; Forever Young: Selections From the Joe Baio Collection of Photography, focusing on childhood and adolescence; and All Power: Visual Legacies of the Black Panther Party, showcasing contemporary black artists who have been informed or influenced by the Black Panther movement.
4. Study banjo appreciation.
The tenth annual Brooklyn Folk Festival aims to reflect the diversity in folk music with over 40 acts, like Pokey LaFarge, the Indian folk of the Women's Raga Massive, the bluesy Jerron "Blind Boy" Paxton, and the East River String Band with R. Crumb (yes, that R. Crumb). Plus a puppet show and a banjo-tossing competition (they'll provide the banjo). It all goes down Friday through Sunday at St. Ann's Church in Brooklyn Heights.
5. See an old American classic.
Of course you'll see the pitchfork-wielding farmer and his presumed wife of the wildly popular American Gothic, but it's just one of the works in the Whitney's retrospective Grant Wood: American Gothic and Other Fables, which looks at the career of the sophisticated artist shrouded in a farmer-painter mythology.
6. Or check out the beginnings of a new American classic.
Silicon Valley star and Chinese-born comedian Jimmy O. Yang recently published How to American: An Immigrant's Guide to Disappointing Your Parents. He takes to the stage at the Bell House on Sunday to teach others the way.
7. Explore the food-loving side of George Balanchine.
This panel discussion and performance Breaking Bread With Balanchine at the Guggenheim this Sunday and Monday is timed to the Russian Orthodox Easter, for which George Balanchine was known to make an epic annual feast. Joined by special guests — including former New York City Ballet principal dancer Edward Villella and Dr. Jeanne Fuchs, who tested Balanchine's recipes for The Ballet Cook Book — food scholar Meryl Rosofsky explores how the choreographer's relationship to food shaped him as an artist. The evening will be interspersed with performances from Balanchine's ballets and the museum's Wright restaurant will also be offering an event-inspired menu, including kulich and pashka, blini and caviar.
8. Take a Caribbean Food Tour of Flatbush.
Spend Saturday afternoon with the Little Caribbean Food + Culture Crawl, starting at Kings Theatre and covering the most delicious spots in Flatbush, a.k.a. Little Caribbean. The three-hour tour includes live music and, of course, rum.
9. Sing along with your favorite television show IRL.
Rachel Bloom, the songwriters, and the rest of the award-winning cast of Crazy Ex-Girlfriend go from screen to stage in this live show on Sunday at Town Hall. Before you go, brush up on our definitive ranking of the show's best songs.
10. See an exhibit about death, in a cemetery.
The Morbid Anatomy Museum had to close its space in Gowanus due to financial concerns, but fans can stop mourning: Through June 24, the museum of medical and bodily ephemera will be popping up on Saturdays and Sundays at the landmark 1877 Fort Hamilton Gatehouse in Green-Wood Cemetery with a new exhibition: The Power of Images: Life, Death, and Rebirth. Admission is free.