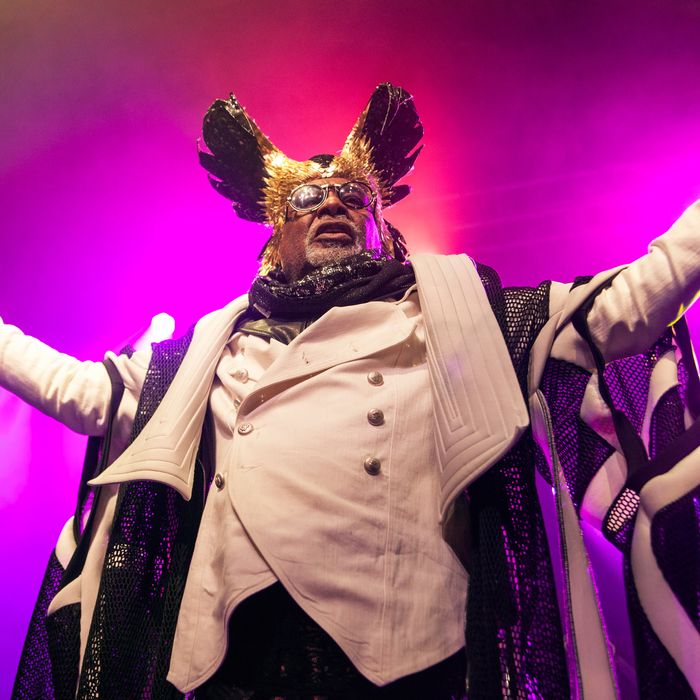 George Clinton helps shut down B.B. King Blues Club this weekend.
Photo: Jeff Hahne/Getty Images
Events to check out this weekend, April 26 to 29.
1. Stuff your face.
Threes Brewing is the pig lovers' place to be on Sunday for the Whole Hog for a Cause, in conjunction with the Meat Hook and benefiting the Brownsville Community Culinary Center, through the Melting Pot foundation. $60 gets you a BBQ plate with fixin's, plus two draft beers. On Saturday and Sunday, Pig Beach hosts their first-ever crawfish boil, with Mississippi's BBQ Ninja using crawfish that have made the trip up from the South (and boy are their legs tired). Tickets are $30 per plate, which comes with two drinks.
2. Celebrate the diversity of New York through food.
Travel the globe in the parking lot of Citi Field this Saturday and Sunday at the World's Fare, with over 100 nations represented through vendors like Dumpling Galaxy, Baohaus, and the Arepa Lady, plus an international beer garden and cultural activities like music, sumo, a Lego installation, and a mural exhibit.
3. Hip-hop your way into spring.
Today through Sunday, the free BRIC Open arts and ideas festival is dedicated to the theme of Borders, with films, an immigrant-action fair, a talk by filmmaker and activist Paola Mendoza, and a free concert on Friday by Ghanaian rapper Blitz the Ambassador, joined by Mexican indie poppers the Chamanas, and Colombian Canadian Polaris Prize winner Lido Pimienta. And if you can't wait for that upcoming Black Star album, see half of the hip-hop duo, Yasiin Bey, (formerly Mos Def) in the glitzy new Sony Hall. That goes down on Saturday.
4. Say good-bye to a stalwart venue with some OGs.
The B.B. King Blues Club & Grill in Times Square is the latest venue to roll over to rising rent, but they're going out this weekend in style. On Saturday, get funky with George Clinton & Parliament Funkadelic, and Sunday see legendary blues guitarist and singer Buddy Guy.
5. Explore art recommended by our award-winning expert.
Have you heard? Our very own beloved art critic Jerry Saltz is now a Pulitzer Prize winner. And as one of the newest inductees into the Pulitzeratti, he recommends checking out the solo New York debut of Matthew Wong, a Postimpressionist Edmonton-based painter who is "a little bit Chris Ofili and Verne Dawson … by way of visionaries Forrest Bess and Charles Burchfield." That show continues through Sunday at Karma gallery.
6. Roam the streets looking for inspiration.
If you'd like some exercise with your art, this Saturday and Sunday is the Dumbo Open Studios. Wander along the waterfront and into the studios and work spaces of artists, including Jerry Kearns, Ben Thorp Brown, Sharon Butler, and Marsha Cottrell. Up on Madison Avenue, ARTnews presents a day of gallery walks and talks by curators and art-world insiders. Events are free, just remember to RSVP on their calendar.
7. Go to school, through theater.
The thoughtful new play Transfers looks at the role of privilege and circumstances in the college admissions process through two Bronx-bred students (played by Ato Blankson-Wood and Juan Castano) vying to transfer into a hallowed New England institution. You've got a few more chances to see it at the Lucille Lortel Theatre, as it was just extended to May 20 due to popular demand. If you're more into entertaining and magical Broadway spectacle in two parts, there's of course Harry Potter and the Cursed Child, recommended by our critic.
8. Get out in [controlled] nature …
The Sakura Matsuri festival at the Brooklyn Botanic Garden this Saturday and Sunday celebrates cherry-blossom season, with 60 events and performances showcasing traditional and contemporary Japanese culture. If you're more of a wine and daffodils kind of person, the New York Botanical Garden hosts a wine-lovers weekend surrounded by the garden in bloom. Finally, Sunday at the Queens Botanical Garden is Arbor Fest, with educational demos like beekeeping and tree-planting, kids' activities like face-painting and a petting zoo, and adult activities and beer and cider for sale.
9. … Or sit inside and watch movies.
If you're looking for a film this weekend beyond Tribeca, head to BAM, where through Sunday is the New Voices in Black Cinema series, including works like a comedy set in the African neighborhood of Château d'Eau in Paris, a documentary combining animation with the wisdom of Toni Morrison, and much more. Through May 6 is the Art of the Real festival at Lincoln Center, featuring nonfiction filmmaking from around the world.
10. Finally, scream for ice cream …
… And then eat some. From the seasonal opening of Mr. Dips on Saturday to tequila-barrel ice cream at Empellón, we've got your ice-cream agenda covered to keep you cool as the days get hot. Which they hopefully will, eventually.