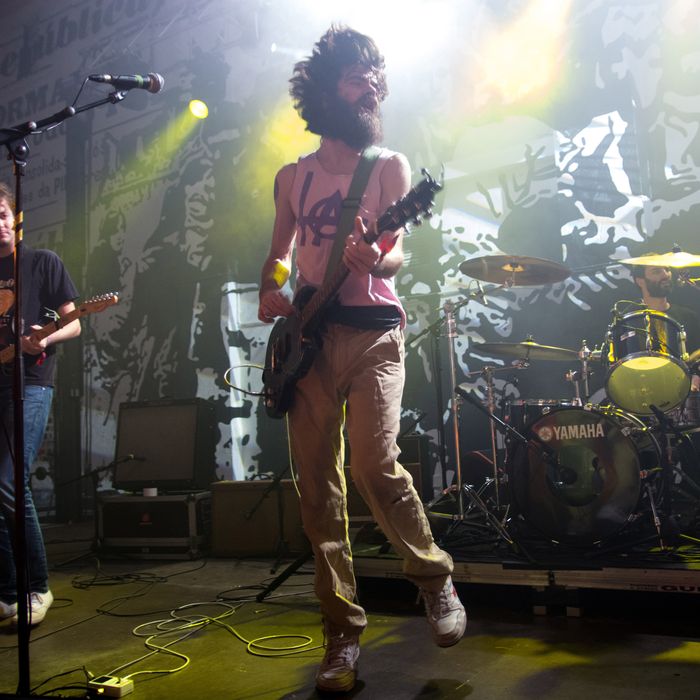 Titus Andronicus performs for free for Record Store Day.
Photo: Pedro Gomes/Redferns
Events to check out this weekend, April 19 to 22.
1. Chase some legal highs.
High five, 4/20 falls on Friday and we've got ten places to get your CBD fix, including an infused sundae from Van Leeuwen and CBD cocktails at 5th&Mad. Or go old-school at one of two Cheech & Chong Up in Smoke comedy concerts at 5:30 and 9 p.m. at the Capitol Theatre, and inhale deeply. At midnight, finish the holiday with a special edition of puppeteer and MacArthur Fellow Basil Twist's spectacular Symphonie Fantastique. It's trippy on its own, so imagine what it must be like after a little … help.
2. Hit a film festival.
The 17th annual Tribeca Film Festival began Wednesday, and our critics have kindly picked out the films to see, including a documentary about Gilda Radner and the Sundance hit The Miseducation of Cameron Post, starring Chloë Grace Moretz. Fans of surfing will also want to hang ten with Momentum Generation, which uses archival footage and interviews with legends like Kelly Slater to follow a ragtag bunch of surfers in Oahu in the '80s who eventually become the most influential the sport has ever seen.
3. Feed your brain.
The PEN America World Voices Festival continues through the 22nd, with this year's theme of Resist and Reimagine bringing in writers from around the world. Highlights include an evening with Roxanne Gay on Friday, a discussion with Salman Rushdie and Paul Auster on creating New York characters on Saturday, a talk with Hasan Minhaj about religion on Sunday, and Hillary Rodham Clinton on the role of free speech the same evening.
4. Support independent music.
This Saturday is Record Store Day, a grand event where you can stop by music purveyors for special releases and rare goodies from artists, including AC/DC, Arcade Fire, Courtney Barnett, and Prince. We suggest hitting up Rough Trade, which will also have free performances by the Shacks, Chris Stamey, Titus Andronicus, Bambara, and a DJ set by Sinkane throughout the day; or Threes Brewing, which will host an NYC independent-label-focused record-store pop-up in collaboration with Names You Can Trust, with a live performance by Combo Lulo and DJ sets from Little Dynasty and Sonido Chichadelico. Plus, beer.
5. Learn about Chinese restaurants in America. 
Last weekend, the Museum of Food and Drink (MOFAD) reopened with the exhibition Chow, which celebrates the birth and evolution of Chinese-American restaurants. Stop by tonight for the talk Why Chopsticks? Their Culture, History, and Sphere from historian and professor Q. Edward Wang. A book signing follows.
6. Explore raw cheese.
On Saturday, which is apparently National Raw Milk Cheese Appreciation Day, learn all about the unpasteurized stuff at RAW: An American Artisan Cheese Celebration, with cheesy pairings and a panel talk with producers, including the Cellars at Jasper Hill, Hawthorne Valley Farm, and Consider Bardwell. Moderated by Jessica Sennett, the founder of Cheese Grotto and co-founder of Call Me Caramel.
7. Go punk or glam. Or both.
It's a night of histrionics when Brit rockers the Darkness shows you just how much they believe in a thing called love, Friday at Brooklyn Steel. Come for the opener, Tennessee grunge punks Diarrhea Planet. They are very good — despite their name.
8. Get an album advance from an indie-rock troubadour.
Okkervil River lead Will Sheff stops by the Strand on Saturday, in advance of the release of the band's new record, In the Rainbow Rain (which is currently streaming). He'll discuss the album with A.C. Newman of the New Pornographers, sign a few copies, and perform an acoustic set. Entry is free with the purchase of a vinyl edition of the new album.
9. Celebrate Mother's Day early at the theater.
Mother's Day is right around the corner, and you can score points now by taking your No. 1 to the musical Miss You Like Hell at the Public. By Pulitzer-winning playwright Quiara Alegría Hudes, it's a tale of an undocumented immigrant in danger of deportation, which also spotlights a fierce mother-daughter relationship. One that merits lots of tissues. While you're there, make it a doubleheader with another Pulitzer winner's play, Lynn Nottage's stunning Mlima's Tale, an elephant's-eye view of the illegal ivory trade.
10. Finally, do your part to save the world.
Sunday is Earth Day. Astoria Park is hosting a free nature-themed event with sustainability demos like bee-keeping and how to build a solar oven, dance performances, and environmental education, while Prospect Park has catch-and-release-fishing lessons and gets you up close and personal with birds of prey. Bike along the Brooklyn waterfront on a mobile lecture with environmental experts, clean up the beach with Coney Island Brewery, or have your sustainable sushi and eat it, too, when Mayanoki partners with the Safina Center for an 18-course dinner of locally harvested fish, vegetable sushi from their upcoming vegetarian omakase, and cider. There are two seatings, at 6 p.m. and 8:30 p.m. Top it off with a visit to the new rooftop bar Ophelia, an Art Deco former favorite of Sinatra. Make it a date night: On Earth Day, they'll be lighting the space with only candles, and 10 percent of the night's proceeds will go to GreenHomeNYC, which helps buildings go green.