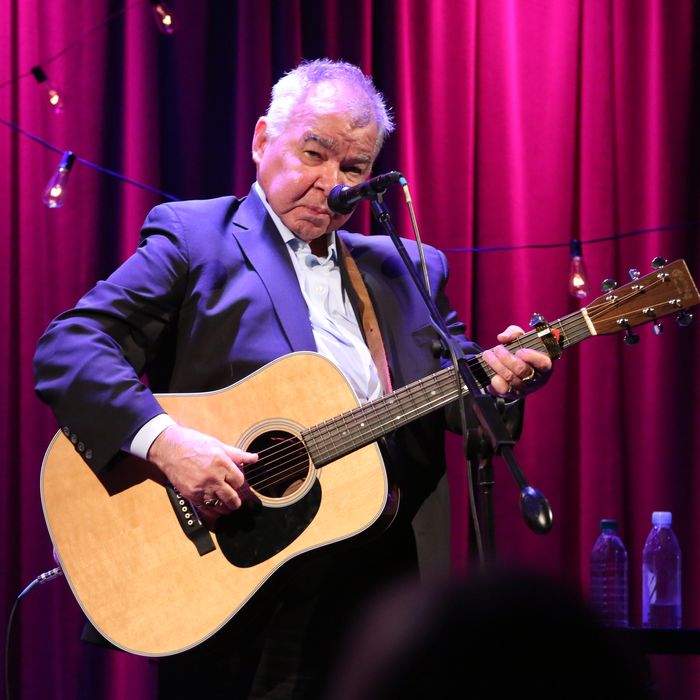 John Prine sees you.
Photo: Ashley Beliveau/Getty Images
Events to check out this weekend, April 12 to 15.
1. Spice up your brunch.
Chef Sujan Sarkar of San Francisco's Rooh and its sister restaurant Baar Baar in the East Village melds traditional Indian food with modern cooking techniques. Stop by this Sunday for their inaugural brunch service, serving up innovative homemade chutneys and brunch items like the green-pea-and-goat-cheese kulcha with goat butter and truffle; the Bombay Masala omelette with tomato, onion, chili, and cilantro; and the tahini loaf French toast, topped with buttermilk ice cream and sesame chikki. Plus daytime cocktails like a Bellini with blood-orange-and-cardamom sorbet.
2. See a man pretending to be someone, pretending to be someone.
Tony winner Billy Crudup is a force in the one-man play Harry Clarke, about a midwestern man who impersonates a cockney Londoner (who happens to know Sade) in a tale of intrigue and seduction. The thrills and chills happen at the Minetta Lane Theater through May 13.
3. Go outside (and eat).
The weather's getting warmer, which means it's time to dine alfresco. Floating lobster shack the North River Lobster Company sails into its fifth year this Thursday, with some new lobster-roll options; the Boat Basin on the Upper West Side will be open on Friday and Saturday; and this Saturday, the Lower East Side's Hester Street Fair is back with vendors serving up grilled fish, chicken, and al pastor tacos, and chicken and waffles accompanied by performances by JIL and Pretty Sick. Follow it up with some ice cream from the newest OddFellows, specializing in coffee and high-concept frozen desserts, or Alphabet Scoop, recently relaunched in Alphabet City and providing job training for underserved youth in the neighborhood.
4. Enjoy an American legend.
This week, legendary country-folk troubadour John Prine releases The Tree of Forgiveness, his first album of all-new material in over 13 years. He celebrates on Friday night at Radio City Music Hall, with Sturgill Simpson.
5. Scare yourself in 3-D.
If you're one to lean into themes this Friday, the 13th, Videology will screen Friday the 13th Part III in glorious 3-D. There are two shows at 7 and 9:30 p.m., hockey masks optional.
6. Sing along with a live song-and-comedy show.
For the next few Saturdays, American Public Media's Chris Thile–hosted variety show  Live From Here — formerly A Prairie Home Companion — will tape at the Town Hall. This weekend, guests include David Crosby, Stephen Malkmus & the Jicks, and Janeane Garofalo.
7. Catch an up-and-coming rapper.
Though the 23-year-old rapper and producer Saba of Chicago's Pivot Gang rap collective is known for high-energy performances, his latest, the meditative Care for Me, with guest appearances by Chance the Rapper and the Mind, is informed by the murder of his cousin last year. See him connect it all onstage this Friday at the Highline Ballroom, with special guests Jean Deaux and Joseph Chilliams.
8. See two spectacular Cy Twombly shows.  
New York's critic says the artist Cy Twombly has "been able to make an art that rises to the level of epic poetry and fills you up with the sweep of history and fiction." Get satiated at the Gagosian's two exhibits spanning two galleries: In Beauty It Is Finished: Drawings 1951–2008  on 21st street and Coronation of Sesostris uptown on Madison.
9. Discuss opioids and other things.
The TimesTalks festival concludes this weekend, and tickets are still available for a discussion with photographer Nan Goldin on the opioid epidemic, and a live version of the Table for Three column with award-winning actress and former Labour Party politician Glenda Jackson and Tony winner Laurie Metcalf, who are both currently in the Broadway production of Edward Albee's Pulitzer Prize–winning Three Tall Women.
10. Comedy. Always comedy.
If you're looking for jokes, Union Hall has a pretty solid lineup this weekend, from Ophira Eisenberg and Adira Amram's Ophira & Adira variety show of comedy, music, and magic (!) on Thursday to a Prince sing-along on Friday (not funny, just fun), and the Dark Spots comedy show on Saturday, finding humor in dark circumstances with comics, including Janelle James, Mike Drucker, Roy Wood Jr., and host Shane Torres. Go ahead, have a laugh.