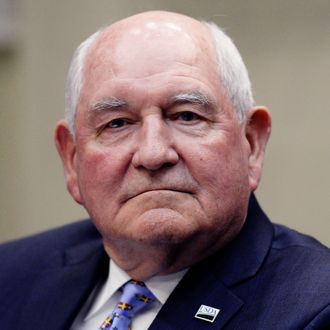 Perdue no doubt getting ready to fight for small farmers.
Photo: Olivier Douliery-Pool/Getty Images
When Sonny Perdue took over the Department of Agriculture last April, he vowed to "work tirelessly to solve the issues facing our farm families." Given his past, plenty of critics doubted they'd like his solutions, but it was too premature for anything but hand-wringing. However, Perdue has now run the USDA for about a year. The Union of Concerned Scientists, a 200,000-member-strong science-advocacy group, dutifully tracked his changes over the last 12 months, and has just published them in a new report called "Betrayal at the USDA." It outlines the myriad ways the agency has "sidelined science, undermined key public health and safety protections, and prioritized the interests of large agribusiness companies over the public interest."
According to the group, this is what Perdue has done since taking the job:
• One of his first acts was to reorganize the agency. To "improv[e] customer service and efficiency," he eliminated something small farmers understandably loved called the Rural Development Mission, as well as the undersecretary position overseeing it.
• He also decided to merge the two biggest nutrition-research arms: The Center for Nutrition Policy and Promotion (the agency that decides the federal Dietary Guidelines) would be folded into the larger Food and Nutrition Service (the agency that oversees assistance programs like SNAP and the National School Lunch Program). "This may seem like a streamlining effort," the report says, but the move lets FNS overrule CNPP's science-based dietary recommendations — which Big Food mostly hates — while providing "no demonstrable financial or public benefit."
• Then there was Sam Clovis's USDA chief-scientist nomination. Trump's 2016 campaign co-chair used to be a climate-change-denying talk-radio host, and is not a scientist. Clovis's nomination disintegrated after his shady Russia connections came out, but Perdue has kept him around as a senior adviser.
• Perhaps most tellingly, four critical USDA jobs still remain vacant: The agency overseeing agriculture and food nutrition has existed for a year now without an undersecretary for Food Safety; an undersecretary for Natural Resources and Environment; an undersecretary for Research, Education, and Economics; and an undersecretary for Food, Nutrition, and Consumer Services.
• It took Perdue roughly a week to start dismantling Michelle Obama's school-meal standards. Perdue's USDA said cafeterias were free to serve sugary "flavored" milks, and could punt on meeting federal sodium-reduction targets until at least 2020. He denied this would affect schoolkids' well-being, insisting: "I wouldn't be as big as I am today without flavored milk."
• In October, Perdue reversed rules, enacted in Obama's final days, that protected small farmers who supply meat megacompanies like Tyson. At the time, the USDA explained that the new rules — known as GIPSA — would "level the playing field" by giving farmers more leverage in their contracts with Big Ag. Among GIPSA's benefits: It established criteria to protect the legal rights of farmers, and made it easier for them to sue for abuses. The beef industry declared it a decision "worthy of celebrating … with a top-quality steak."
• The Trump administration's 2019 budget under Perdue isn't so great for small farmers, either. It reduces the USDA funding by 25 percent, with major cuts coming to ag research and programs that support clean water and food safety. In particular, the Conservation Stewardship Program and Regional Conservation Partnership Program would be eliminated completely; without them, there's no financial incentive for conservation efforts on millions of acres of farmland.
The Union of Concerned Scientists adds that farmers have at least started fighting back. Just this month, they filed a new brief in their lawsuit challenging the USDA's decision to end GIPSA. They explain how, thanks to the USDA, Big Ag companies are able to lowball them on price, take retaliatory measures if they complain, and even run some of them out of business.