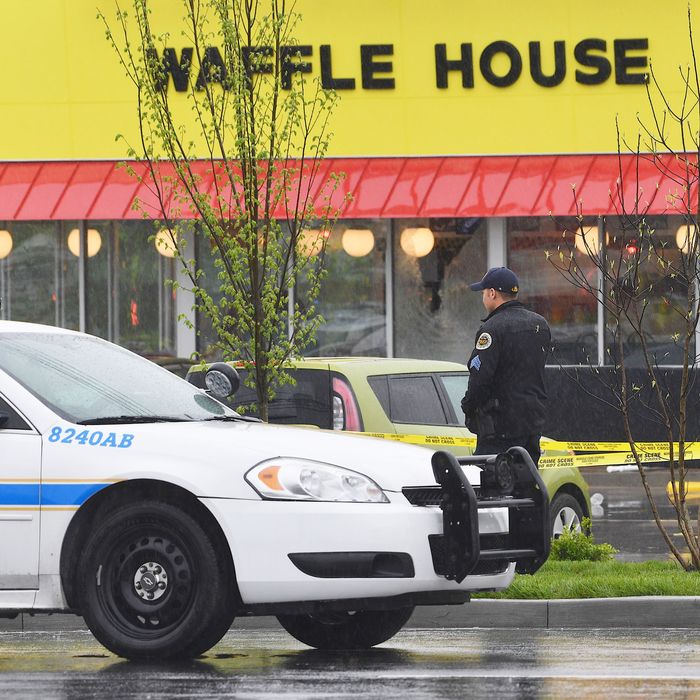 The scene outside the restaurant.
Photo: Jason Davis/Getty Images
A massive manhunt ended today for Travis Reinking, the person identified as the gunman in a shooting that killed four people at a Nashville Waffle House early on Sunday morning. Earlier this morning, authorities released a statement indicating that there had been "no credible sightings" of Reinking despite an ongoing search by more than 80 local, state, and federal law-enforcement officers for more than a day. This afternoon, however, the 29-year-old suspected gunman was apprehended.
Police say construction workers near a wooded area reported seeing a man walk by who matched Reinking's description. When officers found him, he reportedly had a backpack with a loaded semi-automatic, its holster, ammunition, and a flashlight. Police say the arrest occurred without incident.
Reinking had been added to Tennessee's "Top 10 Most Wanted" list after allegedly opening fire at the 24-hour diner chain's Antioch location around 3:30 a.m. Police say he sat outside in his pickup for several minutes "just looking at people inside," then got out carrying an assault-style rifle and shot six of them. Two additional customers were injured during the incident, and so far, four people have lost their lives. Witnesses say that the shooter fled the restaurant naked, and law-enforcement officers were reportedly able to track Reinking into a nearby woods before dogs lost his scent.
James Shaw Jr. is the 29-year-old who disarmed the gunman and is now being celebrated as a hero who, according to a Nashville police spokesperson, "no doubt … saved many lives." Shaw watched the shooting start from the Waffle House's restroom, and when he noticed Reinking pause to look at his rifle, ran toward him. He seized Reinking's gun and tossed it over the counter, at which point Reinking reportedly fled. "I figured if I was going to die," Shaw told reporters on Sunday, "he was going to have to work for it."
Shaw insists that he was "completely doing it just to save myself," explaining that "I don't want people to think that I was the Terminator or Superman or anybody like that." Still, he's now running a GoFundMe to help the victims' families — according to a rep from the crowdfunding site, his $15,000 goal was met "within hours."
This wasn't Reinking's first run-in with law enforcement. He was arrested in 2017 for entering a "restricted area" near the White House. According to the police report, he told the Secret Service he was a "sovereign citizen" who was allowed to speak with President Trump if he wanted to, then tried to walk past security with his tie balled around his fist. His firearms license was revoked at this time, and authorities reportedly seized four guns from him, including a Bushmaster AR-15-style rifle identical to the weapon used on Sunday at Waffle House. Police also had to de-escalate a 2016 situation at a CVS parking lot where Reinking was threatening suicide, and he reportedly believed that he was being stalked by Taylor Swift.
Waffle House has issued a statement saying they are "deeply saddened" by the "tragic incident," noting that this is "a very sad day for the Waffle House family, and we ask for everyone to keep the victims and their families in their thoughts and prayers."
This post has been updated with new information.