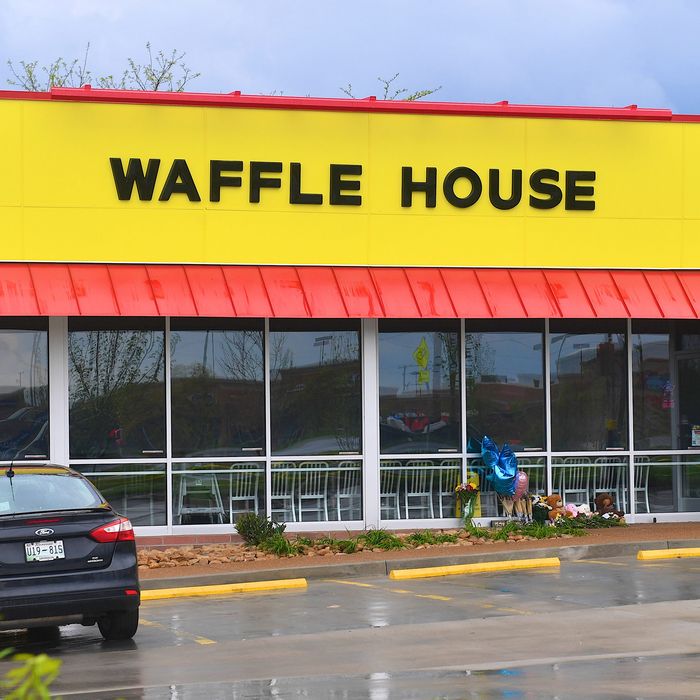 The store's makeshift memorial can be seen near the door.
Photo: Jason Davis/Getty Images
Since a shooting early Sunday morning, everything at Waffle House's location in Antioch, Tennessee, has been understandably out of sorts. Remarkably, Nashville's news channels report that the store not only reopened its doors today at 9 a.m., but has also decided to donate 100 percent of the next month's sales to the victims and their families.
Waffle House's execs say they've brought workers over from Atlanta — their headquarter's city — to assist at the store, and have grief counselors on-site as well. The crime-scene tape came down in advance of today's reopening, which the chain explained, during a presser this morning from the parking lot, was hastened by the store's employees themselves. They apparently asked if they could return to work "as part of their healing process."
The store's manager tells WKRN that in the past day or two, a lot of people have been "meeting at the restaurant as a gathering place to decompress." A memorial to the victims has been set up out front, and Waffle House's corporate office says it's planning a "some sort of memorial or plaque" inside the diner. Company officials also say they've been flooded with requests from all over to donate.
Nashville's WTVF, meanwhile, chatted with Chuck Cordero outside the restaurant this morning — he was at Waffle House when the shooting happened, visiting his friend Taurean Sanderlin, an employee who was among the four victims. Cordero says he cruised by last night at 1 a.m. "to see if there was any sign of them opening," then tried again around 5. At that point, staff welcomed him in for coffee, and he says they sat around "and talked a little bit."
"I'm looking forward to seeing my friends come back," he tells the station. "I'll be back tonight, I'll keep coming back."