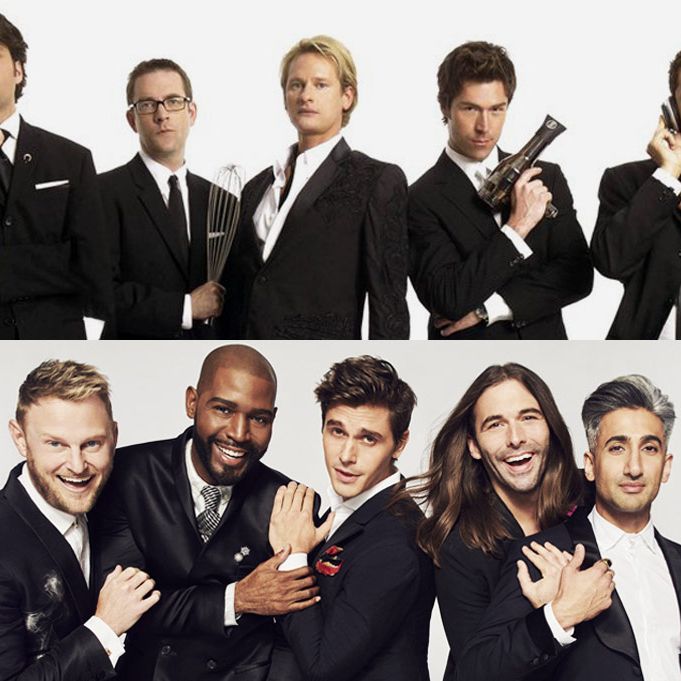 This is a good guest list.
Photo: Bravo; Netflix
A Twitter user named Sarah, who goes by the handle @slevs19, is making some surprising headway trying to organize a Queer Eye reunion dinner party.
Like most of the internet's best ideas, hers began as a joke, a Twitter thread about an imaginary "Fab Ten" get-together where the show's Bravo and Netflix casts would both hang out over a meal. As the event planner, she'd naturally also be attending.
Sarah's social-media presence isn't terribly commanding (220 followers, as of now), but her impassioned plea still managed to elicit a response from two original hosts, "Culture Vulture" Jai Rodriguez, followed by "Food and Wine Connoisseur" Ted Allen:
Needless to say, Sarah was ecstatic, bragging to her parents and apparently explaining the development to her co-workers as "?!?!!!!??!!" However, it turned out her dad wasn't that impressed yet by her corralling just one-fifth of the show's cast — he was holding out for fashion expert and RuPaul's Drag Race judge Carson Kressley:
And so now he's in, too:
You know who else loves stroganoff? New Fab Five member Karamo Brown:
Sarah has since hammered out a tentative #FabTenDinnerParty menu involving Antoni Porowski's (very controversial) yogurt guacamole, Ted Allen's flatbread pizzas, and themed drinks, still TBD, that will pay homage to her dinner guests: