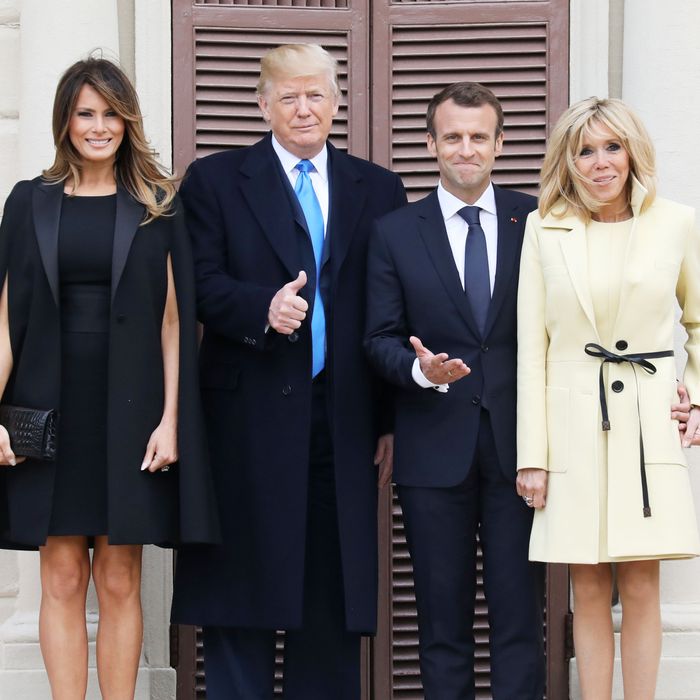 Tonight's menu actually sounds pretty good.
Photo: Ludovic Marin/AFP/Getty Images
The first White House state dinner of the Trump era is tonight — 458 days into his presidency — with French president Emmanuel Macron and his wife, Brigitte. The menu is reportedly the First Lady's doing, to be prepared by White House executive chef Cristeta Comerford, and they've settled on a first course of "salad featuring a goat cheese gateau and a burnt-onion soubise," rack of lamb with jambalaya, and goat-cheese gâteau with rack of lamb with "young lettuces" (easy enough for POTUS to pick off), and finished off with a nectarine tart served with crème-fraîche ice cream.
Also of note: The jambalaya will be cooked with herbs grown in the White House gardens — to which Melania has made a "deep personal commitment" — and the wines come from the West Coast.
It's anyone's guess why Trump waited almost a year and a half to host his first state dinner. On the campaign trail, he remarked on several occasions that, as Oval Office occupant, he planned to "give them state dinners like you've never seen," though these would be taxpayer-friendlier affairs since his predecessor's "cost, by the way, a fortune." Maybe the delay was because Trump needed time to figure out how to do such a low-budget yet stately event, but did at one point add that maybe the best plan was the simplest one. ("We should be eating a hamburger on a conference table.") Luckily for the Macrons, it seems the First Lady prevailed on this one.