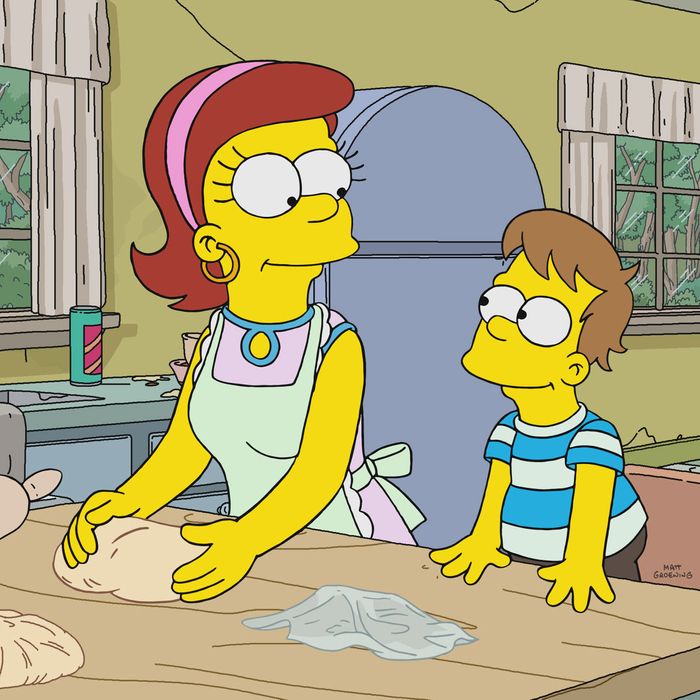 Mmm, pie for young Homer.
Photo: FOX
It's definitely still in hot water for the Apu mess, but on Sunday, the 636th episode of The Simpsons ran — a new record for a prime-time television series. To go big, the show got Glenn Close to reprise her recurring role as Homer's fugitive-from-the-law mom, Mona. During a flashback, she and a young Homer baked together in the kitchen, and there's a recipe card in the episode for apple pie that, if you're quick with your DVR's pause button, you can read in its entirety. Turns out, the recipe belongs to Evan Kleiman, host of L.A.'s beloved radio show Good Food, creator of KCRW's annual pie contest, chef, and just general baker extraordinaire.
As this episode reveals, the recipe has special meaning for Homer. Before Mona's sudden disappearance from his life, he recalls pie-baking as one of his fondest mother-son memories. She even wrote him sweet notes on the backs of her recipe cards, which Sunday's episode revolves around him tracking down, but you get the sense that Homer, consummate dessert fiend, was as much after the instructions for re-creating that apple pie, which he calls the best thing he's ever tasted.
At the end of the show, the pie recipe is credited to Kleiman, and she calls it "maybe the coolest thing I've ever been able to do." Here it is in full, as shown on the index card in the episode.
Apple Pie

Mix together in bowl

3 cups flour

1 teaspoon salt

2 tbsp sugar

1/2 teaspoon cinnamon

Apples

3 Golden Delicious apples

3 Granny Smith or Pippin apples

3 Whatevers except Macintosh

Cut 1 lb of cold butter into 16 pieces. Toss w/ flour to coat. Rub butter into the flour mixture w/ your fingertips or w/ a pastry cutter. When mixture looks like crumble of different sizes from peas to almonds it is ready for water.

Add 1 tbsp vinegar to 1 cup ice cold water and drizzle over the butter/flour mixture. Toss like a salad. Bring the wet mess together, kneading it twice, into a puck (flat ball) and cut in half. Wrap each half in plastic wrap and refrigerate for 1 hour or overnight.

Now prepare the apples. Peel the apples and cut the flesh off the cores. Cut the apple into 3/8" slices. Put in bowl. Add brown sugar to taste, cinnamon and a pinch of salt. Toss to mix. Add 3 tbsp flour to thicken the filling and toss to coat the apple slices.

Roll 1 piece of dough out and line 9" glass pie pan. Fill it with the apples. Roll out the other piece of dough and top the apples with it. Trim the top and bottom crusts together so you can have 1" overhang. Roll the overhang under so it sits on the lip of the pie pan. Crimp the edge into a pretty design by pinching the dough. Cut 4 symmetrical slits into the top crust. Brush it with beaten egg with a splash of cream.

Bake in a preheated 425 degree oven for 20 minutes. Turn down heat to 375 degrees and bake another 40 minutes or until the apples are tender when poked w/ a fork.