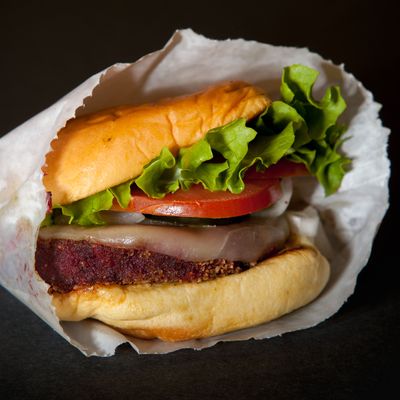 The Veggie Shack IRL.
Photo: Jed Egan
Today is the day that Shake Shack finally unveiled its new veggie burger. It's the first real attempt at the dish after years of telling vegetarian customers that the chain's 'Shroom Burger — a portobello-mushroom cap topped with Muenster, cheddar, lettuce, tomato, and Shack Sauce — was their only option. This new veggie burger is decidedly more burgerlike, featuring a patty made of black beans, brown rice, and roasted beets; pickles; onions; provolone cheese; the standard lettuce and tomato; and vegan mustard-mayo.
Until April 24, the burger is only available at three Shack locations (midtown east, Astor Place, and UES) and must be ordered via the company's app, but all that hoop-jumping didn't deter Grub Street from ordering a few, rounding up some veggie-leaning colleagues, and giving Shake Shack's new veggie burger a try. Here's what you need to know.
The beets are the first thing you'll notice.
While Impossible Burger specializes in imitation burgers that "bleed," Shake Shack depends on beets to do the job. The pinkish-purple hue of beets completely dominate the interior color of the patty, and when you bite or cut into the burger, there's pink juice everywhere. (One of our tasters described this feature as a "fun idea"). But as another taster pointed out, she didn't "really get the taste of the beets." They're covered up by not only the black beans and brown rice but also a spice mix that seems to include healthy hits of cumin and garlic powder. As one taster noted, "it's like a falafel burger."
Compared to the 'Shroom Burger, this burger's actually healthy.
One taster recalled taking her dad to Shake Shack to try the deep-fried 'Shroom Burger: "He took one bite and he's like, 'This isn't healthy. Is this supposed to be healthy,'" she recalls. "I was like, 'I never said it was supposed to be healthy. I just said it's vegetarian.'" Well, the new Shake Shack veggie burger could arguably be classified as healthy, with the exception of the provolone cheese, which takes a back seat to the burger's many toppings.
There are so many toppings on this thing!
Your run-of-the-mill Shack burger consists of patty, lettuce, tomato, cheese, and Shack Sauce. The addition of pickles and onions on the veggie burger adds some texture, but also makes it a pretty slippery burger to actually eat. Some of our tasters also felt the patty itself lacked texture, describing it as "smooshy" and "beany." As one taster summed it up: "I thought the patty got a little lost in the mountain of toppings."
It's still pretty good.
One taster said all veggie burgers fall into one of three silos: those that try to imitate meat, those that don't, and those that aren't even really burgers ("It's just a portobello cap on a bun"). The Veggie Shack is a valiant effort to be a real-deal veggie burger, and most people seemed to like it. Most crucially, most of our tasters ranked it just below the veggie burger from Superiority Burger, which just so happens to be New York City's best veggie burger. Would our tasters try it again? As one (nonvegetarian) taster put it: "I'd eat it again, but only if I knew I could get a real Shack burger, too."