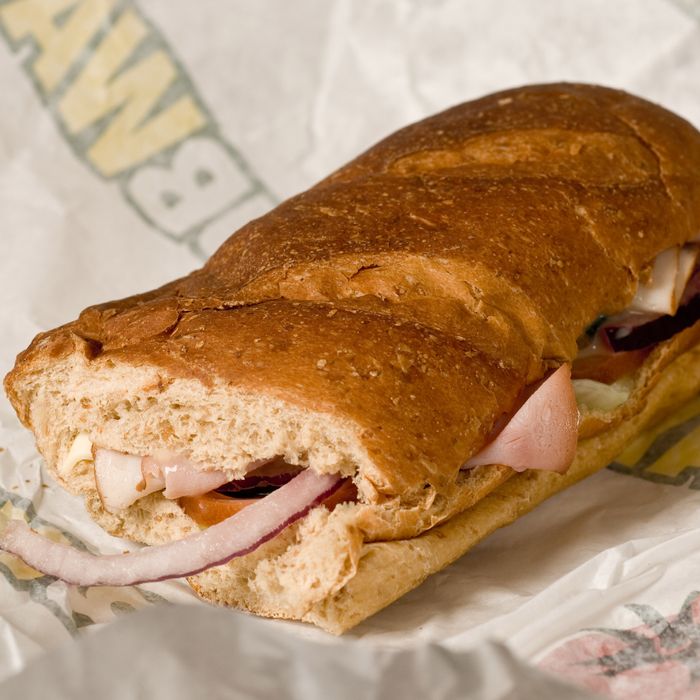 Get it while you can?
Photo: PA Images via Getty Images
With about 43,700 stores, Subway is, unbeknownst to most, secretly the world's largest restaurant chain. But it might not keep that edge much longer: The company has just announced plans to close 500 more of its U.S. stores this year. That follows last year's … economizing, where it shut down 909 locations, and 2016's streamlining, let's call it this time, where it took 359 stores out of commission.
Subway has been languishing for years, in other words — a red-alert situation its executives have tried to correct for some time, especially after the Jared Fogle incident and fake-chicken scandal. Late last year, the chain's billionaire co-founder Peter Buck even suggested developing an all-new business strategy: Either buying a rival sandwich chain, or quietly creating "sub-brands" that would trick customers into eating Subway without realizing it.
Subway didn't take that advice, and instead promised to redesign stores, and then in February debuted a new ad campaign called "Make It What You Want." Not to be confused with Burger King's very similar-sounding slogan, Subway's approach involves TV ads where millennials do cool things "their way." Like hitting firecracker golf balls before they explode, or snowboarding with a Subway drink in hand, or playing electric guitar in the bed of a moving pickup, or rooftopping (that death-defying, nearly always illegal hobby where people dangle off the edge of tall buildings). In the background, a singer yells, "No, no, no, no," and "There's no limits!"
In short, it's a miracle that only 500 Subways are closing. Still, the company's CEO Suzanne Greco insists that this is fine: "Store count isn't everything," she tells Bloomberg News. "It's about growing the business." She adds that in the past, the company has focused on restaurant count — but now, the goal is "strengthening market share" and making sure "we have the best location."
Apparently, that means bailing out of the U.S. for China, India, Mexico, Germany, South Korea, and England. Subway plans to open "more than 1,000" new stores in those and other countries this year, Bloomberg reports.
In related news, the air quality on America's streets will soon be vastly improved, and people seem pretty excited about that: