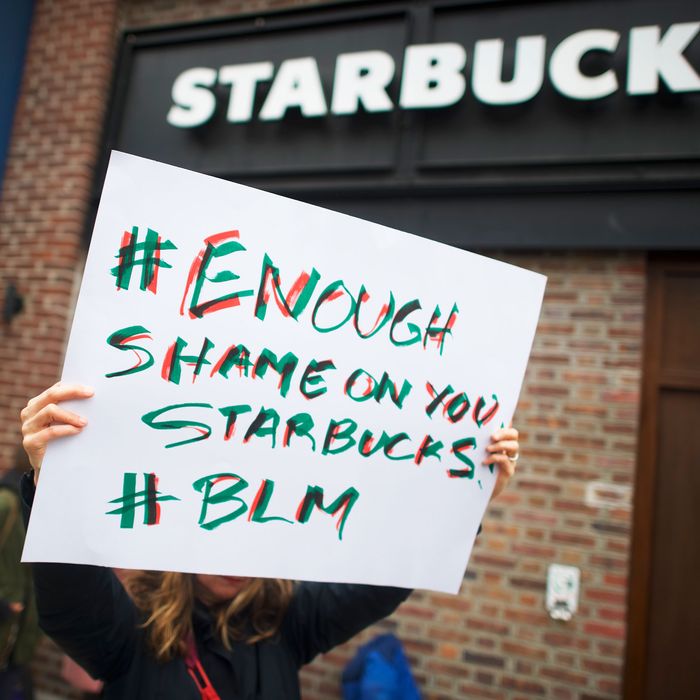 A protester's sign outside the Philly location.
Photo: Mark Makela/Getty Images
The indefensible arrest of two black men in a Philly café last week has brought Starbucks its worst PR headache in a good while. Dozens of protesters are reportedly outside the store today chanting, "Starbucks coffee is anti-black," and calls for a national boycott gained enough momentum this weekend to start trending on Twitter. And this incident seems to have people on both sides of the political aisle upset.
To recap: A customer near the two men — who say they were sitting in the café waiting for a third person to arrive before ordering — filmed police arresting them after the store's manager called 911:
The arrests occurred on Thursday night. By midday Saturday, Starbucks released an apology. People took exception because the statement, which was posted to Starbucks's official Twitter account, was extremely generic-sounding and failed to mention the incident's racial-discrimination component:
That struck many watchers online as lackluster, and by the end of the day, the company had re-apologized, this time with a much lengthier statement by CEO Kevin Johnson:
Dear Starbucks Partners and Customers:

By now, you may be aware of a disheartening situation in one of our Philadelphia-area stores this past Thursday, that led to a reprehensible outcome. 

I'm writing this evening to convey three things: 

First, to once again express our deepest apologies to the two men who were arrested with a goal of doing whatever we can to make things right. Second, to let you know of our plans to investigate the pertinent facts and make any necessary changes to our practices that would help prevent such an occurrence from ever happening again. And third, to reassure you that Starbucks stands firmly against discrimination or racial profiling.  

In the coming days, I will be joining our regional vice president, Camille Hymes — who is on the ground in Philadelphia — to speak with partners, customers and community leaders as well as law enforcement. Most importantly, I hope to meet personally with the two men who were arrested to offer a face-to-face apology.

We have immediately begun a thorough investigation of our practices. In addition to our own review, we will work with outside experts and community leaders to understand and adopt best practices. The video shot by customers is very hard to watch and the actions in it are not representative of our Starbucks Mission and Values. Creating an environment that is both safe and welcoming for everyone is paramount for every store. Regretfully, our practices and training led to a bad outcome — the basis for the call to the Philadelphia police department was wrong. Our store manager never intended for these men to be arrested and this should never have escalated as it did.  

We also will further train our partners to better know when police assistance is warranted. Additionally, we will host a company-wide meeting next week to share our learnings, discuss some immediate next steps and underscore our long-standing commitment to treating one another with respect and dignity. I know our store managers and partners work hard to exceed our customers' expectations every day — which makes this very poor reflection on our company all the more painful.  

Finally, to our partners who proudly wear the green apron and to customers who come to us for a sense of community every day: You can and should expect more from us. We will learn from this and be better.

Respectfully,

Kevin Johnson
In those remarks, Johnson says that in "the coming days," Starbucks will hold meetings with employees, customers, community leaders, and law enforcement to discuss making things right. He's also tentatively scheduled a companywide meeting next week to "discuss some immediate next steps," and employees can expect more training "to better know when police assistance is warranted." He also hopes to travel to Philadelphia to "meet personally" with the arrested men, although Starbucks hasn't laid out a timeline for that yet.
Some people have praised Johnson's response, but a large number are unhappy about the passage that reads the "store manager never intended for these men to be arrested." Some protesters have called for the manager specifically to be disciplined, as opposed to Starbucks collectively — a chain that, despite a couple past foibles, has generally been progressive. Late last night, the company reportedly told one Philadelphia journalist that the manager "no longer works at the store," but didn't clarify if that's because she was fired.