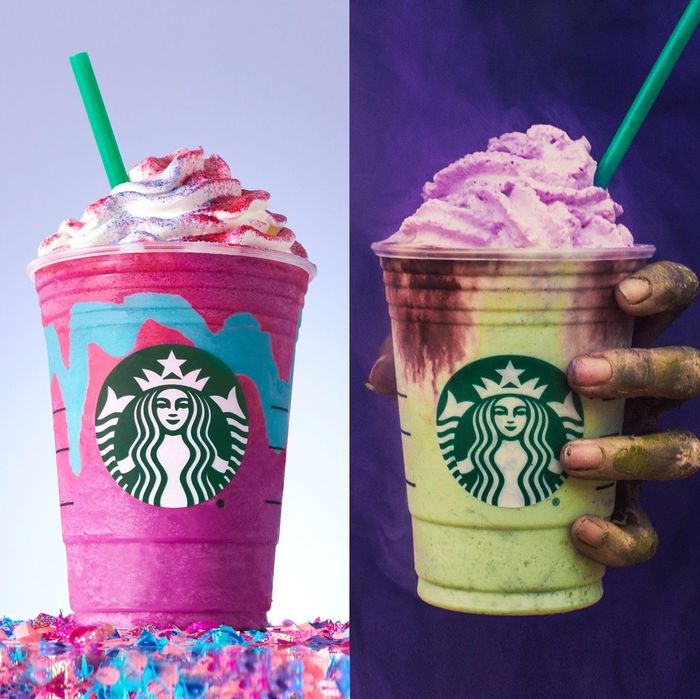 It will be so sad to see all of you go…
Photo: Starbucks
We hardly knew ye, overhyped Frappuccinos carpeted in glitter, oozing "brains," or magically capable of telling our fortunes. However, in order to address concerns about lagging sales growth, Starbucks yesterday laid out a new plan to lure customers back into cafés — and the first order of business is apparently cramming the lid back on its Pandora's box of stunt drinks. On an earnings call, the company told investors it will cut the number of limited-time drinks by a whopping 30 percent. (Much to the relief of all but the most hardcore fans of Day-Glo foods.)
In recent months, a legion of very brightly colored, unnecessarily sugary, totally coffeeless, $5-a-pop iced-milk drinks have overtaken the chain's seasonal offerings. Arguably only the Pumpkin Spice Latte can still compete on social media. Although this fall's PSL release, which featured 80 hours of an inert pumpkin on Facebook Live, sure paled in comparison to the excitement of being able to post your own video of a color-changing Unicorn Frappuccino. The army of Mermaid, Zombie, Dragon, Pegasus, Narwhal, Christmas Tree, and Crystal Ball fraps that followed all catered equally to Instagram obsessives — at the sake of both baristas' sanity and, people argued, the drink's actual palatability.
The OG Unicorn frap reportedly made money hand over fist, but since then, the cutesy concoctions have seemingly lost some of their metaphorical luster (not literal, though — the latest Crystal Ball drink came festooned with "mystical sparkles" and "colored candy gems," and boasted an "enchanting marbling effect"). But Starbucks' sales this past quarter rose just 2 percent, a big disappointment on Wall Street. In January, the coffee giant also announced it was canceling Frappuccino Happy Hour this summer after discovering last year's promo resulted in "lower-than-expected" full-price beverage sales. COO Rosalind Brewer added yesterday that they've decided instead to focus on cold brews and teas, and also said their expanded lunch menu, called Mercato for some reason, will debut at another 1,800 cafés.
For a while now, Starbucks has tried to win both the Unicorn Latte set and third-wave coffee connoisseurs. Its Reserve stores — what Howard Schultz officially left the chief executive role to go do — are meant to compete directly with America's Blue Bottles and La Colombes. The chain has also been testing fancy coffee cocktails, plus craft-y touches like a "blonde" espresso and "cold foam."
To keep the microlot-seeking, Kalita Wave–loving customer happy, it may need to cool it with the stunt drinks. But don't think this means it's abandoning them altogether. In fact, Starbucks followed yesterday's news about shrinking the number of limited-time drinks with word that an all-new Frappuccino will, in fact, be rolling out next week. It's not saying yet what this one entails, but smart money isn't on a mythical creature theme. At this point, a basilisk or succubus or troll is about all that's left, and those might not resonate quite as well with Frappuccino drinkers.