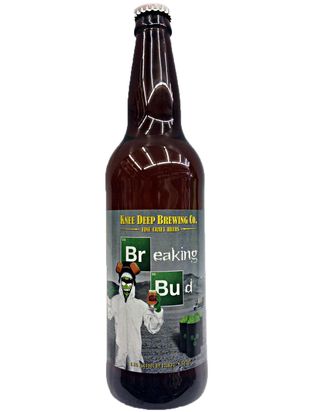 Don't say its name.
Photo: Knee Deep Brewing
For three years, Knee Deep Brewing has cranked out a piney West Coast IPA it calls Breaking Bud. The beer received a bronze at the 2016 Great American Beer Festival, snagged a best-beer-in-all-of-America award last year down in Chile, and has been the Sacramento-area brewery's best seller for a while now.
In other words, this brew didn't sneak up on the eagle-eyed legal team at Sony Pictures, one of the AMC show's producers. But on Tuesday, the company filed a lawsuit against Knee Deep claiming that Breaking Bud equates to trademark infringement. There are other Breaking Bad–inspired craft beers out there (e.g., the IPAs by Albuquerque's Marble Brewery — Walt's White Lie, and its black IPA called Heisenberg's Dark), but Sony's legal team specifically objects to Knee Deep's appropriation of recognizable show imagery.
Knee Deep's homage is pretty conspicuous. The beer's green-and-white logo is more or less the same as the show's, and there's also a crazed-looking creature wearing a hazmat suit, plus some barrels of hops out in a desert.
So, Sony's complaint seemed pretty clear-cut, until yesterday when Knee Deep released a long statement "regarding our friends at Sony." It says the brewery was "surprised by the unexpected lawsuit filed against us by Sony," adding that in 2015, the year the beer came out, they "actually received an email from a Sony representative that said, 'It seems the Knee Deep team are big fans of Breaking Bad and we really appreciate the call out to our very popular show.'"
Sony's reps, Knee Deep goes on to say, even discussed potentially partnering with them on the beer, like the company did for Heisenberg's Blue Ice vodka. But Knee Deep opted against that, it says, because "our label has always been meant as a joke and not something seriously connected to the show." At no point did Sony "ever threaten to sue Knee Deep," the brewery adds, giving everyone at Knee Deep the impression that "Sony had no issue with our Breaking Bud beer."
The Knee Deep team explains that they're a small beer-making outfit that's hugely inconvenienced by the time suck and expense of dealing with an IP issue Sony could have "addressed 3 years ago."