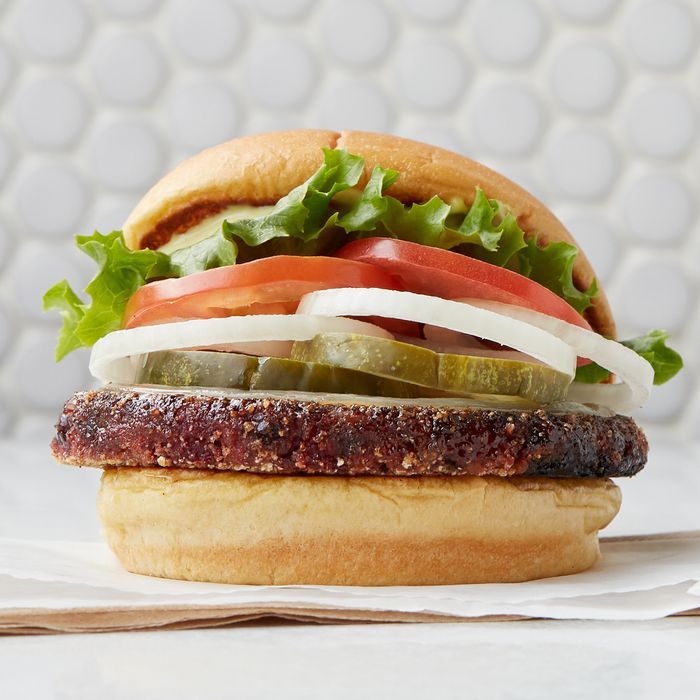 Another high-class veggie burger is about to hit New York.
Photo: Christine Han/Shake Shack
For years, if you were a vegetarian heading to Shake Shack in the company of some meat-loving friends, your main option was the 'Shroom Burger, a fried portobello-mushroom patty with all the accoutrements you'd find on a ShackBurger, including the Shack Sauce.
But starting next Thursday, April 19, Danny Meyer's booming burger chain will begin testing its first full-on veggie burger at several NYC locations (Midtown East, UES, and Astor Place) in a bid to enter the highly competitive and ever-growing nonmeat burger space. (The new burger will also launch at the West Hollywood and Glendale locations in L.A., as well as the Domain location in Austin.)
So, how does the Veggie Shack — as it's called — compare to all the other high-end veggie burgs around town? (Not to mention a certain slider chain's new Impossible Burgers.) According to a rep, the new veggie burger is aimed at customers who want a "lighter" menu option, and the patty itself is comprised of black beans, brown rice, and roasted beets, while toppings will include provolone cheese, lettuce, onions, and pickles. And rather than Shack Sauce, there will be a vegan mustard mayo. Anyone who wants it full vegan can get it without cheese on a gluten-free bun.
For next week, the veggie burger will be available to order via Shake Shack's app, before a full rollout on April 24, when customers can order the veggie burger in-store.