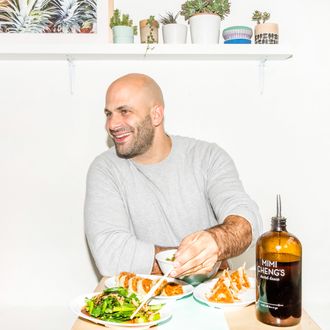 At Mimi Cheng's.
Photo: Noah Fecks
You likely know Sam Kass from his time in the Obama White House, where he kept very busy: Formally, he was the senior policy adviser for nutrition and the executive director of Let's Move! Kass was also chef, brewer, and co-collaborator behind Michelle's garden. Since leaving government in 2015, he's become an MIT Media Lab fellow, a part of Silicon Valley start-up Innit, and the founding partner of food-focused venture-capitalist firm Acre and health and sustainability strategy firm Trove. Between doing that and welcoming his first child into the world with his wife, journalist Alex Wagner, he also wrote his first cookbook, Eat a Little Better (out April 17). This week found him eating his favorite Peking duck, feasting on dim sum at Nom Wah, and — of course — getting plenty of vegetables. Read all about it in this week's Grub Street Diet.
Thursday, April 5
I try to work out first thing after waking up. Well, now I've got to hang out with my son, then go change the diaper and feed him. So after that I go to the gym, and then come home and make coffee. Usually, I drink Stumptown Coffee, but sometimes I use beans from Roasting Plant. Plenty of half and half. Not long ago, I relented and got a new fancy grinder at the insistence of my boy Lucas Mann. It's been a game changer.
Typically, I make a three-egg omelette for breakfast. It's one of the hardest dishes to perfect, so I do it just about every morning. Sometimes I'll mix it up and do over easy. Often I will have a couple of pieces of smoked salmon, or a half of an avocado as well. It's very fast for me, it's literally like a two-minute or three-minute thing. So it sounds a little more elaborate than it is.
There's nothing in the omelette, it's just the technique. I think it's one of those things that no matter how good you are, making it perfect every time is hard. That's why it's a test for young cooks. You're being judged, oftentimes quite harshly, so I always really cared about figuring out how to make a really good one. And, honestly, it's taken years to even get it where I'm like, "All right, that's a nice omelette." I still always feel like it could be a little better.
This paints me as a weird obsessive, which I'm not. I'm pretty loose about it; I'm not stressed at all. It's just a little challenge every morning.
Lunch was porchetta, yellow-eyed beans, and greens. The porchetta was leftover from Easter; I made it with herbs of all kinds and garlic. You roll it, and roast it on a roaring high temp at first and then nice and slow. It's fucking amazing. The yellow-eyed beans were cooked in chicken stock with a little guanciale, bay leaves, and garlic, then finished with a bit of olive oil, lemon zest, and thyme. And then the kale was just sautéed with garlic and chili. At some point, I snacked on a Kind bar, too. My go-tos are the peanut-butter-dark-chocolate and the fruit-and-nuts.
Dinner was at Via Carota with my wife and a couple of friends. I go to I Sodi a lot as well, but Via Carota's a little more accessible. Always get some version of this order: the fried green olives stuffed with sausage, grilled artichokes, borlotti beans, and the octopus. I drank a Negroni, well more than one, and when you're there, you're going to need some red wine, like a Barbaresco, too.
Friday, April 6
Breakfast was the same: coffee and the omelette. For lunch I went to Dig Inn. There's one near my office. I end up eating there a lot, and order the same thing every time: the broccoli, greens, and chicken thighs. I've never ordered anything else from there.
For a snack, I ate some jerky from Dickson's. I'd bought one of each. They're super good and they're what jerky's supposed to be. Like real jerky, cowboy jerky. Not all soft and mushy, but super hard and dried out. Along with that, I had some dried mango. In my office especially, I try to be sure that whatever I have around me is not bad for me. You're going to eat whatever's around you, ultimately, so I try to just make sure that the snacks I have there are things like dried fruit, jerky, and nuts, as opposed to chips and cookies. Either way, I'm going to be eating whatever's near.
Dinner was at Decoy with my dad and his wife, who were in town. I love that place. The vibe down there, the staff, and I think the food's just killer. I mean, it's just the best Peking duck that I think I've ever had. (As you can tell, I'm a bit of an Asian-cuisines obsessive.) I actually don't do the pancake — I'm not a pancake guy! — so I eat the duck straight with hoisin sauce, have some rice on the side, and get the pea shoots or a bit of greens, which is what we did that time. And they have that pork "toro" dish, which is pork, rice cakes, and I think some celery and chili or some kind of spicy sauce. It's so good. Drank a Hitachino Nest with that.
There's a bartender whose name I don't remember, and he's a wonderful dude. So they're all familiar faces, but I don't know them. And I've talked to them about coming in and doing a stage and learning how to really master the duck. I've definitely roasted ducks before and tried to get the crispy skin, but I've never done a Peking duck because I feel like it would almost be disrespectful of me to do that dish … There are some dishes and some kinds of cuisine that require so much technique that either you have to get it from somebody who knows or it's, like, don't bastardize it. That's kind of how I feel about Peking duck.
Also, my son went to town that night. He sat on my lap the whole dinner, in a way that he had not done before. Very patiently. Well, before the food came, he was very busy grabbing at every chopstick and plate and everything, as 9-month-olds do. But when the food came, I gave him rice and the cucumber strips that came with the duck, and he sat there the entire time we ate and just ate. The whole time, he did not stop eating and just sat there like he was just another guy at the table. It was awesome. Sure, only about 20 percent of it actually got into his mouth and the rest was on our laps. But it was still a great choice.
Saturday, April 7
Stuck to my usual breakfast routine, and then went to Ippudo in the East Village for lunch. Every time, I get the Akamaru, with extra pork and bamboo shoots. I have a few ramen spots that are go-tos. The reality is that I absolutely love great ramen and am mildly obsessed with it, but I'll also happily eat not-that-great ramen. It's rare that I'll get ramen that I'm just like, "That's terrible."
If my wife and I are around on Saturday, we definitely try to hang. With the baby, it's easier to stay at the house, cook something, and have people over than to go out. So that's what we did Saturday night.
I stopped by Hudson & Charles Butcher and got the coppa to cook for dinner, and chicken for Sunday. Coppa is by far my favorite cut of meat. The fact that it's not a standard like a pork chop — you just don't really see it unless you're at a great butcher. I just get it every single time. It's super forgiving, too. You don't even have to cook it perfectly, you know? Anyway, I grilled it for myself, my wife, and a couple of friends, and served that with a salsa of pickled green tomatoes from last season. We have a house out in Cutchogue on the North Fork, and I tore up our driveway and put in a big garden. So I pickled a bunch of green tomatoes and chopped them up with some pickled jalapeños. We also had a bitter green salad with radicchio, endives, some watercress, and a little escarole.
Sunday, April 8
No omelette today! I skipped breakfast because we went to Nom Wah and ordered everything. My standing order is the special pan-fried dumplings, chicken-and-cabbage dumplings, shrimp sui mai, pork sui mai, shrimp dumplings, greens, pan-fried noodles, spare ribs, chicken feet, and stuffed eggplant. We don't fuck around. My wife and I can take that order down, but sometimes we'll bring along friends.
For dinner, I roasted the chicken I bought from Hudson & Charles. I salted it on Saturday and left it in the fridge overnight, spatchcocked it, and started it at a pretty high temperature before cooling it down. With that we had a few things: my "2520" hot sauce, made with pickled jalapeños that I grew, let go red, and blended with the pickling liquid. It's our house sauce. We actually have, like, maybe 30 different hot sauces in our fridge. You think I'm exaggerating, but we have a lot. It just sort of happened; it's not like we're trying to collect them.
The "2520" is, in my humble opinion, our best. I don't know if my wife agrees that it's the best, but she loves Tabasco, so she doesn't really have much ground to stand on when it comes to hot sauce. We also had Jasper Hill Farm Harbison with crackers, roasted broccoli with roasted lemon, and a really simple salad of radicchio, red onion, and a sherry vinaigrette. Capped that off with vanilla ice cream from Van Leeuwen. That shit is good.
Monday, April 9
Monday, I had to go up to Purchase during the day. I got lunch from Sweetgreen; I try to mix it up when I go there, so I got the new menu item, Nancy's Chopped Salad. It's actually Nancy Silverton's recipe, and a collaboration. It's a good one.
Like in the office, I try to bring my snacks. I always have some Kind bars, stuff like nuts, whatever I can sort of stuff into my bag. But eating well while traveling isn't an issue for me because a lot of the time I go to Chicago, Boston, or L.A.
When I got back to the city, I was hungry, so I went to Mimi Cheng's. I just discovered it not too long ago. But now I'm trying to go there whenever I can. I love it. I mean, I think the owners are awesome, too. They're these young, badass women who left their highfalutin jobs to open a restaurant in the reincarnation of how their grandmothers used to make the dumplings. And there's just a lot of love and care put into the food. I'm a fan.
I ordered the chicken dumplings, pork dumplings, the Hometown chili noodles, and the Taiwanese street-cart greens. The noodles are super spicy; it's all good. I took some home to eat the next day because I had dinner plans with my wife.
For that, I got black bass from the Lobster Place in the Chelsea Market. I've gotta say, the Market is just a tourist abyss, but they've got good fish there, and the sushi counter is super good. To go with the black bass, I made salsa verde with parsley, cilantro, chili flakes, and olive oil; warmed spinach; and first buttered peas and rice. We drank rosé with that — we're trying to will spring into existence. I figured: Start drinking rosé and eventually it's going to have to warm up. Dessert was toasted rice ice cream from this local brand Noona's. My wife will laugh, but I'm not really that big of a sweets guy. She'd crack up if she heard me say that to you. And I'm not. Like, I almost never ever order dessert, but I do appreciate ice cream in that it's one of the gifts from the gods. If I have any kind of dessert, that's what it will be.