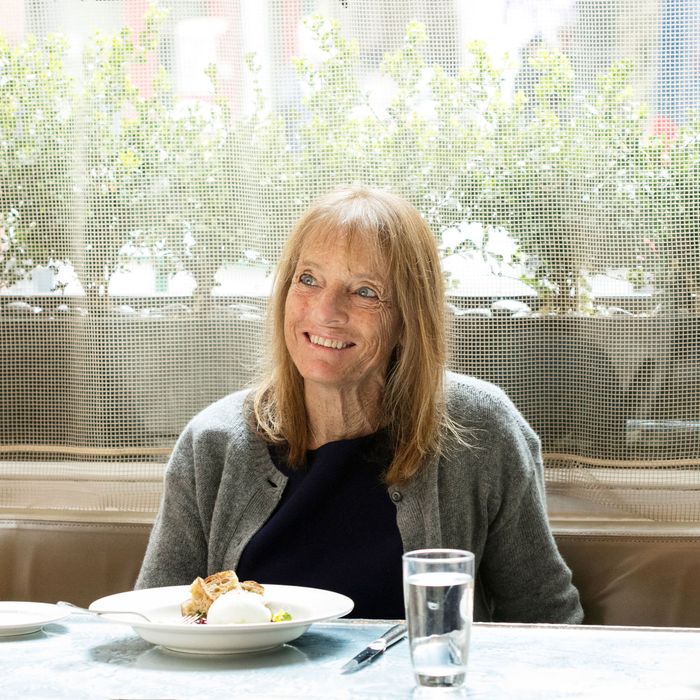 At the Mercer Kitchen.
Photo: Melissa Hom
With London's River Cafe, Ruth Rogers and the late Rosie Gray created one of the most influential restaurants of all time: British chefs like Jamie Oliver, Hugh Fearnley-Whittingstall, and Anna Tobias worked there, and the restaurant's steadfast devotion to perfectly uncomplicated Italian cuisine has made it one of the food world's true icons. To celebrate the American release of River Cafe London — a cookbook commemorating the restaurant's three decades in business — as well as to cook for Edible Schoolyard NYC's Spring Benefit, Rogers spent some time in New York this week, eating boeuf en daube with an old friend, indulging her panini habit at Sant Ambroeus, and checking in on a couple of her former employees at King. Read all about it in this week's Grub Street Diet.
Thursday, April 12
It was my last day in London before going to New York, so it was a day of finishing work, getting ready, and saying good-byes.
Before I left the house, I had a strong espresso, made with my restaurant's blend on my own machine, and then went off to meet my friend Paddy McKillen at Claridge's. It's an amazing hotel. Very English. It's a beautiful place to be. It's a grand hotel, but in a way it's democratic. People are in jeans; there are artists. The breakfast menu at the Foyer & Reading Room has anything you want. Eggs, muffins, traditional English kippers, porridge. But I had the Japanese option of miso soup, steamed rice, grilled salmon, pickles, and nori. I do have an affinity for Japanese food. After Italian food, if I go out to eat, I have Japanese. It's always a revelation that you can have such clean, interesting, beautiful food prepared so carefully. There's no masking it with Japanese food, is there?
First stop after that was an office day with my assistant Georgia, getting all the last-minute details ready for the trip. We did some of the work over lunch at the restaurant. I wasn't in the kitchen that day, but I wanted to say good-bye to my team, and had a lot of work to do. I had mozzarella di bufala with artichoke 'alla Romana,' cicoria, and black-olive crostino, and Georgia had the Risi Bisi. It's a Venetian pea risotto with mint and vermouth. Chef Joseph Trivelli, who is one of my co-authors, wanted me to try one of the desserts: the caramel ice cream, which has a bit less sugar, so I had to try it before I left. It's something that's been on the menu since we opened. It's made with a very burned caramel; we take it to its very darkest.
My grandchildren had the week off, as it was still Easter school holidays, and I wanted to see them before I left. We met at my great friend Jeremy King's restaurant, the Wolseley. The children shared a banana split and scones with jam and crème, and I, knowing I was going out for dinner, just had a green tea. It's a vast room. I love restaurants with a sense of drama.
My husband, Richard, and I and my son Roo and his wife were invited to a dinner with David Simas, CEO of the Obama Foundation. It was hosted by Lord Rumi Verjee and Mark Bergman in the private dining room of Thomas Goode & Co., it's an English porcelain and silverware shop, and he has dinners in the showroom sometimes. We listened to great ideas and visions and values. There, we ate a beautiful asparagus salad, dressed with a vinaigrette of olive oil and red-wine vinegar, and poached veal with spring peas. I skipped the dessert of rich chocolate cake, knowing I was flying in the morning.
Friday, April 13
Another strong espresso, and then I was off to the airport to meet Sian Wyn Owen, my co-author and our head chef at the River Cafe, and her 10-year-old daughter Pearl. Before boarding, we stopped at the Fortnum & Mason counter at the airport for smoked salmon and scrambled eggs; I didn't eat on the plane.
The flight was seven-and-a-half hours, and after landing in New York, we took a walk through Central Park. It was an unexpectedly, beautifully hot and springlike day, so we walked down to 59th Street, where we stopped at the corner to get Pearl a hot pretzel, then went back up Madison Avenue.
After, we went to my close friends Adam Gopnik and Martha Parker's home for a dinner party. I've known Adam for practically 30 years; we're just really old friends. We met through Kirk Varnedoe, who was the director of painting and sculpture at the Museum of Modern Art. We've been great friends ever since. The dinner was with their children, Lucca and Olivia. Adam cooked the most delicious boeuf en daube — with baby onions, carrots, and lardons — and served a tarte tatin for dessert. The tarte tatin was from Georgette Farkas at Rotisserie Georgette, and the wine was Bonny Doon Le Cigare Volant 2011.
Saturday, April 14
In the morning, the three of us went to Sant Ambroeus for breakfast. I love everything Italian, and I just love being at Sant Ambroeus with that big window on Madison Avenue. I usually only have panini in Florence at this wonderful little café, Caffè Giacosa, but Sant Ambroeus's are great. So I had a prosciutto panini — I really like salty things for breakfast.
We then headed to Pier 17 for the Cherry Bombe Jubilee, where we had a talk with the amazing Ruth Reichl and sampled some of the breads and cookies that have been made for the conference. We talked about women and work, women and chefs, how we can exist in the modern age. I'm lucky enough to own my own restaurant — it's my responsibility to create a place where people want to work and are inspired and taught.
Afterward, we walked through Wall Street up to Soho and ended up at Prince Street for lunch at Dean & Deluca. I grew up with it. We knew we'd have a huge dinner that night, so I just kept it to the spicy chickpea soup, and Sian had a pastrami sandwich.
In the evening, our co-chefs arrived from London, as well as my stepson Zad Rogers and his daughter Merle. They, Sian, and I had a table booked at the Grill, where we were welcomed incredibly warmly and ran into some famous chefs. We were all keen to eat American beef; we just love it because it's grain-fed, unlike the British grass-fed.
The dinner was great. We had oysters, langoustines, clams, the roast rib eye, grilled New York strip, and grilled rib eye. With all that, we drank a California red. The grilled rib eye was mine; I loved it. I like it really black on the outside and then rare, medium-rare on the inside; they cooked it perfectly. My husband, an architect, knew Philip Johnson, and whenever we came to New York, he'd take us to the Four Seasons and treat us to lunch. It was just such a beautiful room, but you know that was in the '70s and '80s. To see what Aby Rosen has done with the room — he has brought back the magic to the most beautiful room in New York, if not the world. Afterward, we went to the Carlyle and to Bemelmans Bar. It's one of my favorite hotels, and my favorite bars in the city.
Sunday, April 15
Went back to Sant Ambroeus for breakfast with my friend Victoria Newhouse in the morning. I had the same thing for breakfast. It was just so good; Sant Ambroeus felt like home after having breakfast there every day.
I then took Pearl on a New York City blitz — it was really fun to be here with her because she'd never been here before — and showed her my New York. We stopped by the Metropolitan Museum of Art, to see the Temple of Dendur; the Guggenheim; showed her Radio City Music Hall for the Art Deco architecture; Rockefeller Center; and the Rainbow Room, where we took in an incredible view of New York. After, we met our friend Yoshi at his beautiful apartment, where we had an incredible Japanese sencha tea.
At around 2:30 p.m., I took all of my chefs to lunch at Flora Bar, co-run by our friend Ignacio Mattos. We basically ate everything on the menu: oysters, dumplings with crab and lobster in a yuzu broth, deconstructed salad, tuna with turnips, endive and pistachio, and a wagyu hamburger. I really enjoyed the dumplings.
That evening, we all ate at King, along with our friends Luise Stauss, a photographer, and Nicholas Blechman, the creative director of The New Yorker. It's special because both of the incredible chefs, Jess Shadbolt and Clare de Boer, worked for me, and they didn't go anywhere else. They only left to open their own restaurant. It's entirely their own. There's no semblance to the River Cafe: The kitchen looks like ours and the mood is like ours, but it's totally different. We sat right next to the kitchen, and I was in awe of watching Jess — Clare wasn't there that night. It was such a joy to see her working in the kitchen, making delicious food and looking so happy. It was very exciting, and it's also just such a nice place. We enjoyed delicious grilled prawns with fried parsley and lemon, poached red snapper in Pernod sauce, quail, steak, crème caramel, and a delicious chocolate cake. To drink, we had a Sperino Uvaggio from Piedmont.
Monday, April 16
Back to Sant Ambroeus with Sian and Pearl for breakfast, where we bumped into my friend Alison Green from London who loves the restaurant as much as I do. Then back to work downtown to get ready for Edible Schoolyard NYC's Spring Benefit 2018 and to do some press interviews for the book. Haven's Kitchen was generous enough to let us use their kitchen all day to prep for the meal. But during lunchtime, I was in Soho, so I met Zad and Merle for a light lunch at the Mercer Kitchen, where I had a simple margherita pizza and enjoyed burrata.
We cooked that night at the Edible Schoolyard benefit. It's really why I was here. This was our third one. We did the first four years ago and skip every other year because it's quite a lot to bring everyone over. But we do it and love it. I'm a huge admirer of Alice Waters, and the whole idea of doing this for schools. It's not very often chefs can do something for society.
We started with an antipasti plate of artichokes, broad beans, and slow-cooked string peas; then ravioli with wild nettles and ricotta; and finally a grand bollito misto. It's this Northern Italian stew, we made it with poached hen with cotechino, brisket, and a veal shin all from Lobel's on Madison Avenue. The dessert was our Chocolate Nemesis; it's our signature dessert.
The dinner was great. I was particularly being honored that night with Questlove and Jim Hodges, another artist. But I brought the whole team up to the stage because, you know, cooking is a collaborative exercise. I wanted the whole River Cafe to be honored, not just me. The person to be honored should've been Alice for starting the whole thing, anyway. I've just said in life that, especially in these times with the government the way it is, we have to remember the values: education, honesty, empathy.