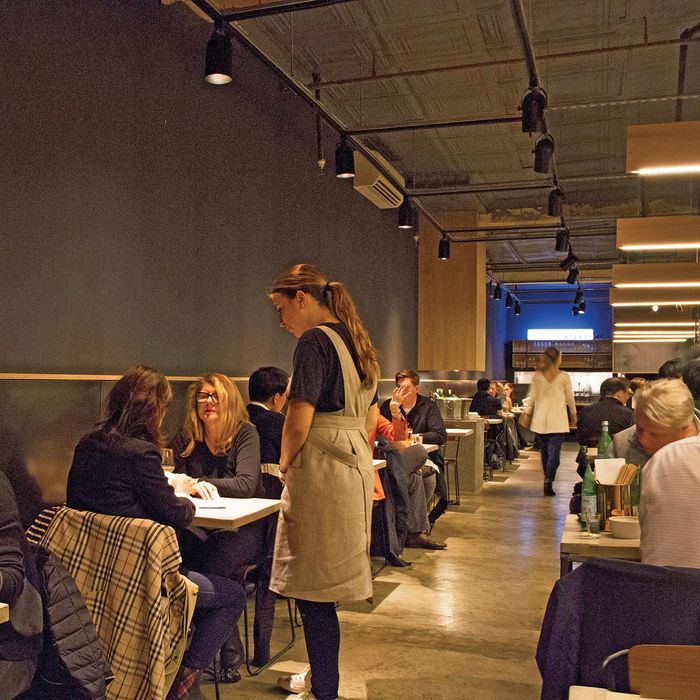 Popular Korean restaurant Atoboy offers reservations through Resy.
Photo: Jemma Hinkly/New York Magazine
There's a new front in the restaurant-reservations war: Mobile app Resy will launch a new loyalty program, Resy Select, in late April. Perks will include exclusive booking windows at popular restaurants, early dibs on event tickets, wait-list priority, and experiential events like meeting your pasta idol. It'll be invitation-only and in beta mode when it launches, but will expand down the line.
When Resy first opened for business in 2014, it's co-founder Ben Leventhal told Eater it was a "mobile app for people who love eating out at great restaurants but hate hassling for reservations." Back then, it was something different (and controversial), a pay-to-play model. As Leventhal described it in that same interview, "each of the restaurants on Resy are turning over some of their reservations to us so we can offer them to customers, to our customers." Resy Select sounds in keeping with that idea, but alongside a more robust reservations service that doesn't charge a fee.
Back in 2014, Leventhal pitched Resy as a service that partnered with restaurants; making reservations easier for not just customers, but restaurateurs. Along with the loyalty program, it's created an inventory program for restaurants, ResyFly, that is intended to minimize downtime between reservations. The service is meant to increase flexibility, by allowing managers to schedule different floor plans, hours of operations, and reservation grids. Introduced today, it will launch on May 15.