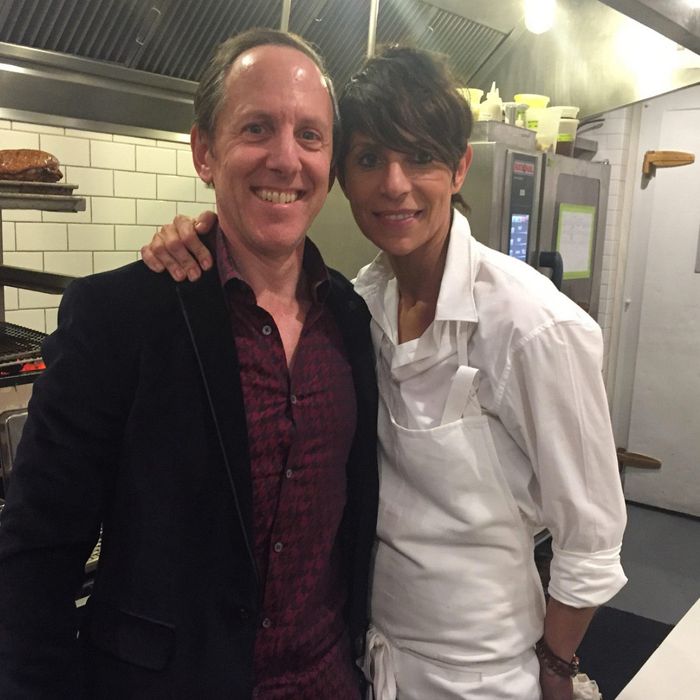 Grinberg in the company of Atelier Crenn chef Dominique Crenn.
Photo: Courtesy of Paul Grinberg
Paul Grinberg is a Bay Area finance-industry exec who heads his company's international operations and travels for roughly two-thirds of the year. This means he (a) has some disposable income, and (b) gets to stay in cities with superb dining scenes. This has given Grinberg a near obsession with experiences you can only have eating the food that comes from kitchens the caliber of a Le Bernardin, Mugaritz, or El Celler de Can Roca.
So it may not surprise you to learn that Grinberg is a fan of the World's 50 Best Restaurants list, which has spawned his new, seemingly full-time hobby: trying to eat at every single place on that list (which — as you may know — actually means visiting the 100 restaurants, not 50, the comprise the "full" list). He's been hard at work since last year, and gets an A++ for effort because he's managed to knock off 99 of the list's spots.
That's no small feat: The 2017 list spans 30 countries on five continents. Checking off Australia's entries alone would require a trip of almost a thousand miles, and eating through New York's — Eleven Madison Park, Le Bernardin, Cosme, Momofuku Ko, Estela, Chef's Table at Brooklyn Fare, and Per Se — would take an average person many thousands of dollars and many, many weeks. Needless to say, Grinberg is committed. Among the most intense plans he's made to complete his mission are flying 12 hours to eat one meal, and booking two dinners on the same night: "I was only in Adelaide for one day, so I had no option but to have two dinners."
He also runs an Instagram where he'll do swipeable gallery posts that contain his apparently trademark "Paul's Culinary Adventures" sign, as well as shots of the high-end tasting menus as they get staged before him:
That last post is from Singapore's Burnt Ends, the list's No. 53 spot and the 99th in total that Grinberg has visited.
This leaves him just one more meal to eat before he actually accomplishes his goal: sushi at Tokyo's Sushi Saito, which landed at No. 97 overall. That may seem simple enough, but the clock is ticking: This year's edition of the list gets released in two months, and so far, Grinberg can't get a table at Saito. He says he tried recruiting 16 people the day reservations opened to harass Sushi Saito on his behalf, but "was unsuccessful." Don't they accept walk-ins?