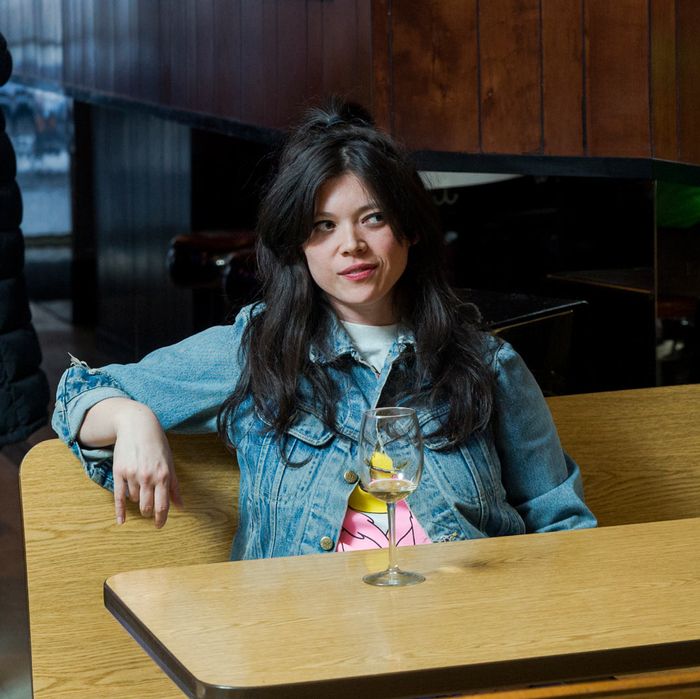 Pickowicz at Scarr's, where her go-to is pepperoni pizza and orange wine.
Photo: Mark Abramson
Natasha Pickowicz works some seriously long hours. As the pastry chef of Flora Bar and Café Altro Paradiso (where she works alongside chef Ignacio Mattos), her days start at one restaurant before ending — 12 or 13 hours later — at the other. That time pays off in the form of deceptively simple-seeming pastries and desserts where every single detail has been carefully considered and calibrated. (For proof, check out her justifiably famous sticky buns at Flora Bar's café counter.) This week, Pickowicz also prepared for Café Altro Paradiso's second-annual Bake Sale to Benefit Planned Parenthood, which will pull together pastry experts from across the city, and happens at the restaurant this Sunday. ("Planning it feels like my dream music festival," she says of assembling the roster. "It's like my Coachella.") Yet amid it all, she also found time to track down a frankly impressive array of incredible-sounding food. Read it all in this week's Grub Street Diet.
Wednesday, March 28
I wake up every morning around 6:30 a.m. Maybe I'll chug a few glasses of room-temperature water, or kombucha if I have it. Kombucha is good for settling my guts before I begin tasting gelato bases at 8 a.m.
I start most mornings at our Italian restaurant, Café Altro Paradiso. By the time I get there, the prep team has been working for a few hours. Nobody really talks to each other, and the degree of focus and silence is just bliss.
I always make breakfast for the staff at Altro. I'll open the walk-in and scan the "family shelf," which is where the cooks put ingredients that they can't use for service anymore. The challenge I give myself is, how can I make something beautiful, nutritious, and delicious, but also economical? Making time for a family meal has evolved my resourcefulness and made me a more confident cook.
So I pulled a quart of onion peels, a third-pan of potato trim, a pint of provolone scrape, a quart of celery dice, a little limp asparagus, and some old pâte brisée. I rolled out the brisée and basically stuffed everything inside. I always make a big grain salad, too: bay-scented farro, butter beans, and an egregious amount of parsley, mint, and basil. I dressed everything in Forum Chardonnay vinegar, which tastes like clear gummy bears.
The rest of the day was spent mixing and baking and tasting a lot. While I was checking in with all of my desserts, the best thing I tasted was a new hazelnut semifreddo. I like to fold in torn chunks of amaretti that become chewy and heavenly in the freezer.
From Altro, I went to Flora Bar. I always take the train up to 72nd Street and walk across Central Park until it spits me out on Fifth Avenue. I used to hate this downtime going between restaurants, but now I've realized I need it to switch gears. I like the moment to have that transition, which is a little bit of a break. The park was extra luminous and gray and damp and empty.
We were testing new spring dishes, so I tasted Harry's Berries sorbet, dehydrated strawberries, pistachio ice cream, some poached rhubarb, and baby focaccia studded with potatoes and onions. Jake, the chef at Flora, always has a million great ideas, too, so I had a few bites of a new spring-pea dip, which he spiked with baby fava beans and flanked with halved Hakurei turnips.
After work, I went back down to Tribeca for a friends-and-family dinner at Frenchette. I wolfed down Spanish tortilla with trout roe, white asparagus and gribiche, and the crispy sweetbreads. Our friend Moses ordered for the table, but I wish I had pushed a little harder for the giant côte de boeuf that I saw drop at literally every table except ours.
Thursday, March 29
There was an interesting find on the Altro family shelf today: a few pints of this crazy-savory compound butter with anchovy, pickled ramp, and Bayley Hazen Blue cheese. I spread it right into some old brioche and twisted them into swirly buns. We ate those with fried eggs topped with broccoli leaves and arugula. I have a lot of gratitude for our Salamander, which allows me to make perfect sunny-side-up eggs every morning.
After that, I worked on a new dessert, a sundae layered with vanilla-bean gelato, neon-pink rhubarb preserves, and polenta crumble. I liked it best with a dollop of crème fraîche on top. It's summery; I'm pumped.
Ignacio's son, Paco, had a birthday coming up, so I made his cake. Paco has sophisticated taste — once, we caught him licking uni off of his little fingers. So, for the cake, I pulled some weird stuff from our walk-in: matcha-milk cake, black-sesame ganache, and some millet sponge soaked in milk syrup.
I had a few bites of p.m. family meal at Flora Bar: a joint of roasted chicken dressed in lemon, crunchy romaine, a spoonful of spicy dark greens. I stole a quart of pebbled ice from our fancy ice machine — technically off-limits for staff drinks — and topped it off with super-sparkly water from our Vivreau water tap. When I make my first million, I'm installing a Vivreau in my house. It's the absolute cushiest.
Sometimes, someone on pastry will add a splash of poaching liquid or fruit syrup from a jam. We call that delightful pick-me-up "party water."
I got home around 9 p.m. and fixed myself a sandwich: shards of cheddar, avocado, alfalfa sprouts, and cucumbers tucked into a flour tortilla that I toasted aggressively over an open gas flame. I sat in the dark and ate it in about 30 seconds. I taste sugar and flour and fat at work all day, so when I get home, I mostly want salty, raw, vegetal things.
I don't have Wi-Fi at home. In fact, I also don't own a computer or a TV. It kind of changed my life. When I moved into my apartment last summer, I went Wi-Fi-free as a weird experiment. Then I got into it. I usually blow all of my cell data by streaming Simpsons episodes, but that's it. Not having a TV or a computer at home really makes room for literally everything else that matters to me: music, books, cooking, art.
Friday, March 30
Fridays I open Flora with one of our pastry cooks, Lindsay, and I tasted some very intense things before 9 a.m.: warm clam juice, our homemade Thai-chili vinegar, and our sourdough starter, Pam.
The cooks at Flora nailed breakfast: There was a spicy strawberry smoothie spiked with jalapeños, braised collard greens and herbs, soft scrambled eggs, and buttery sourdough toast. Then, more coffee in a pint container and sparkling party water in a quart container. It gets really hot on the line, so we get competitive about staying hydrated.
Fridays are always busy at Flora, and by the time I arrived at Altro, our runner Jerry was already cleaning up the family meal. I grabbed an empty hotel pan that still had some crusty bits of toasted pasta around the edges. Jerry said he wouldn't judge me for eating scraps over a trash can, and I loved him for it.
When I finally finished up at Altro, I met up with my friend Mindy Cardozo for dinner and a show. Mindy is a brilliant artist, but she is also my music soulmate and show buddy. When we opened Altro in 2016 and I didn't have any friends yet, I'd be in the kitchen in the early morning blasting the Dead C or the Gun Club or whatever music the prep team barely tolerated. Mindy would poke her head into the kitchen like, Who the hell is playing all my favorite bands?
Officially, we made plans to go to a noise show in Brooklyn, but first we made a stop at the Chefs Club where Mindy has been doing the florals for the current chef-in-residence, Jeremiah Langhorne. We were planning to order a few bar snacks until their GM uttered those famous last words: "The chef would like to cook for you this evening." Oh, boy, I know how this game goes!
We dove into the fluffy brioche with sorghum butter; crispy pig ears tossed with cilantro; charred lettuce, bacon, and pickled green tomatoes; and a chubby foie-gras parfait set on a mini-waffle. I even liked the desserts, which were cozy and not too sweet: gingerbread baked Alaska and chocolate layer cake dotted with candied cherries. We stayed until midnight drinking amaro and definitely missed the gig. Oops!
Saturday, March 31
Saturday morning at Altro is always a huge workout because there are so many pastries on our brunch menu: bomboloni alla crema; whole-wheat sourdough focaccia; torta pasqualina stuffed with ricotta, Swiss chard, and eggs; hazelnut and chocolate sticky buns. I pinched off a little of the bread dough to test pizzettes for the bake sale next Sunday. I'm riffing on Ignacio's fennel salad by baking salty provolone, sliced fennel, orange zest, and crushed Castelvetrano olives right into the bread.
For the family meal, I stole a hunk of pork butt out of a hotel pan reserved for that evening's staff dinner. I tossed the pork with potato trim and red-onion scraps, broiled it, and called it hash. Our line cook Matt made a fluffy chicory-and-cucumber salad.
Then I began texting with Taylor, my high-school best friend (and a cook at Flora), and our friend Alison, my college best friend, about that night's hang. We usually have standing plans every Saturday night to hang at one of our Upper East Side zones — usually J.G. Melon, Donahue's Steak House, or Dallas BBQ — but my other friend Sierra, who works at Four Horsemen, was also with us and loves the classy wine list (and my discount) at Flora, so we decided to stay put.
Jake crushed us with delicious food. He sent us a seafood platter as wide as a hubcap; there was nutty jamón Ibérico; anchovies and boquerones; purple-endive salad; steak with broccolini and anchovy; and a terrific citrus-and-celeriac salad with a sweet-and-savory core of hazelnuts tossed in spring onions, cilantro stems, and miso. We were slamming bottles of cold Pinot Noir.
Taylor and Sierra got into a debate about which is better — Flora's croquettes or Altro's arancini — and we decided that the only way to settle this was by having second dinner. It was a Matter House bang-bang. We piled into a car and went downtown.
The snacks flew out of the kitchen, including the arancini in question. I think that because it comes with the most delicious condiment of all time — a spicy, chunky oil made with Calabrian chili the guys call "Bomba" — the arancini are clearly better. We opened bottle after bottle of cold Umbrian white wine.
If I go to any of our restaurants late enough at night, the manager on duty will usually let me change the music and put on whatever I want. That's love! David, Altro's GM, didn't even hesitate when I bugged him, so I switched the music over to the S.O.S. Band, Sade, and the Whispers. Playing secret DJ at our restaurants is definitely one of my favorite work perks.
Sunday, April 1
It was officially my weekend, but I'm terrible at sleeping in. I was up at 7 a.m. and chugging kombucha. Mindy and Fabiola, who also cooks at Flora, came over for faux-Easter brunch.
I refused to leave my apartment, so I rooted around my fridge and pulled together a snack plate of odd and ends: some salumi gifted to me from my old chef Marc at Lawrence, in Montreal; some buffalo-milk butter; carrot and cucumber sticks; an avocado that I seasoned aggressively, like steak. Mindy brought a bottle of Prosecco and some fizzy water; Fabiola had ripe mangoes and a wheel of Nettle Meadow Kunik, an especially voluptuous triple-crème cheese made with goat's milk and Jersey cow cream. It takes forever to temper, but once it does … it's very sexy.
Later, I cleaned up while I waited for my boyfriend, Aaron, to finish working brunch. He's the chef at Cervo's, a wonderful, friendly Portuguese-inspired seafood-and-wine restaurant in Chinatown. They had their first official brunch service, so I figured he needed some time to recalibrate.
It was beautiful outside, breezy and bright, so we walked to Capri Social Club, a Polish-Greenpoint dive that sells Jell-o shots and has a solid jukebox. I drank a tequila soda and Aaron ordered a beer in a frosty mug.
For Easter dinner, we walked to Bamonte's, and were the most underdressed people there. I gulped down a vodka Martini — Tito's, with a twist — and we shared clams casino, calamari, a half-bottle of bad Chianti, and some crusty white bread. It wasn't "good," but it was good.
Monday, April 2
Up early again: 7 a.m. Aaron made me breakfast while I watched The Simpsons in bed. He seasoned one of Fabiola's mangoes with crunchy salt and lemon juice; there was a big arugula salad, seven-minute eggs, and crispy bacon. The way he cooks is so effortless and messy-beautiful — like having permanent beach hair.
I was due to appear on Dana Cowin's podcast Speaking Broadly at Heritage Radio, so we headed to Roberta's. Dana is beyond charming, and the show invigorated me for the bake sale on Sunday.
Afterward, Aaron and I split their great double cheeseburger and a bowl of split-pea-and-ham soup.
We headed into the city, so Aaron could pick up some citrus at Whole Foods for Cervo's dinner service. I recommended the minneolas, which have been insane this winter, and bought a Sumo orange for myself. It was over $3, but so vibrant and juicy and delightful to eat that I didn't care.
We stopped by Breads Bakery for an espresso and a chewy two-bite chocolate rugalach, and wandered through the Greenmarket, but there still wasn't much, though I spotted mountains of Lani's overwintered broccoli rabe.
Aaron and I had dinner plans at Scarr's, my favorite pizza spot in the city. It is a true NYC slice joint with tons of soul and terrific food. Their tomato sauce is slightly jammy and sweet and garlicky. The crust is made with local stone-milled flour. All of the ingredients are top-notch and non-scary. There is affordable natural wine, and the music is always excellent. I ordered my go-to: a giant pepperoni pizza and a big glass of orange wine.
Cervo's is just around the corner, so we dropped off the oranges and sat at the bar for a minute. We tried some new dishes — fried rice with pea shoots and horseradish; baby octopus with navy beans and torn bread — and had a few glasses of Txakoli from the Basque region.