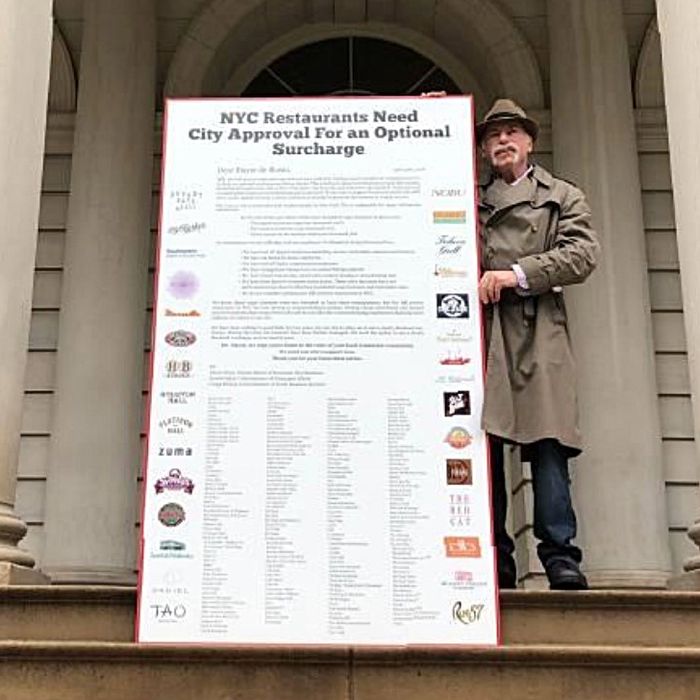 Heartland Brewery CEO Jon Bloostein apparently drew the short straw on delivering this thing.
Photo: New York City Hospitality Alliance
While it's never been low, the cost of running a New York City restaurant has taken quite a leap in recent years. Wages are up, rents are horrible, and employee health care is very pricey. Some city restaurant owners eager to defray these expenses any way they can are now petitioning the de Blasio administration to let them add a surcharge to bills.
Yesterday, the NYC Hospitality Alliance delivered a letter signed by over 200 restaurants that outlines the alleged consequences if City Hall doesn't throw them a bone. It proposes changing the city's laws so they can add a 3 to 5 percent "admin fee" to customers' checks. If they can't, the letter warns, New York's restaurants will continue "closing in unprecedented numbers."
The signatories include some of New York dining's biggest names and employ over 10,000 people. Among them: Drew Nieporent's restaurants (Nobu, Tribeca Grill, Bâtard), Eleven Madison Park and the NoMad, the BLT restaurants, the Tao empire, Hill Country Barbecue, Smith & Wollensky, all of Daniel Boulud's spots, and even bars like Pouring Ribbons and Arlene's Grocery. They complain that they've already weathered nine wage hikes in the last three years, and that 2019's $15 minimum wage could ruin them.
Critics might note that the restaurateurs themselves seem to be doing … just fine. (For example, Nobu's reach now includes 40 restaurants and 16 hotels worldwide, the Tao Group runs America's No. 1 and No. 3 highest-grossing restaurants, and Smith & Wollensky clocks in at No. 8.) But they argue that there's something intrinsically unfair about getting handicapped in America's culinary capital. That's because New York is the only major U.S. city where this kind of surcharge is banned — restaurateurs elsewhere have turned to these fees to offset their increased costs of doing business, although arguably with varying amounts of success.
NYC Hospitality Alliance members argue that they've "laid off tipped employees," "cut hours for many employees," "changed our menus to try to control kitchen payroll," "been forced to increase menu prices," and even "closed restaurants," but that these measures are not doing the trick. Their letter goes on to say that as a result, many restaurateurs no longer "consider opening new full-service restaurants in NYC." The group begs Mayor de Blasio, "Allow us the option of using a clearly disclosed surcharge to generate the revenue to simply survive."
They're especially freaked out now that Governor Cuomo is talking about raising the tipped minimum wage to $15 an hour as well. A rep for de Blasio tells the Daily News that hospitality is no doubt a "vital" New York industry, but that "[w]e're aware of the proposal and haven't taken a position on the measure."