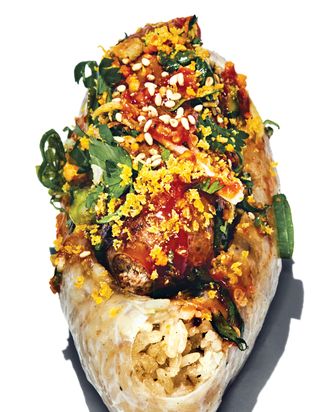 886's little-sausage-in-big-sausage.
Photo: Bobby Doherty/New York Magazine
Spring is all about rebirth and renewal, fresh starts and new beginnings, but at some point you'll need to eat. Here, then, the most exciting restaurants opening this season, and all the dishes you'll surely want to gobble down ASAP, including charcoal-grilled chicken skewers, hand-rolled couscous, the turducken of Taiwanese sausages, rotisserie lobster, and plenty of pedigree pizza.
Frenchette
241 W. Broadway
Lee Hanson and Riad Nasr's first solo project is a modern French brasserie with a design that takes inspiration from the Vienna Secession movement and a seasonal menu featuring riffs like duck-frites, rotisserie lobster, and a petite steak of the day, made with beef that the chefs plan to butcher and age in-house. Continuous service will eventually include breakfast, with buckwheat crêpes and viennoisserie from nearby Arcade Bakery; on the beverage side, the partners have reunited with fellow Balthazar alum and natural-wine proselytizer Jorge Riera, late of Wildair and Contra.
Sushi Noz
181 E. 78th St.
A couple of high-rolling Japanophile brothers have taken up with sushi prodigy Nozomu Abe (formerly of Sushiden) to bring us this minimalist spot that just opened on the Upper East Side. This from a pr rep: "The sushi counter is made from a single piece of hinoki from Kiso that is 200 years old, and has been dry-aged for 30 years in Nozomu's hometown of Hokkaido." The sushi's old, too, or rather, it's served in the edo-mae style, which refers to the pre-refrigeration technique of curing or preserving fish in salt or vinegar. A twenty-or-so-course omakase orgy will run you a cool $300, tip included.
Holy Ground
109 W. Broadway
Pitmaster Franco Vlasic's seasonal barbecue pop-up Fort Gansevoort gets a permanent home in Tribeca, courtesy of restaurateur Matt Abramcyk, who's calling the new subterranean venture a "meat speakeasy." In addition to slow-smoked ribs, brisket by the half- or full pound, and pork shoulder "pulled tableside," there will be sophisticated vegetable sides, steakhouse-style mains, and classic cocktails.
Bellwether
47-25 Vernon Blvd., Long Island City
Chef-partner Preston Madson is a Georgia native, Jonathan Waxman protégé, and veteran of such diverse kitchens as Peels, Barbuto, and the Bay Area's raw-and-vegan Roxanne's. In his new Queens home, the Parker House rolls will be naturally leavened (and served with goat's-milk butter); the Fuerte avocados garnished with seaweed, sesame, and hemp; and the grass-fed-beef patty melt topped with "house queso" and served on brioche.
Sullivan Street Bakery
533 W. 47th St.
Few have done more to elevate the level of New York bread than Sullivan Street Bakery's Jim Lahey, and when he reopens his Hell's Kitchen headquarters this month after a nearly year-long hiatus, it will have a fresh look, seating for 30, and a bunch of delicious-sounding soups, salads, and especially sandwiches. New to the menu: beef-braciole with fresh ricotta on ciabatta; fennel-fregola soup; and, for breakfast, mascarpone polenta with roasted mushrooms, sage, and Parmesan. Of course, all the excellent rustic loaves are back on the shelves, as is the superb Roman-style pizza al taglio — still among the best by-the-slice snacks in the entire city.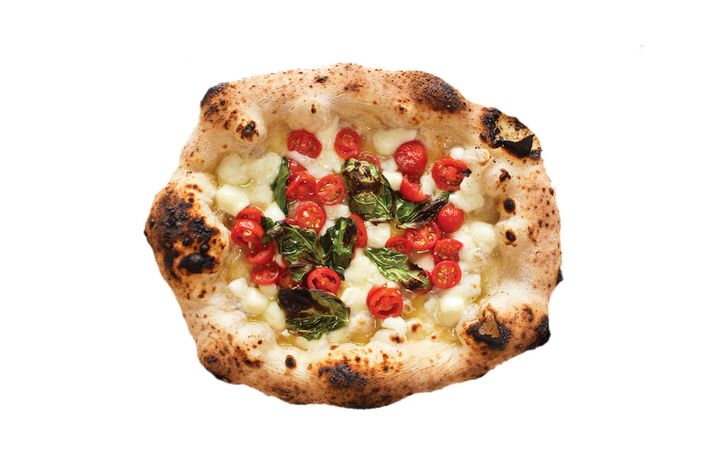 Una Pizza Napoletana
175 Orchard St.
Self-taught Neapolitan-pizza virtuoso Anthony Mangieri has been lured back to New York from San Francisco to join forces with co-chef-owners Jeremiah Stone and Fabián von Hauske Valtierra of Contra and Wildair. Since last seen in these parts, Mangieri has added two pies to his hyper-focused repertoire (the salami-and-egg Apollonia, the arugula-dappled Ilaria) and two more nights to his Wednesday-to-Saturday schedule. But the biggest change since UPN's East Village days is its transformation from pizzeria to full-fledged restaurant that's half-bar, half–dining room (with pizza served only there). The Contra team's contributions: small plates (shaved turnips with 'nduja-mascarpone, lobster-oil-preserved tomatoes with burrata), real desserts (gianduja gelato!), and a wine director fresh from the European neo-bistro circuit to honcho the all-natural, mostly Italian list.
Unnamed Restaurant From the Hao Noodle Team
343 W. 14th St.
The main attraction at this Meatpacking District spinoff from the good people at Hao Noodle in the Village is charcoal-grilled skewers. "A little bit similar to Japanese yakitori, but in the most authentic Chinese way," says a rep. Juicy, smoky, aggressively seasoned meat on a stick, washed down with ice-cold beer, is what we're thinking.
Little Tong
235 E. 53rd St.
With the midtown mobs in mind, chef Simone Tong plans to launch her 12-seat Turtle Bay outpost first for weekday lunch, supplementing her signature Yunnanese mixian rice-noodle bowls with a variety of Chinese street foods. At press time, she was deep in recipe development for her take on guokui, or flatbread — in this case, a scallion pancake topped with beef shank, melted cheese, and herbs.
Lucky Pickle Dumpling Co.
513 Amsterdam Ave.
After bringing the Upper West Side a Southern-fried joint (Jacob's Pickles) and a retro-sleek shrine to the French Dip (Maison Pickle), Jacob Hadjigeorgis tries his hand at the neighborhood's native cuisine: Chinese. His new dumpling shack will dispense specimens stuffed with the usual suspects (chicken, vegetables, shrimp-and-pork) that come five to an order. There's also talk of noodles and soft-serve for dessert.
Okozushi
367 Graham Ave., Williamsburg
If you've ever had the serene pleasure of starting off your day with a seafood-centric Japanese breakfast at Yuji Haraguchi's Okonomi restaurant, you're already practically jumping up and down and clapping your hands over news of his latest venture: a ten-seat, walk-ins-welcome, takeout-ready sushi restaurant five blocks away from his pristine gem of a fish market Osakana.
Atomix
104 E. 30th St.
At Atoboy, Junghyun Park convinced the world that $42 is a small price to pay for a three-course prix fixe meal inspired by the usually free Korean side dishes called banchan. Now he's kicking it up a notch, as someone once said, with a $175 multicourse tasting menu and a 14-seat chef's counter. He'll run a bar above the basement-level restaurant, too, serving original cocktails and à la carte snacks.
Joe & Pat's
168 First Ave.
The Pappalardo clan opens the first official Manhattan outpost of their pizza joint par excellence, the pride of Castleton Corners, Staten Island. You can count on superthin pizza with crunchy crusts and infinity-pool rims (plus a full roster of Italian-American fare, which might include such cuisine-defining specialties as pepper-and-egg heroes and chicken Francese). "We've been looking to expand into Manhattan for about six years," says Casey Pappalardo. "When the old Lanza space in the East Village became available, it felt like a good fit: a family-run Italian restaurant started by immigrants."
Bar Beau
61 Withers St., Williamsburg
Claire Chan, the owner of The Elk coffee bar in the West Village, expands to Brooklyn with a new spot dispensing Parlor-roasted brews by day, craft cocktails and small plates by night. Chef-consultant Gil Calderon (late of the Meat Hook and Foster Sundry) has assembled a menu with influences both Asian and New Age (boneless wings with dried shrimp, gochujang, and tiger salad; malted almonds tossed with spirulina and turmeric). And one wouldn't be a shape-shifting all-day café-slash-cocktail bar without a visual identity honed by the MP Shift, the team who designed De Maria.
Di An Di
68 Greenpoint Ave., Greenpoint
The An Choi crew expands to Greenpoint with a new restaurant specializing in Vietnamese soups and especially pho. The name means "Let's go eat," and chef Dennis Ngo's menu provides lots of enticing opportunities to do just that, from the signature beef noodle soup served with a poached egg and a fried cruller to a dessert of shaved ice with pandan jelly, yellow and red beans, and seasonal fruit.
Kish-Kash
455 Hudson St.
Who knew there was an art to rolling couscous? After months of Tuesday-night practice runs at her Nolita restaurant Balaboosta, Einat Admony has perfected it. She's ready to open Kish-Kash, her long-awaited restaurant devoted to the dish. Classic accompaniments include braised meats, spicy fish, and all manner of vegetables. You may never look at a box of Near East the same way again.
886
26 St. Marks Pl.
Taiwanese food is all the rage these days, but one thing that's lacking is the fantastic street-food snack known as the small-sausage-in-big-sausage — i.e., a spicy grilled pork sausage stuffed into a steamed sticky-rice sausage canoe. That's the specialty of the 30-seat 886 in the East Village, where owner Eric Sze gives the thing a less wordy name ("Sausage Party") and tops it with crushed peanuts, fried shallots, cilantro, sesame seeds, and shaved duck-egg yolks.
Leonelli Taberna, Leonelli Focacceria e Pasticceria
7 E. 27th St.
Nomad's refurbished Evelyn Hotel will soon be home to the first two parts of Jonathan Benno's three-pronged post-Lincoln project: a rustic "taberna" and an in-house bakery (serving variously topped and filled focaccia plus Italian sweets), both inspired by Rome's venerable Roscioli, a combination deli-wine bar-restaurant that operates its own bakery. On the horizon: the chef's Mediterranean-inspired fine-dining restaurant, Benno, slated to arrive this fall.
Pisellino
100 Seventh Ave. S.
The West Village gains yet another undoubtedly charming place to eat and drink from the talented team of Jody Williams (Buvette) and Rita Sodi (I Sodi), this one inspired by classic Italian bars. Unlike our native species, the Italian bar opens early for coffee and breakfast and serves various social functions as the day progresses, from lunch and dinner to snacks and cocktails. It will be, like the partners' other venues, long on atmosphere and short on space, with standing counters inside and sidewalk seating once the weather cooperates.
Randall's Barbecue
359 Grand St.
A veteran of Hill Country and Dinosaur, Jared Male introduced New York to his own brand of barbecue the new-fashioned way — at a Hester Street Fair stall, a Crown Inn pop-up, and inside a Kati Roll Company paratha. His first brick-and-mortar will bring house-cured-and-smoked bacon (plus brisket, ribs, and smoked duck) to a Lower East Side location that most recently housed a kosher pizzeria. And he's already brainstorming future collaborations with neighbors the Pickle Guys and the Doughnut Plant.
Zauo
152 W. 24th St.
Finally, a Japanese chain restaurant that provides its diners with toddler-size poles and allows them to fish for their dinner from an indoor moat. One thing: you're stuck with whatever you catch, so try not to hook an old tire or a sea captain's boot.
*A version of this article appears in the April 2, 2018, issue of New York Magazine. Subscribe Now!