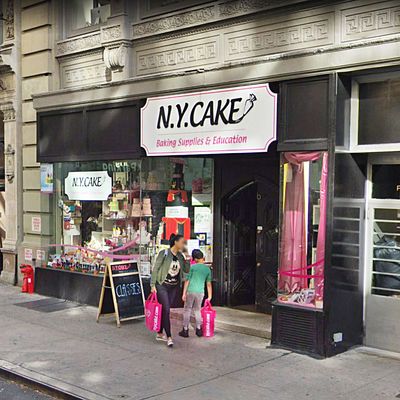 The original location will stay open through the summer.
Photo: Google
It's not over until the cake lady says it's over. In February, it came out that New York's premier baking store NY Cake would have to move out of its longtime home by June. Since opening first as the Chocolate Gallery in 1980 and then becoming NY Cake in 1989, it's become New York's headquarters for frosting enthusiasts. Back in February, its co-owner and co-founder Lisa Mansour told Grub that they were "looking diligently" for a new location. Uncompleted plans for relocating here are always troubling, but it turns out the store won't go the way of the Broadway Panhandler. The owners have announced that they'll reopen just down the street at 118 West 22nd.
Just a block away, it means you won't have to change how you get there when you need to make a sprinkles run. Bigger than the original, the new space will allow for more products, an expanded schedule of classes, and a café with in-house sweets. On May 1, select items will be marked down 50 percent to clear space before the move, which won't happen until fall of this year. Until then, you'll still be able to go to the original location through the summer.