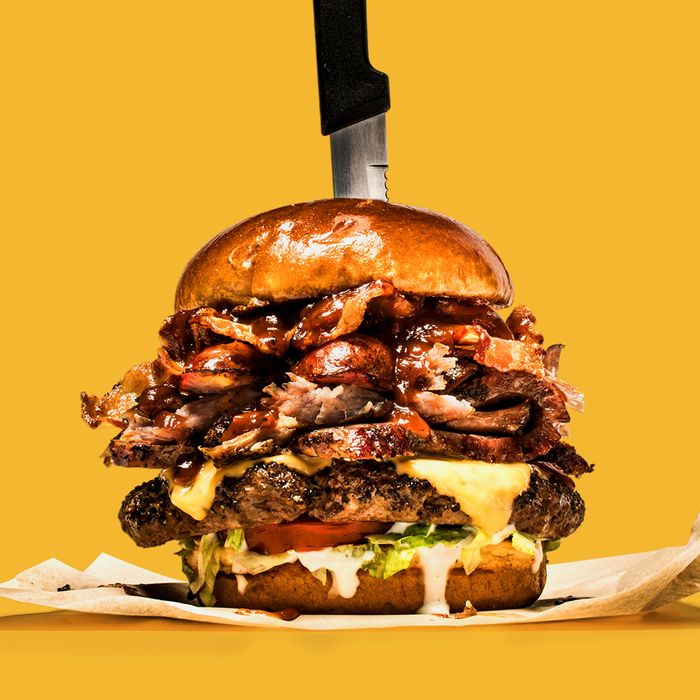 "It's a masterpiece if we do say so ourselves."
Photo: MANNY RODRIGUEZ/Chili's
This week, the nation's burger scene has hit a new low: Chili's has unveiled something called the Boss. The tagline is "Five Meats. One Burger. 100% Boss," and this monster is currently being tested at "a handful" of Chili's locations nationwide. (Part of "the fun" is not knowing where.) Should you stumble into the right outlet, you'll have the opportunity to order this half-foot-high sandwich, a Jenga tower of grease — bacon, jalapeño sausage, rib meat, brisket, cheddar, half-pound burger, ranch, barbecue sauce — that's precariously stacked between two buns. It clocks in at 1,650 calories.
Together, the five meats produce a burger that, Chili's boasts, "puts every other burger to shame." That's a dubious claim, especially when one remembers the existence of the Meat Mountain, the notorious eight-meat-high sandwich Arby's released four years ago. But that's exactly the problem here: There is no untrodden wild-burger territory left to claim.
Years ago, thirsty chains piled nine patties on the burgers, dyed their buns Play-Doh colors and their cheeses jet-black. We've already seen burgers that mock Donald Trump, aim for Über-patriotism, or somehow celebrate abject male chauvinism. Besides, nothing will ever top this insane 18-layer burger thing that Japan's Lotteria rolled out a few years ago. Even veggie burgers used to sort of be a stunt, in the sense that they'd assuredly get the chain that offered it free press. Nowadays, Impossible Foods' and Beyond Meat's plant burgers are everywhere, and even McDonald's has trotted out a vegan patty.
To interest people in a stunt burger, your only avenue now is to produce an item so preposterously ludicrous, people will mostly just show up to laugh at you. Need proof? Say no more: It's precisely where North Carolina's Bull City Burger and Brewery finds itself after not just whipping up an Exotic Meat Month menu that features things like camel, reindeer, rabbit, and fried bugs, but adding this supposed showstopper, the "Tarantula Challenge":
It costs $30. People who've eaten tarantulas whole in the past have described it as "disturbing," noting that it's "full of a dark brown paste" that involves everything "from eggs to the heart and spider excrement." Maybe it's time for everyone to stick to chicken sandwiches for a while, huh?