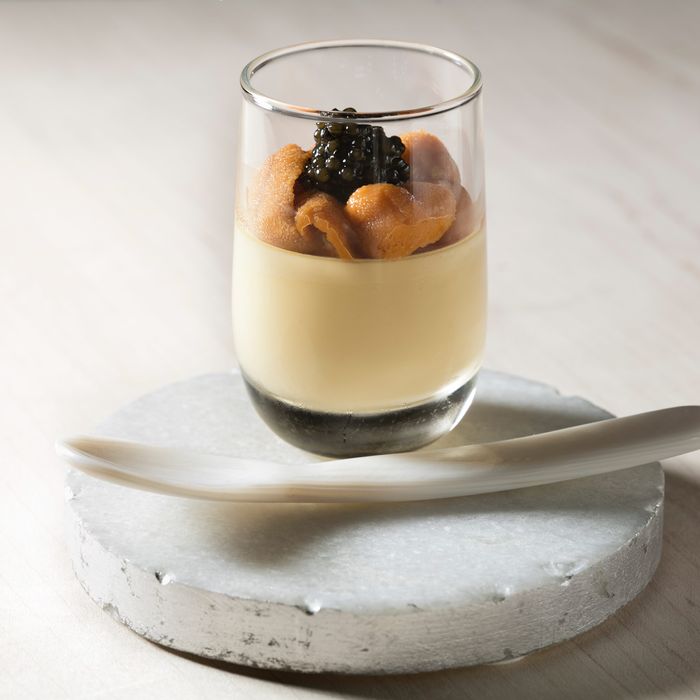 Chawanmushi with uni and caviar.
Photo: Melissa Hom
Sushi aesthetes tend to have different signifiers that justify their lofty judgments on what makes a certain precious little bar, or restaurant, or lordly chef worth their time and money, especially these days when the city is overrun with endless expensive-omakase options. Maybe it's the quality of the rice that keeps them coming back to the same little restaurant, or the perfect brittleness of the nori, or the texture of the uni and the fatty white-tuna belly as it slips down the back of your throat. At the posh new omakase spot, Noda — which opened, discreetly, a couple of months ago in a darkened, backdoor space in the Flatiron District — it was egg custard that the assorted big-money swells sitting around me at the bar couldn't stop nattering about, and I have to admit, they had a point.
Traditional chawanmushi isn't always included in some of the more radical, New Age omakase restaurants around town, and if it is, it's usually as an afterthought. The custard is often too runny, or too hard, or chalky pale. This chawanmushi was a deep eggy yellow, and instead of being too hot or too cold, it was served at room temperature, in a small glass. The beaten eggs had the deep, complex flavor of a great savory dish and the melty, satisfying smoothness of a sweet dessert. They were topped with Osetra caviar to signify a sense of occasion, and a spoonful of deeply orange uni from the chilly waters of Hokkaido to announce the quality of the ingredients to come.
"Now you can taste a little bit of Tokyo without flying for 14 hours," said Shinji Nohara, who is well-known among culinary-obsessed Japanophiles as the Tokyo Fixer. Nohara has made his reputation guiding jet-lagged journalists like myself on safari dining tours around Tokyo, and when he visits New York, it's usually to gorge on burgers and slabs of corn-fed beef, not sushi. But two young restaurateurs, Justin Hauser and David Hess, convinced him on one of their visits to Japan to help curate their dream omakase spot, and together they persuaded a young chef named Shigeyuki Tsunoda, who last worked at the Michelin-starred Sushi Iwa in Tokyo, to pack up his set of pointy, glinting knives, and move with his entire team of assistants across the Pacific. This is not the standard migration route for most of the city's vaunted sushi masters, many of whom work or train for a while in Japan, but don't open their own restaurants until they arrive, and work for a bit, in the States. (Nohara points out that, like Masa Takayama and his acolytes who came from L.A., even our sushi god of the moment, Daisuke Nakazawa, of Jiro Dreams of Sushi fame, worked elsewhere, in Seattle, before hitting Manhattan's sushi scene.)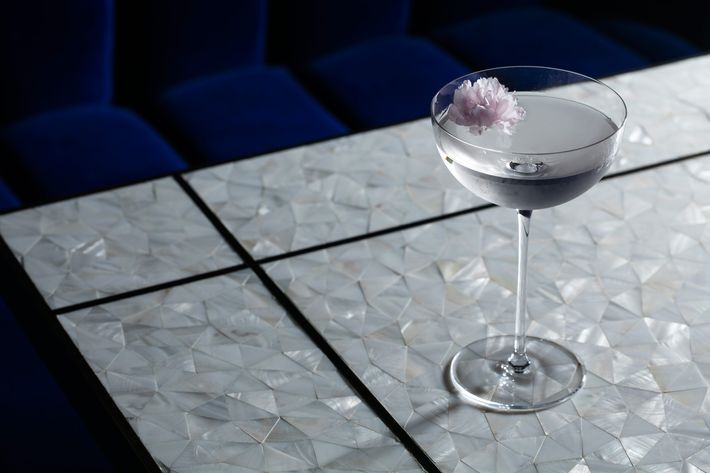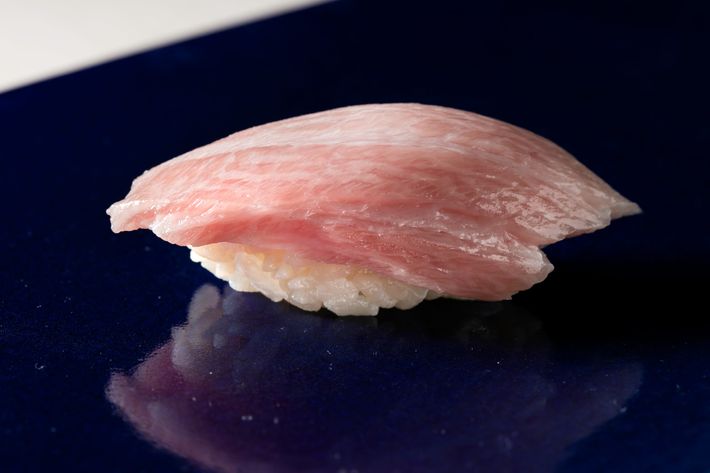 Although the polished little room at Noda looks an awful lot like a caricature of a young bond trader's fantasy sushi den (the big-name designer, Ken Fulk, has installed violet cushioned chairs at the bar, among other baroque touches), my spare, 14-piece dinner had the focused, uncluttered feel of something you might encounter on a high-level sushi tour of one of the great sushi cities of Japan. After the chawanmushi, we watched Tsunoda construct a maki roll made with a single, long strip of silvery mackerel — which had been gently cured in vinegar in the classic, pre-refrigeration "edomae" style — and his signature brand of rice, which is unbleached, and treated with sake lees. There were fat grilled scallops served in little slips of toasted nori after that, and lustrous slices of monkfish liver, which had been softened for days in a mix of sake and soy sauce.
The nigiri sushi, when it appears, includes pats of delicately molded baby shrimp brushed with "proprietary" nikiri, and slices of esoteric "cherry" sea trout, which inhabit the tidal river estuaries of northern Hokkaido in the spring. There was yellowtail belly to go along with the usual tuna belly, and before dessert arrived, Tsunoda mixed up a batch of tuna tartare in a bowl, and handed everyone a final hand roll, like guests at a party.
Dinner at Noda costs $285, gratuity included, which is considerably less than what you'll fork over at Masa and some of the other top-dollar sushi temples around town — or even at upper-tier omakase parlors on the streets of Tokyo.* As is the high-roller custom, however, it's possible to increase your bill drastically by delving into the impressive house selection of sake, Japanese whisky, and trophy European wine. To help facilitate this kind of consumption, Hauser and Hess (of the Hess Oil clan) convene everyone in the bar area for a drink before sitting down to dinner, and once you're situated on your velvet-covered chair, you'll find that the bar is gently curved, to encourage conversation. Is this something you'd see in the severe sushi temples of Japan? Of course not. Did your grumpy critic enjoy it? Actually, I sort of did, and if I can ever scrape together the necessary funds for a second taste of chef Tsunoda's cooking, I might even be back.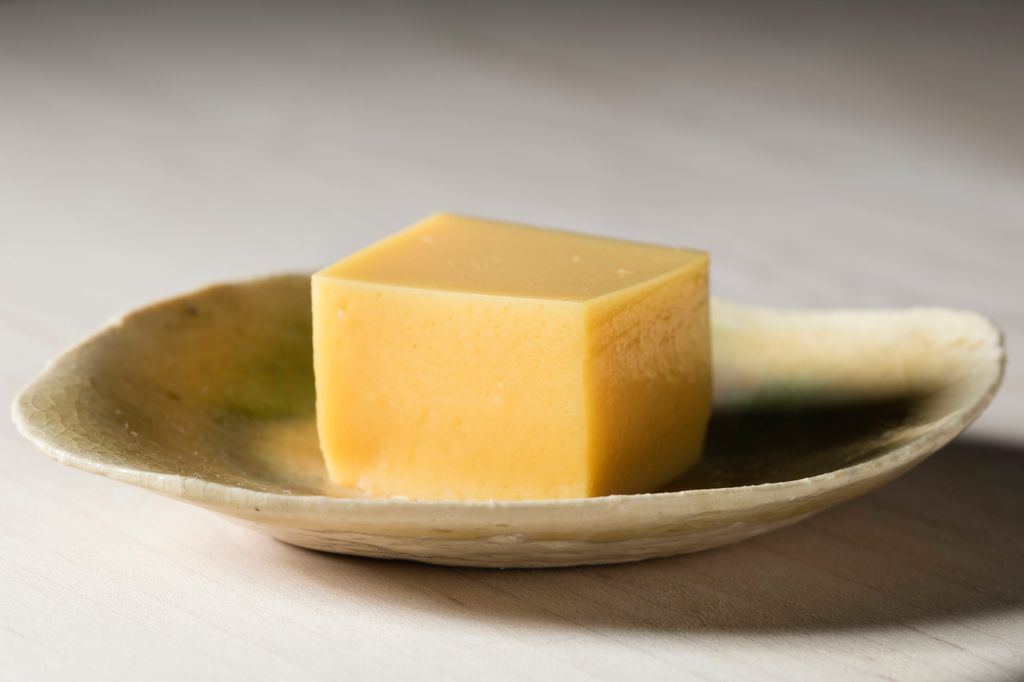 *This post has been updated to reflect the fact that the price for the omakase menu at Sushi Nakazawa is lower than Noda's.