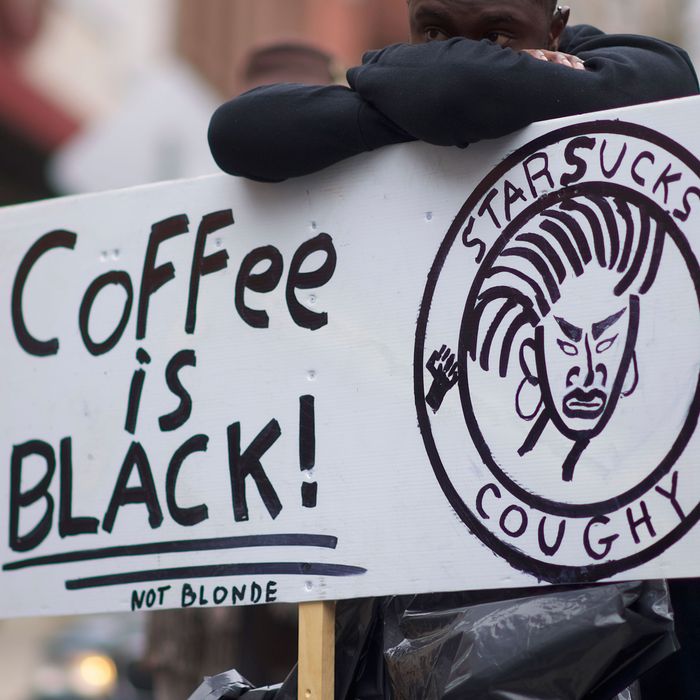 Starbucks's situation worsens …
Photo: Mark Makela/Getty Images
After protests in Philadelphia, Starbucks now has trouble elsewhere. A new video making the rounds on Twitter shows a black customer in the Los Angeles area being denied access to the bathroom. The clip was first tweeted by civil-rights activist and former Young Turks commentator Shaun King. It was shot inside a Torrance store by a man named Brandon Ward. Ward says he hadn't purchased anything yet, so the manager refused to give him the bathroom code. But in his video, a white male who hadn't purchased anything either walks out of the bathroom, and tells Ward he'd simply "asked for the code."
The timing of the video is unclear, but after King's tweet, it's now been viewed 1.5 million times, and is one of several examples surfacing in the last few days of the ways black customers feel Starbucks has discriminated against them.
Since Saturday, Starbucks CEO Kevin Johnson has promised meetings with community leaders and police, sitdowns with customers, and more training for baristas and store managers, while also proposing "a dialogue" with the two arrested men in order to "show some compassion and empathy" for their ordeal. CNN says this morning that this meeting actually already occurred (quietly sometime yesterday, presumably), though Starbucks wouldn't elaborate on the details.
In the meantime, the #BoycottStarbucks movement isn't losing steam. Protesters shut the Philly café down yesterday after chanting "Starbucks coffee is anti-black!" and staging a sit-in. By late morning, the location had accumulated thousands of one-star Yelp reviews, assuring it will remain in "active cleanup" for the near future. The company did announce yesterday that it's officially parted ways with the Philadelphia store manager who called 911, in what a rep referred to as a "mutual" decision.