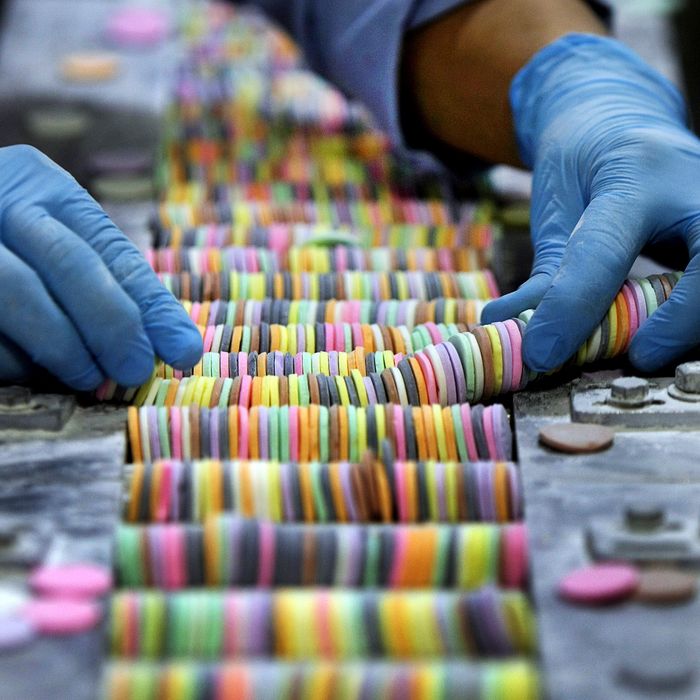 Yum …
Photo: John Tlumacki/Boston Globe via Getty Images
The Great Necco Panic has begun. Last month, the Boston Globe ran a story explaining that Necco, an American candy institution with origins dating back to 1847, could shut down by mid-April if the company, which is struggling financially, doesn't find a buyer.
This is surprising! Time and again in surveys, Necco's products — which include Sweethearts, Candy Buttons, Slap Stix, Mary Janes, Squirrel Nut Zippers, and the hallmark wafers — have ranked among the industry's worst candies, yet now faced with news that the brand's quarter-size candy tablets or molasses chews could, in fact, disappear forever, consumers are getting nostalgic and hoarding the candies. According to sales data released by CandyStore.com, a bulk online candy seller, Necco's overall sales leaped by more than 50 percent in the days following the announcement, while wafer sales in particular soared by 63 percent.
The site says that during the month of March, after the panic began, it received 253 emails and 167 phone calls from customers looking for Necco-brand candies. Twenty-nine people offered to pay at least double the going bulk rate, and three reportedly said they'd perform free labor in exchange for priority treatment. One woman wanted 100 pounds of Necco's glorified Tums, which she planned to vacuum-seal to keep her prepper stash fresh "for years." (A standard 24-wafer roll weighs 2.02 ounces, so she was requesting about 800 packs.) Another woman said she'd trade her late-model Honda Accord for all of CandyStore.com's remaining Necco candy.
Other candy sellers say they've seen similar demand. CandyFavorites.com — one of CandyStore.com's big rivals, if that somehow wasn't obvious — tells The Wall Street Journal that it "fielded hundreds of hectic calls" during a recent weekend. Some buyers tried to buy the wholesaler's entire wafer inventory. The site's owner tells the paper that callers have sounded "shocked," "scared," and definitely "not happy about it."
If Necco survives, this of course will all have been for naught. For now, though, Necco is doing a great job of feeding the public's suspense: "Fans, we have received an astounding amount of emails concerning the future of our company," somebody wrote yesterday on the company's Facebook page. "I will do my best to get back to you all. All I can say is that we are unsure of our future but hopeful for a buyer to keep this sweet and nostalgic brand alive for many more decades."