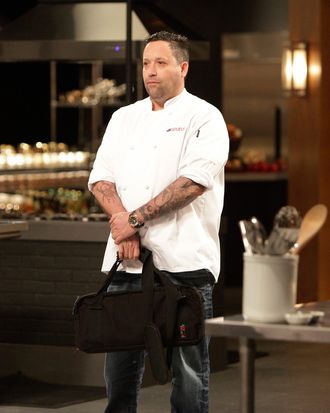 Isabella.
Photo: Nicole Wilder/Bravo
The former manager suing Mike Isabella's restaurant group for sexual harassment, Chloe Caras, filed a new lawsuit today asking the court to make nondisclosure agreements signed by the Washington, D.C., chef's employees unenforceable. Caras and her lawyer, Debra Katz, argue that Mike Isabella Concepts used these NDAs to hush accounts of sexual harassment, and that the company retaliated against employees who did speak up. If the agreements are ruled invalid, the move could open the floodgates for fellow employees past and present to come forward.
According to the Washington Post, reporters spoke to 25 employees of Mike Isabella Concepts since news of the first lawsuit became public. Many of those employees, however, asked to remain anonymous because they feared being sued by Isabella over breaking their NDAs. The new complaint also alleges that some employees have been pressured to sign false statements about Caras, behavior that a cook and former corporate chef confirm for the Post.
According to Caras's complaint, many employees have had to sign the agreements since 2011, and breaching the NDA would result in a $500,000 penalty. The NDAs reportedly prevent employees from sharing information about the "business and personal lives of Isabella, his family members, friends, and business associates and dealings." Katz, an employment lawyer, tells the Post that the NDA is a "lifetime muzzle" used to "allow serial harassers to stay in place."
Employees alleged that after incidents of sexual harassment or witnessed misconduct, they were reminded of their NDAs. One employee says that she signed two NDAs during her 14 months working at Isabella's Graffiato restaurant, and that fellow employees told her that they were scared to talk about anything to do with the restaurants.
In a statement, Isabella countered that the NDAs were used to prevent leaks about restaurant openings, and that his restaurant group has "always had policies" encouraging employees to report incidents.