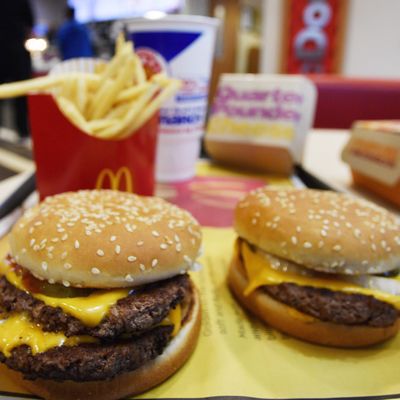 They're supposed to roll out nationwide by early May.
Photo: Mike Stewart/AP/REX/Shutterstock
The day of reckoning is finally here for McDonald's fresh beef in this great city we all call home. Starting today, the chain's Quarter Pounder and Signature Crafted burgers will be cooked to order at some 570 locations in the New York City area. This switch, from frozen discs to nonfrozen patties, has been in the works for years, underscoring how enormous an undertaking it is not just for the company itself but also for individual franchisees.
Here's the marketing babble: The fresh burgers contain "absolutely no fillers, additives, or preservatives," and McDonald's cites a customer survey it conducted after testing the nonfrozen patties in Dallas and Tulsa, which claims there's a 90 percent "satisfaction rate" with the new burgers, and also that 90 percent of customers expressed "intent to repurchase." However, burger standards are high in New York — birthplace of Shake Shack, stomping grounds of any number of burger masters. New York is also, it's worth mentioning, a hotbed of plant-based burger alternatives. Plus, New Yorkers have been consuming Wendy's unfrozen fast-food patties for years without much fanfare.
So, will the tough New York audience be impressed? McDonald's is optimistic, although you could argue that the somewhat-mixed reviews in other markets that already made the switch may not be the best omen.
• McDonald's hometown paper, the Chicago Tribune, reports that the fresh beef "was indeed juicier than its frozen counterpart," adding that if you gave the sandwich a healthy squeeze, liquid "trickled out and coalesced into a small puddle on the tray liner." Yum!
• Food & Wine says that the meat "looked, well, real" ("irregularly edged" and "slightly smaller around," with "a nice bit of char"), and ultimately amounted to a "fairly significant upgrade from McDonald's as usual" — which is to say, it still hardly "competes with any of the gourmet burger chains." That's what we call McFaint praise!
• The Charlotte Observer's verdict was that it's "a little browner and fresher" than the old version, and — if this is, you know, your thing — you can "break off a morsel of meat and squeeze it," and "a little more juice" will rise to the surface. "Otherwise," the paper concludes, "it's still the same 1/2-inch patty you know and tolerate: Brown on the outside, gray on the inside, a little chewy, a little salty."
• Business Insider, meanwhile, performed the obligatory comparison between the fresh Quarter Pounder and Wendy's quarter-pound rival, the Dave's Single. They report that while McDonald's new burger is definitely "juicier and hotter than its previous attempts," Wendy's square patty remains "even juicier and hotter."