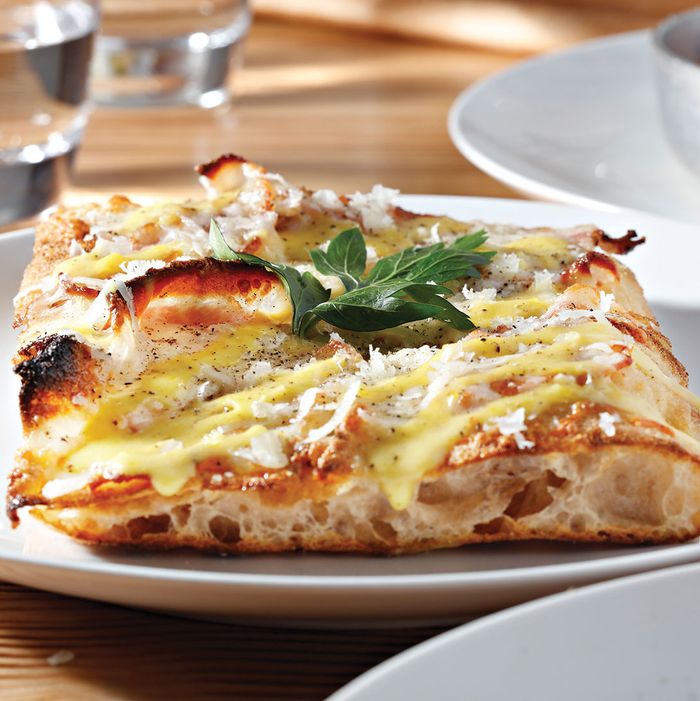 Carbonara pizza by the slice.
Photo: Melissa Hom/New York Magazine
Mani in Pasta is the name. Translation: "hands in the dough," and that is exactly where Giuseppe Manco's mitts have been most of his 31 years. Manco is the pizzaiolo-chef and co-owner of this five-month-old East Village pizza restaurant, and his dough-making credentials are pretty impressive.
The Neapolitan expat got started early at the family-run trattoria in Naples, where under the tutelage of assorted aunts and uncles he made his first Margherita D.O.C., pulling it out of the wood-fired oven — presumably with the aid of a stepladder — at the ripe old age of 6. The young Underground Gourmet achieved a similar culinary triumph, albeit at age 21, when he cooked a Stouffer's French Bread Pizza in a toaster-oven and ate it without burning the roof of his mouth for once by letting it cool for an appropriate length of time.
But we were talking about Giuseppe Manco. Some people know right away what it is they want to do in life, and so it was with him. And after that formative pizza-making experience, he never looked back. His parents, knowing the hardships of the restaurant business, had hoped he'd become an accountant, but it was too late. He had discovered his calling.
What really must have vexed his mom and dad, though, was what happened next. After years of perfecting his Neapolitan-pizza-making skills at restaurants and pizzerias in Italy and the United States, including Rossopomodoro and Don Antonio, Manco had a change of heart. While working at a Neapolitan pizzeria in Rome, he fell in love with Roman-style pizza in teglia (or pan pizza), and he switched teams. We mean he went over to the other side. Yes, he became a Roman-pizza specialist. As noted, the news must have astounded his parents, whose attitude toward non-Neapolitan pizza had always been similar to that of a John Coltrane aficionado toward the tootlings of Kenny G.
Undeterred, Manco embraced Roman pizza in teglia with a fervor, eventually winning an award for his version of it at the 2017 International Pizza Expo in Las Vegas, which not only earned him praise among his peers but also landed him an EB-1 (or extraordinary ability) green card — a pretty rare thing for a pizzaiolo.
Now you can get the same blue-ribbon pan pizza at Mani in Pasta in the East Village, and it is terrific — the crust dark and crackly around the edges, the tender crumb boasting the kind of webby, widely inscribed holes that hint of long fermentation. Manco attributes its texture to high-hydration dough that lazes about developing flavor for a whopping 96 to 110 hours, and the blend of flours he uses: wheat, soy, rice, and semolina.
Toppings fall on the spectrum somewhere between Neapolitan restraint and modern-Roman-pizza-maker whimsy. We particularly liked the carbonara and the Regina Margherita, in spite of the fact that the latter's halved cherry tomatoes flew off the slices when we picked them up like drunken lumberjacks at a log roll. You can also get the pan pizza by the slice at a mostly takeout Mani in Pasta satellite in Midtown East, but then you'll miss out on the comparatively deluxe surroundings and cheerful vibe at the East Village nook (a half-dozen-or-so tables, cloth napkins, the occasional Felliniesque gathering of Italian expats), not to mention the tag-team table service — enthusiastic and hands-on but never-intrusive — provided by Manco and his business partner Pietro Toscano.
In addition to pan pizza, there's the so-called pinsa, made with the same crunchy dough but pressed thinner and shaped like a classic Neapolitan pie with a pronounced cornicione. If you like the idea of Neapolitan pizza, but not its soft and often soggy texture, this is the pie for you.
We should also mention that there are other good things to eat at this pizzeria that aren't pizza, including Roman pastas like a spot-on bucatini cacio e pepe, and a great mini-size fritto misto comprised of rice croquettes, a potato fritter, and a cheese-stuffed squash blossom encased in a delicate tempuralike shell.
But pizza's the thing that is first and foremost on Giuseppe Manco's mind. And, as it turns out, not just Roman-style pizza. He says he hopes to return to making Neapolitan pizza one day and open a New York shop devoted to it in addition to what he has now. "I love all the pizza," he says. For inspiration, he's been hitting up New York-style slice joints and pizza hot spots in his spare time, including Joe's on Carmine Street ("I like it"), Emmy Squared ("Great!"), and, of course, Di Fara in Brooklyn, where he frankly wondered whether what he tried was worth the hour-and-a-half wait, but nevertheless recognized in Domenico DeMarco—still working the oven at age 81—a soul brother and kindred spirit. "I'm like him," he says. "I'm probably going to die making pizza, but at least I'll die happy."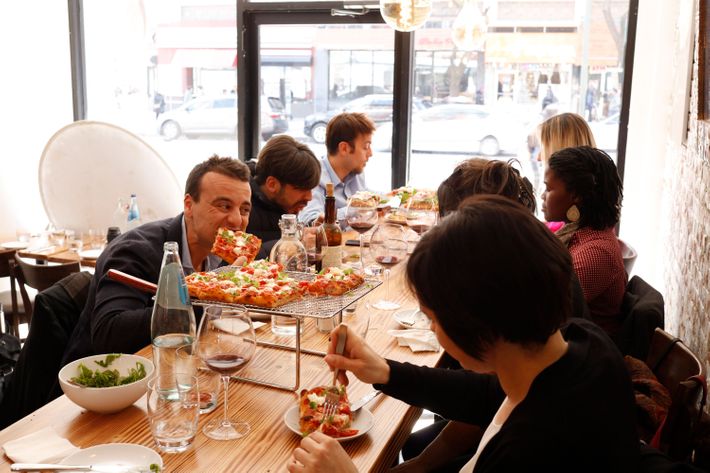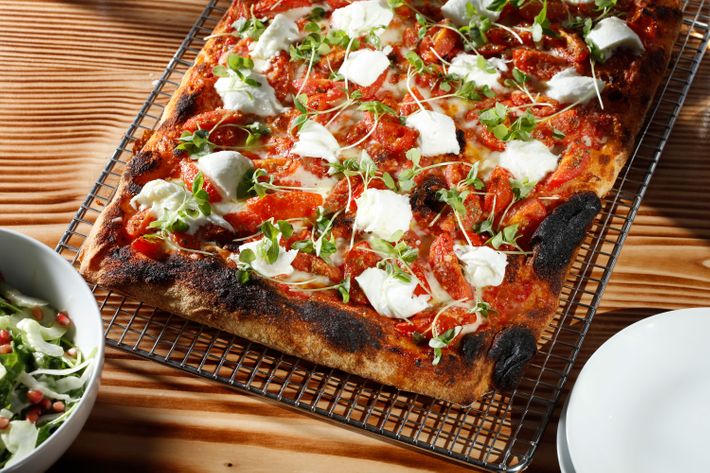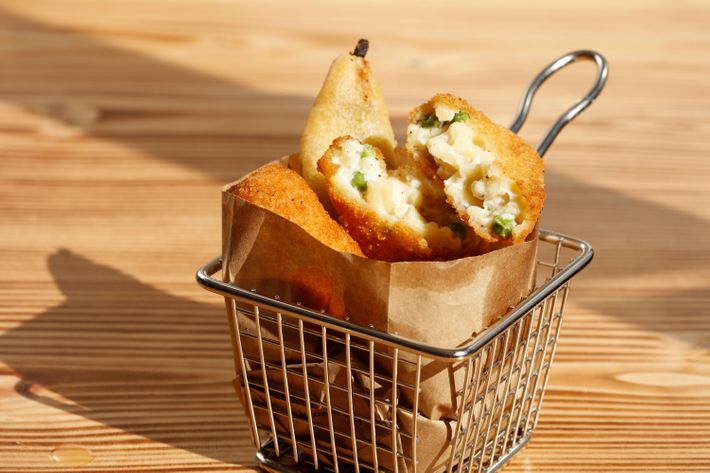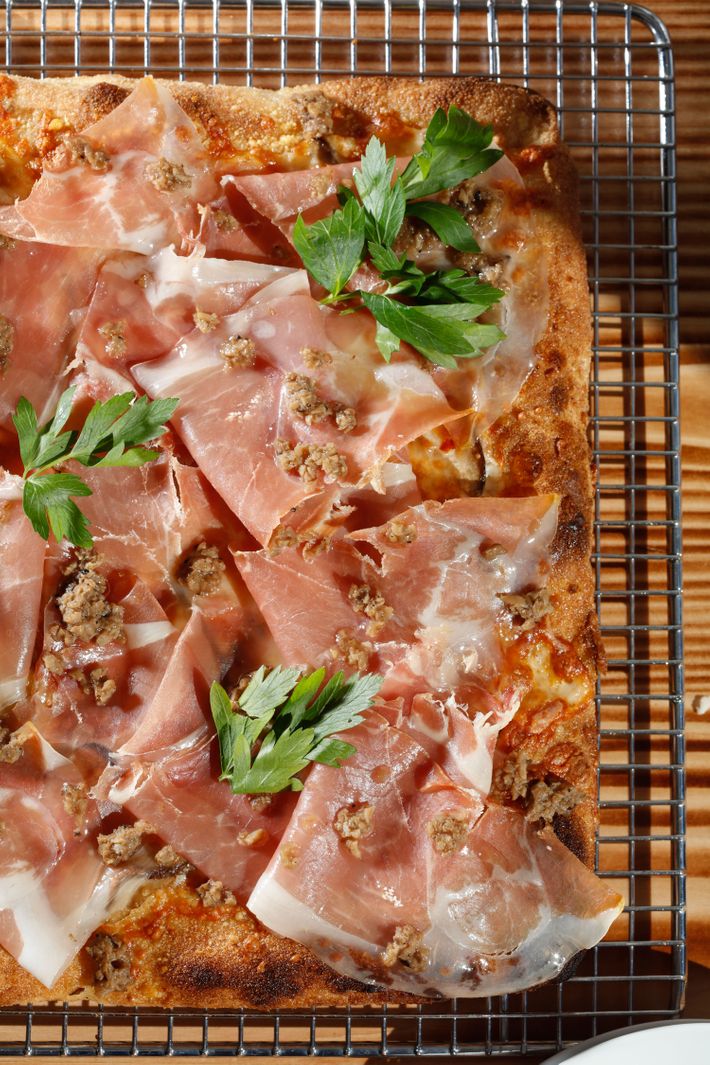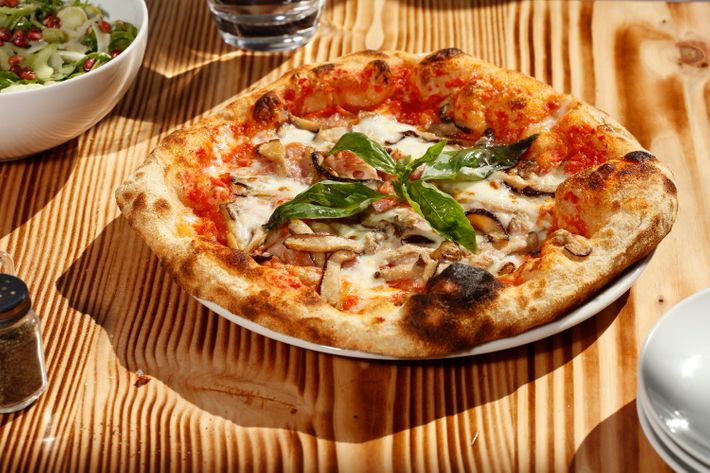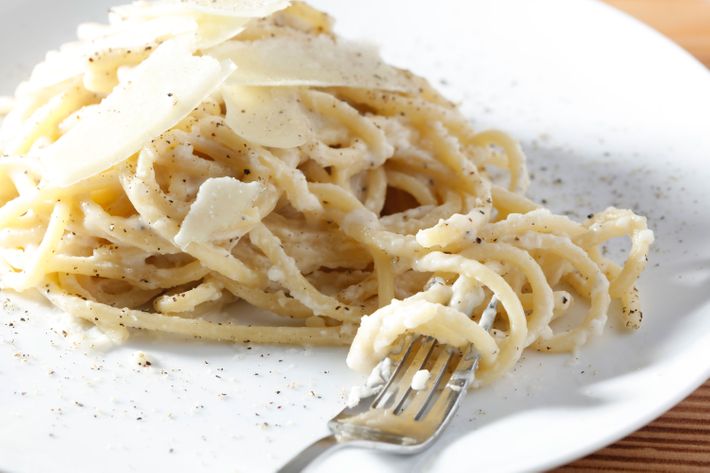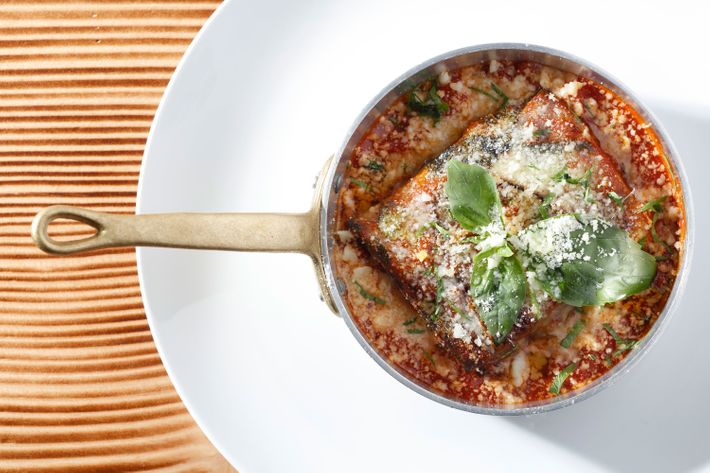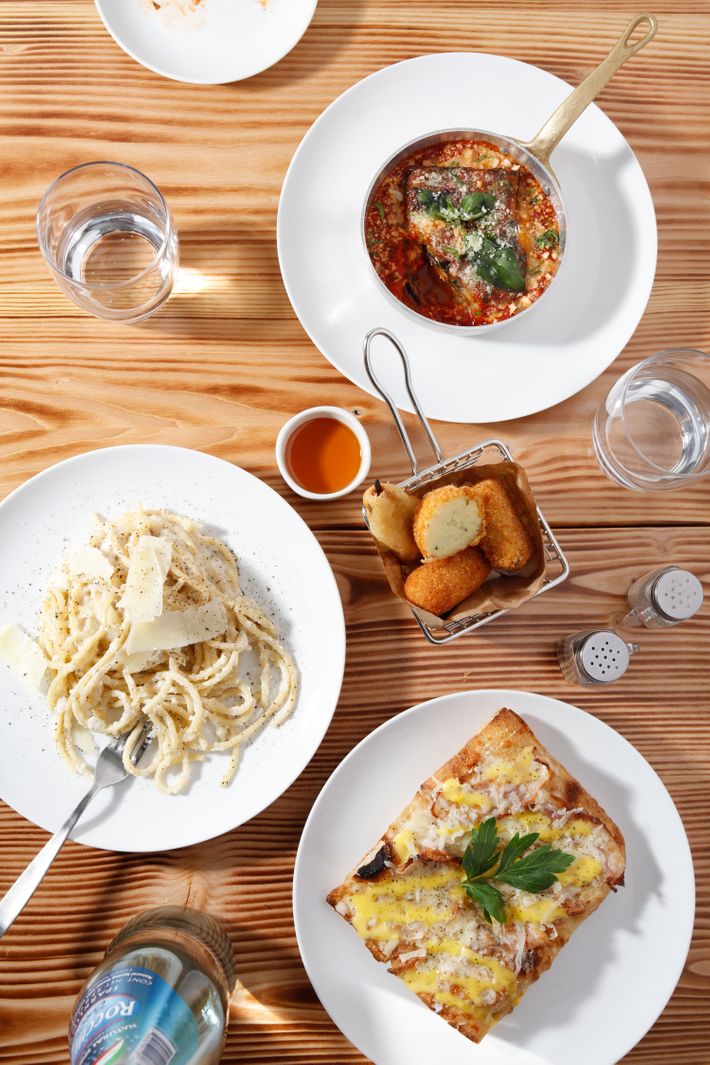 Mani in Pasta
245 E. 14th St., nr. Second Ave.; 646-891-0174
Open: Daily for lunch and dinner.
Prices: $3 to $32.
Ideal Meal: Fritto misto, Regina pan pizza, tiramisu.
Note: The restaurant recently acquired a beer-and-wine license, so you no longer need to BYO from the nearby 7-Eleven.
Scratchpad: Two stars for the pizza, another one for the ebullient service.
*A version of this article appears in the April 30, 2018, issue of New York Magazine. Subscribe Now!