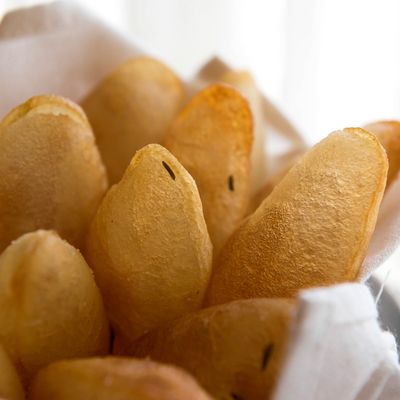 The bistro's perfect, painstaking pommes soufflés.
Photo: Liz Clayman
One detail you should know about Cherche Midi, Keith McNally's Bowery bistro that's now set to close in June, is that the kitchen insists on serving pommes soufflés with its exceedingly popular prime-rib entrée. Even in the hands of a talented cook, the antiquated French potato recipe is not easy to pull off, night after night, order upon order upon order. Pommes soufflés are essentially potato chips that need to be dunked in hot oil several times until the vaporized moisture inside causes them to puff like crisp balloons. Something like half the time, they don't work: The potatoes don't puff, or they aren't agitated in the oil correctly and they remain soggy. A chef essentially needs to assign one person the sole task of making pommes soufflés, which customers then tend to wolf down by the handful without realizing what a tremendous headache they are to make correctly.
As far as potato sides go, fries are much easier; mashed potatoes are, too, and they're basically impossible to screw up. But the full presentation of the prime rib, some braised onions and a salad, along with the pommes soufflés — as engineered by opening co-chefs Daniel Parilla and Shane McBride — was a properly regal meal. New York's own Adam Platt singled out how Cherche Midi's "elegant" potatoes offset the hulking, demi-glace au jus–soaked slice of marbled, pink beef. The pommes soufflés were also a telling example of how Cherche Midi, which debuted in June of 2014, differed from other New York bistros, and even other Keith McNally restaurants.
Restaurants that close after just four years in business typically don't warrant eulogies. And, in the context of McNally's collected works, Cherche Midi has never quite fit in. The restaurant never had the critical mass of A-listers that thronged Pastis. Its location never seemed central to any kind of scene, in the way that Balthazar is the de facto pearl in Soho's oyster. Cherche Midi wasn't a fixture of "Page Six," and it didn't hum with the late-night kinetic energy of Schiller's, or the cocaine and brat-pack cachet that defined the Odeon of yore.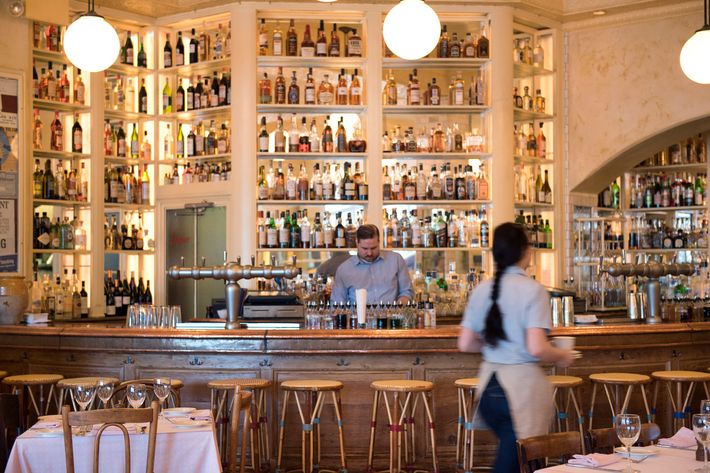 To many observers, Cherche Midi was thought of merely as a quick replacement for McNally's doomed pizzeria Pulino's, and it was written off as a slapdash, greatest-hits-style makeover. Its location — on a heavily trafficked corner of Bowery and Houston that's been marred by roadwork for what feels like a decade or more — probably didn't help things. Early on, Pete Wells called it a "dystopian intersection," and even McNally himself told Eater— in a characteristically frank 2016 interview in which he also said that Cherche Midi "doesn't make any money" — that "for some reason, I don't think it's a very good corner."
Still, those pommes soufflés endured, even as the Provençal-leaning saddle of lamb disappeared, along with the frogs' legs. What the bistro had left in spades, however, beyond the great steak-frites, was an oddball sort of underdog charm not found in McNally's other establishments. Cherche Midi was a place where you could walk in off of the street at lunch, order steak tartare with a glass of Langhe Nebbiolo, and be out the door in 45 minutes. It was a restaurant that unabashedly served lobster ravioli with beurre blanc and piquillo peppers as a throwback to late-'80s restaurants that will forever be hopelessly unhip. It was a place where plain was good, and the complete lack of pretense made it feel more like a genuine bistro than any of the painstakingly sourced replicas that exist in New York.
Two years into Cherche Midi's run, McNally seemed to have made peace with its overall tone. "Strangely enough, I may like it the most of any of my places," he said at the time. By then, Cherche Midi had become a place where the clientele could come eat and drink and remain happily anonymous. It's an undervalued quality in restaurants, impossible to engineer. Even as the very idea of a "bistro" remains steeped in an almost mythological romance, Cherche Midi was never over-steeped in it, which is exactly what made it such a charming place to eat.