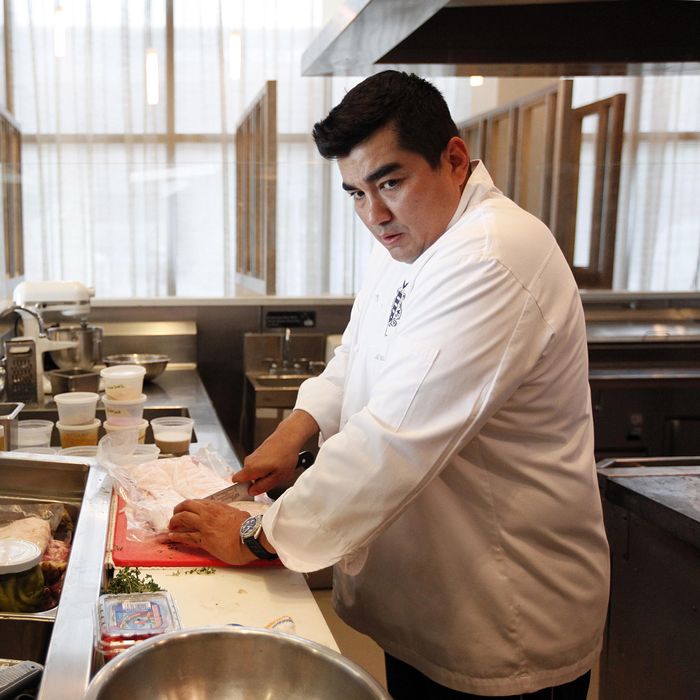 An array of lawsuits accuses the chef of "fraud."
Photo: Matt Rourke/AP/REX/Shutterstock
The news hasn't been great lately for Jose Garces, the award-winning Iron Chef and TV personality who's run dozens of restaurants in cities coast to coast. Financial troubles have reportedly now cascaded into some much larger legal issues: Reports in recent days chronicle a "rash of litigation" that he's facing from suppliers and investors who accuse him of essentially running a hospitality-focused Ponzi scheme.
A chef who's among the culinary world's fastest-ever rising stars — he went from operating no restaurants in 2005 to 29 in less than a decade, while racking up constant Food Network appearances, hotel and casino partnerships, and even a James Beard Award — Garces now looks to be presiding over an empire that's crumbling. In statements this week to press, he promises steps are underway to fix these "financial challenges," and says he's "working to recapitalize the company."
Here's a quick chronology of the major pieces that, together, seem to have suddenly made Garces's situation so dire.
• In 2005, Garces needed capital to get his first spot — Amada, the Philly restaurant that would put Garces on the culinary map — off the ground, just like any green restaurateur. A lawsuit filed by a New Jersey couple who invested in that restaurant claims he squandered their $2.5 million, took out a multi-million-dollar line of credit to pay off other debts, then circled back to them for more money with "no real intention of paying it back." They argue that his business tactics amount to "massive, self-interested and continuing fraud — in substance and operation a Ponzi scheme — at the expense of his investors."
• Garces's attorney dismisses the suit as frivolous litigation filed by a "disgruntled investor." But it's one of six lawsuits Garces has faced in just the last eight months. For example, four separate Philly-area suppliers have gone after him as well, alleging that he owes over a million dollars in food bills for everything from cilantro to kale. The top complaint belongs to another of Garces's original investors, Jim Sorkin, who claims his family's wholesale food-distribution company is out $848,000 for ingredients it provided to six of Garces's restaurants.
• Garces was hit hard by some bad business breaks: In 2014, four of his top-earning restaurants were wiped out in a single blow. Revel Casino's Atlantic City bankruptcy knocked out Village Whiskey, the A.C. outpost of Amada, Garces's hotel taco truck, and a Japanese noodle bar called Yuboka.
• Three weeks ago, he also, with little explanation, closed his New York location of Amada, a conspicuous 7,000-square-foot space beside the Hudson River in Battery Park City. And his Philadelphia taqueria Buena Onda is down for the count, too. Together, they amount to the 10th and 11th restaurants he's had to close.
• In the past year, Garces also let his CEO and CFO go for "undisclosed reasons." Garces took out a $7 million line of credit from M&T Bank, which has reportedly put Garces's entire restaurant group into a quasi-receivership situation where an outside "turnaround specialist" can now make financial decisions for the company.
It's unclear what this saga's next chapter will look like, although an in-depth report in Philadelphia magazine describes Garces as having become more "self-aware" in recent weeks about the potential problems of such rapid expansion. The most recent news is that he's in talks with a restaurant company called Ballard Brands, whose portfolio includes chains you've never heard of, like Wow Cafe, PJ's Coffee, and Boardhouse Serious Sandwiches.