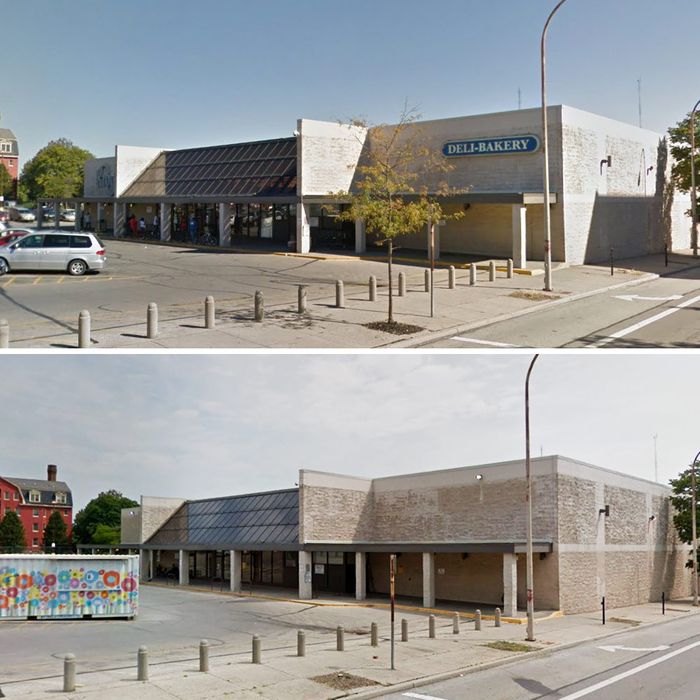 One of the Cincinnati locations, before and after.
Photo: Google
Hard times in the grocery biz — Amazon barging in, the industrywide price wars, etc. — have forced Kroger into a corner: In order to keep prices low in its "'penny profit' business," the company says it's had to make some "tough decisions" lately, one of which was closing stores. Kroger reportedly studied its 2,800 locations and ultimately identified 41 that were the most underperforming, but a group of protesters led by Jesse Jackson claim that they've detected a more insidious pattern — pretty much all of them were in minority communities.
For the last week or so, swarms of picketers have been holding rallies outside of Krogers in the Memphis and Cincinnati areas, Georgia, and the Northwest. Kroger has pledged $3 billion to refurbish physical stores, but Jackson is angry because he argues that it's mostly been used to spruce up suburban outlets "with wine and services." Meanwhile, the plug keeps being pulled on inner-city locations. That's "created a food desert," he told the Cincinnati Enquirer on Monday, employing the term for an urban area where it's hard to shop for fresh groceries.
What first caught Jackson's attention were three shuttered Memphis stores. After visiting one last week, he informed the local news, "It's boycott time." He's confident that "someone could make these [stores] profitable," if Kroger would just try.
Kroger claims that it closed those locations because they were losing money. For instance, it says the kaput Cincinnati store that Jackson rallied at a few days ago was open for 34 years, yet failed to make a profit for more than 20 of them. It also adds that the Memphis-area stores lost nearly $5 million in their final three years. Jackson's response has been that he doesn't necessarily believe Kroger — he notes 2017's $1.9 billion worth of profits and $123 billion in sales, and says "there are people … who eat and buy groceries" in these minority neighborhoods.
Outside of the boycott, Jackson hasn't called for any other specific actions to be taken against Kroger. Likewise, probably to shorten the news cycle of this mess, Kroger's executives have said little to the press beyond being "open to further conversation and dialogue." Both sides reportedly met yesterday at Kroger's Cincinnati headquarters, but it seems they're still at an impasse.
Unfortunately, this controversy over why it closed which stores comes at an inconvenient time for Kroger — just yesterday, news broke that the company is in the process of hiring 11,000 more workers as a way of "overhauling existing stores, instead of building as many new ones as in past years."