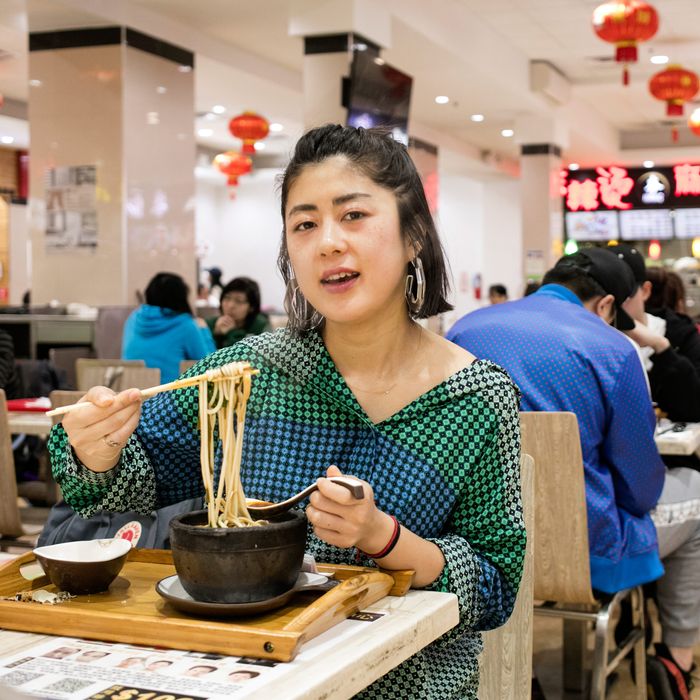 At Siblings Potato Noodles in the New York Food Court.
Photo: Melissa Hom
Jenny Zhang has cemented her position as one of her generation's rising writers: Her fiction debut Sour Heart was named one of 2017's best books by publications like New York, The New Yorker, and The Guardian. Out in paperback next week, it's a visceral collection of stories about young Chinese-American girls growing up in New York. This week, Zhang ordered end-of-semester pizza for her students and ate "a late-night mango" in New York before heading west for the Los Angeles Times Book Awards — where she took home the First Fiction award. After celebrating, she also found time for lots of noodles, monastery pumpkin bread, and her favorite lengua burrito. Read all about it in this week's Grub Street Diet.
Thursday, April 19
As a teen, I used to stay up all night, chilling with the birds, enjoying the romance of being online and writing poems, only sleeping when I heard my father's alarm go off. This week, to cope with having Too Much to Do and the desire to Avoid Everything, I regressed. Exhausted and manically alert, I made coffee with Oatly, which I have been stanning for since I first had it in Iceland two springtimes ago, and ate the last three Trolli Gummi Worms on the kitchen counter as I got dressed for an interview. The more professional the opportunity, the more like gutter trash I feel. It's irreconcilable, but whatever.
I headed uptown, realized during the interview that I had worked myself up over nothing, and left with a hole in my stomach. I had ten minutes to get food, so I popped into a Junzi Kitchen, which is like one of those chains that hopped on the "elevated bowl" train, except this one is Chinese as hell. Which means there's actual flavor, and you don't become famished within an hour of digesting. I got the thick, knife-cut noodles with charred tofu, mixed wild mushrooms, and a garlic-chili sauce that is actually meant for the bings, a sort of Chinese savory crêpe-slash-wrap. I added bean threads, chive ash, scallions, cilantro, cabbage, pickled daikon, bean sprouts, cucumber, Buddha's hand, and kale. I ate it on the subway as I went downtown to shop for a blazer and bag for another interview. I've been told by my friends with real jobs that I have to wear a blazer, and the internet forums recommend a goddamned briefcase. I failed to find a blazer, but I got a structured tote bag from Madewell that I am a little bit repulsed by.
I had to go back uptown to teach my class at Columbia. As I rushed to get on the 1, I called V & T's Pizza to order two medium cheese pizzas, one veggie, and one pepperoni. It's the end of the semester and everyone's exhausted and depleted. Some of my students bring wine. I had a few sips, followed by 2 percent regret and 98 percent dread at the next four days at the L.A. Times Book Awards and Festival of Books, which would be spent around boozy literary people and terrifying Hollywood people. So I sipped, as slowly as possible, half a cup of wine while we discussed the impending graduate-student strike and how to show solidarity, and workshopped two charming, smart pieces by two charming, smart women. I ate two slices of cheese and one veggie and some Pepperidge Farm cookies. When I got home, it was already 11 p.m. and I still had to clean, put away the laundry, and pack. When my partner got home, we shared a late-night mango and some kimchee and talked about the future, which, right now, promises everything and guarantees nothing.
Friday, April 20
I stayed up until almost 5 a.m. and got a grand total of two hours of sleep. I arrived at the Delta terminal in JFK famished and went straight for the food court, which has been designed to look like a neighborhood where food trucks have replaced street vendors. I've had the breakfast burrito at the faux taco-truck before, followed by immediate buyer's remorse about not getting noodle soup, and I'm here to right my wrongs. I won't give in to the Western ideal of breakfast foods! I ordered spicy tom-yum broth with buckwheat noodles and garlic-ginger shrimp, shiitake mushrooms, Napa cabbage, and bok choy. Buyer's remorse is a regular occurrence with me, and I felt a tiny pang of missed cuteness when I saw the baby corn, which, unlike the scam of baby carrots, is actually just BB corn.
I forgot that Delta flights have food onboard, and got a turkey sandwich on what seemed to be a cross between an English muffin and flatbread. In my first few years in America, my parents didn't let me eat sandwiches very often. People in China don't have ovens, and bread is considered a sweet pastry. My parents didn't like the idea of thinly sliced meat slabs, clammy and cold, and ingesting ice-cold lettuce and tomato slathered in white sauces was appalling to them. But for whatever reason, English muffins were welcome. That, two-liter bottles of soda, and sour-cream-and-onion Ruffles chips were the only items we ever bought from "American" supermarkets.
My turkey sandwich was okay, though the bread tasted white as hell. I opened it up to see what was between: a slice of American cheese, some kind of grated Parmesan-esque cheese, turkey, two slices of tomato, and three extremely shriveled slivers of arugula. I devoured it and ate the two carrot sticks and celery. I can't believe I used to envy kids in my school who ate this exact meal for lunch every day. I had the Ghirardelli dark-chocolate square with sea salt and almonds and fell fitfully asleep. When I woke up an hour later, I felt too bloated and unappealing to attend an awards dinner, but there was no going back.
The flight arrived hella late and I panicked that I'd miss the pre-reception, and the next chance for food and drink wouldn't be until 10 p.m.!!! (Or 1 a.m. New York time.) When I finally arrived at the hotel where all the authors were staying, I raced through the opulent, old-timey, glamorous lobby to my room. Food diaries fulfill voyeuristic curiosity, but they are also highly performative and curated. Especially for women who can't seem too uptight or aware about food, but neither can they be too slovenly. The same people who wanna know what goes inside people are disgusted to know what comes out and how. I like both sides of it. The ingesting is as erotic as the expelling. My travel problem is the three-day-long traffic jam that happens to my bowels. Dead standstill. But not this trip. I found a coffee lid and felt clever as I poured flax seeds into it for a makeshift shoveling device. I felt momentary horror when I realized the coffee lid was filthy.
I raced downstairs, and to my total delight, immediately saw my pal Carmen Machado. I started off sipping but ended up guzzling a wine while noshing on a focaccia sandwich with slices of roasted, herby zucchini and squash. There's something delicious about writers — who are notoriously sloppy, shy, and awkward at self-presentation — all dressed up. The air of self-importance was largely missing from this crowd, thankfully, and I found myself seated behind Victor LaValle and his adorable son.
My friend Brittani Nichols, a brilliant multi-hyphenate, was my date, and she arrived looking dapper as hell. Alex Chee presented the prize for First Fiction … and I won! All moisture left my lips, and I made strange smacking sounds as I gave my acceptance speech, and then it was over and time for drinks.
We ran into Rachel Khong, and she told us there was a taco bar and a s'mores station. Brittani and I hit up the taco bar — I got one steak taco and one chicken, but it ended up converging into one megataco when I added too much guac and pico de gallo. I also hit up the open bar to get a passion-fruit mojito because it sounded sour and it was, but I decided to hit the sauce harder. I ordered a tequila soda and got a tequila ginger ale.
Brittani and I went back for seconds, this time hitting up the pasta station. Brittani says pasta is bullshit ("There's no reason for all the different shapes!"), but admitted that she might not be one to talk, as she enjoys the Cheesecake Factory's pasta. I used to consider Olive Garden and Ruby Tuesdays an extravagance, and one-upped Brittani by confessing that my favorite pasta came from … the Rainforest Cafe.
We got tortellini in meat sauce and penne in meat sauce. Then we found Carmen at a table with Meghan McCarron, fabulous fiction writer and staffer extraordinaire at Eater; her partner Jenn; and the brilliant illustrator Angie Wang. A group of us went to the s'mores station, and I assembled my fourth-ever s'more!
I wanted another drink, but had already had wine, rum, tequila, and possibly some vodka. It seemed wisest to pick from the existing list, but instead I ordered a sangria! After Brittani went home, I called my partner outside and stumbled upon the only smoker in the whole joint, Leslie Stein, who won for her graphic novel Present. We connected immediately; it was intoxicating, almost dangerous, and we ended up back at the hotel, taking tequila shots, smoking the rest of her pack, and spilling over each other. The difference between 2008 me and 2018 me is cellular decline, and I was content for the night to end. In 2008, I would have fallen asleep standing up, that was how much I wanted everything to last forever.
Saturday, April 21
Got coffee at Philz in downtown L.A. 'cause … love it. I used to go to the original in San Francisco, when it wasn't an empire and probably a coffee shop that was starting to gentrify that area of the Mission. They make this creamy, frothy, sweet coffee with a mint sprig. It was like $2.75 before and $6.50 now.
This morning was my Festival of Books panel with Chelsey Johnson, Jonathan Evison, and moderator Mark Haskell Smith. In the greenroom, I ate a quinoa, goat cheese, peppers, spinach, and asparagus salad; a roast-beef sandwich; and a ham sandwich. Also, I had potato chips. These were supposedly handmade. They actually tasted like they were handmade — I don't even know what that means, but I really did enjoy them. I made an Arnold Palmer and had iced coffee with almond milk, too. I was just starving because I hadn't had time to eat. The theme of this whole weekend was me waking up extremely late, doing the five things I had to do, and then it was 4 p.m. After the panel and green room eating, I went to a Downtown taqueria that my friend Meghan recommended, Sonoratown, and had two tacos there.
I was really in the mood for Chinese food, but I didn't have a car. My friend Tom Macher does and likes driving. So he said we should go to the San Gabriel Valley for dinner. We went to Newport Seafood. Which was popping! The parking lot was filled with waiting patrons at 6 p.m. It was lots of different people and clearly some kind of institution people go to for Cantonese-style seafood. It was really good.
I can't verify this, but at least according to Chinese people, Cantonese restaurants have to be banquet-hall-style. They have to be big; there's no such thing as a small Cantonese restaurant that's good. That's why I'm very suspicious of that Nom Wah Tea Parlor; it's just such a tiny dim-sum place.
New Seafood had lots of huge tables that could fit 10 or 20 people, lazy Susans, very few smaller tables, giant portions. We got the small lobster, but it was like four pounds. We also had ong choy that was just lightly sautéed, very fresh, and tender. There were a lot of Vietnamese dishes, too, and we got the shaking beef.
Sunday, April 22
For breakfast, I went to Grand Central Market with my friend Anna. I wanted food before I had to check out and move to my Airbnb in Los Feliz. Anna suggested Sari Sari Store. I got a passion-fruit iced tea and the tortang talong rice bowl with charred eggplant, Brussels sprouts, pickles, and egg. That was the other theme: rice or noodles for breakfast every day … and also breakfast was at 1 p.m. But I actually got up early this day and had it at the normal time of 10 a.m.
Which brings us to G&B Coffee, where I messed up because I ordered this thing that I thought was an unusual coffee. It was with turmeric, almond, and macadamia, and I was like, "Damn that sounds good." But it wasn't caffeinated. The guy very nicely gave me a free cold brew because I was so incredibly bummed that there was no coffee in my coffee. And I messed up again. He slid me what I thought was almond milk but was actually sugar water, and I put six tablespoons of sugar in. So I had a coffee disaster.
For dinner, I wanted Night + Market, but it was closed. My friend suggested Dylan Mh Zh, another extremely Silver Lake–y restaurant. Zh are the first two letters of my last name, so I was vainly sure this was a sign. It was artisanal and rustic-looking. Just very … small plates, good-looking people squeezed together at tiny tables, eating really pretty food.
I hate to drag a restaurant, but it was just okay. We got pickles, beets that tasted like candy, roasted branzino, and greens sautéed in some kind of special butter. After, we had Martinis at Cafe Stella. I don't like them, to be honest. Before, I didn't understand that the point of a Martini was to get fucked up really quickly while looking glamorous. I got it because I was going with the flow. These were gin with a twist because that's how my friend Alice orders them, and she looks really, really classy. So I was like, "I'm going to do that!" But I like sour cocktails, and cocktails that taste like juice.
Monday, April 23
I had meetings with Hollywood types, but I was more hanging out with friends. I just had coffee and water at the meeting. I was parched the entire time because in L.A. you can't just walk to a corner store and get a bottle of water.
Then I went to Cactus Taqueria. It's become a tradition. Every time I go to L.A., I go at least once. I always get the lengua burrito and the guacamole and chips. Even though, I have to say, the guacamole is not that good and the chips are dry. But the lengua burrito is my favorite. I also got an oat-milk iced latte at Caffe Vita because I was completely in a coma after that meal. Then I went to record a podcast with my friend Brittani and her co-podcaster Ariana Lenarsky.
After, we went to the Monastery of the Angels. They make this really freaking delicious pumpkin bread that's so dense and moist. You know in Romeo and Juliet, the guy who makes the potion that opens the little window in the door? We showed up 15 minutes after they'd closed, but this nun opened a little slot, sneaked us in, and gave us the last piece. It was very romantic and exciting. Then we drove up into the Hills, I think, and there were these beautiful homes that all looked Persian or North African. I don't even know where we were. We walked through someone's courtyard or something that led to this restful garden on the top of a hill.
I was really hoping to get good sushi, but I know it's all on the Westside, so I didn't have much hope. My friend Annie Wyman suggested Osen Izakaya. They were showing Naruto on the TV, and it had that really fun izakaya vibe where it's bustling and everyone is wearing cool clothes. We got a mix of things. Some hand rolls like tuna with crab, that was weird; ikura, uni, miso soup, and a salmon don. We also split a Sapporo. It didn't blow my mind, but it was really solid.
Tuesday, April 24
In the morning, I had an iced almond latte from Caffe Vita and a glorified Ding Dong. It was actually really good. I have an affection for bodega snacks because I grew up in New York. It's just nostalgic for me. So when I saw this fancy version that was homemade and had real raspberry in the cream … I just — and I was starving because I again woke up too late and was rushing.
I tried to be clever and pick up food before getting on my flight back to New York, which was not the best idea because of traffic. I wanted Thai food because I had been trying all weekend to go to Night + Market Song or Thai Town, so I went to Sapp Coffee Shop and got a pretty standard takeout order of drunken noodles and som tum. That was really good.
On my flight, I had coffee and a Delta meal of a pastrami sandwich, potato salad, and the chocolate square. On my way back, I stopped by the New York Food Court and got the thing I always get: the potato noodles from Siblings; it's been a mainstay there. They're the chewiest noodles! You can almost not break them; you have to take the whole noodle to your mouth. It comes with two little quail eggs, some assorted mushrooms, vegetables, and, like, three cubes of beef. It's very simple, but not oily and not too salty. At Liang Pi Wang I also got liangpi, which looks like a beige sponge. It's a little spicy, a little sour, and has cucumbers and bean sprouts. I always get it from this one place because it's so good, and the noodles are so springy. I love springy noodles.