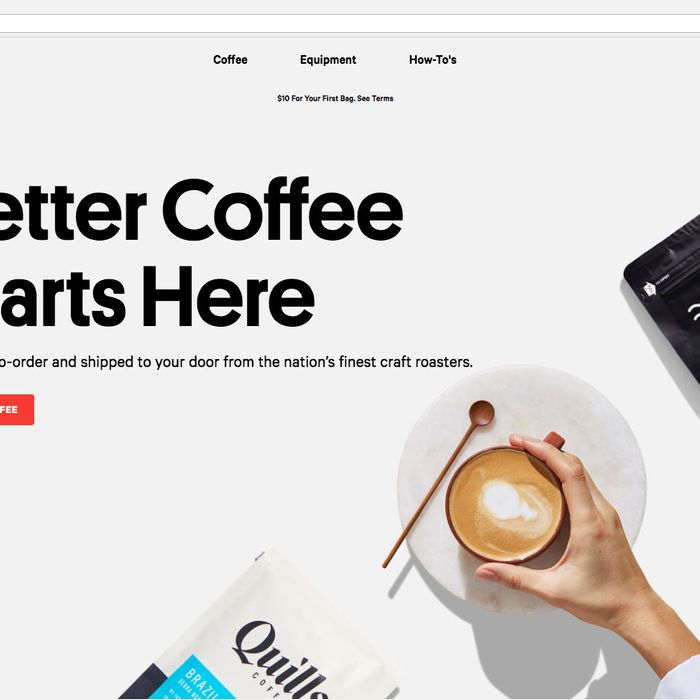 Better coffee starts there.
Photo: tradecoffeeco.com
For years, the company JAB Holding has been working to make sure one of their brands delivers your caffeine fix each morning. Since 2012, it's been snatching up coffee companies big and small (Peet's, Caribou, Stumptown, Intelligentsia, Keurig, Krispy Kreme, Einstein Bros., Panera, Au Bon Pain), with seemingly no endgame other than owning a lot of companies that might otherwise be in competition with one another. Today, however, JAB gave the first sign it's trying to actively disrupt the coffee industry: It's unveiled a new retail site called Trade that focuses on craft coffee the way, say, Etsy specializes in handmade home décor or Zappos sells shoes.
That is to say: Trade offers nearly 400 coffees from about 50 of America's most prestigious roasters. Besides obvious inclusions of Stumptown and Intelligentsia, you'll find third-wavers like Ritual, George Howell, Verve, La Colombe, Joe, and PT's, plus acclaimed new(er)comers like Sightglass, Parlor, Chicago's Metric, and Miami's Panther. (Alas, Scandinavian-style fans, it's all domestic for now, so no Tim Wendelboe, Koppi, or Drop.)
There's brewing gear, too — pour-overs, electric gooseneck kettles, scales, burr grinders — but the part of the site that may keep people coming back is its extremely easy-to-use Your Perfect Match coffee-recommendation guide. Craving a light roast that's still "intense" and tastes "surprising and unconventional," for your AeroPress? Trade says try Huckleberry's Beriti Natural, a "deliciously funky" naturally processed Ethiopian Yirgacheffe. How about something strong and dark that holds up to milk once it's cold-brewed? Give Sightglass's Toketee blend a shot. Or, what's that — you've decided to add sugar too? Switch that bag to Caffe Vita's signature blend, Caffe Luna. The page will give recommendations for every taste and brew method imaginable. (Except pods, despite the fact that JAB also owns Keurig.)
So why is JAB suddenly so interested in fancy coffee? There are great coffee shops all across the country, and the people at Trade argue that market may be tapping out, yet somehow better coffee still "has not made it to most American homes." If Trade hopes to succeed, its operators would do well to remember the plight of Starbucks's web shop: The coffee giant's online store closed last fall, but it's worth remembering that even at its peak, the site sold no more than several dozen Blonde, Medium, and Dark roasts and Reserve single-origins. Most cost nearly as much as Trade's ridiculous number of options (around $15 to $20 a bag), yet all carried Starbucks's telltale notes of bitter charcoal. Worse, bags would frequently arrive stamped with use-by dates that were months, sometimes years, away. Trade, meanwhile, promises to offer a roast-to-order guarantee, meaning your beans will ship direct from the coffee company within 24 hours of roasting.