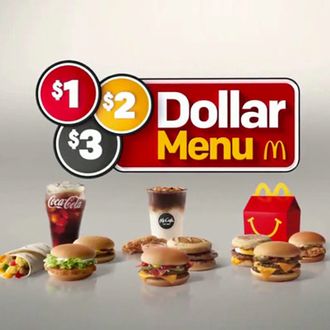 McDonald's somewhat misleading new entry into the "dollar menu" category.
Photo: McDonald's
Today, McDonald's reported first-quarter earnings, and the chain beat analysts' predictions, one big reason for which was the chain's refurbished value menu. Yes, it's not the fresh-beef gamble the company's been pushing for months that appears to be drawing people in, but rather the return of a promo that advertises the fact that the food is cheap. The chain tells investors today that sales climbed almost 3 percent thanks in part to increases in "the number of items ordered at one time," particularly from the new discount menu.
The new menu debuted in January as the "$1 $2 $3 Dollar Menu." Customers can order triple cheeseburgers and Happy Meals for three bucks, $2 sausage McGriddles and chicken tenders, and a decent number of things that only set them back a single George Washington: a plain cheeseburger or McChicken sandwich, a sausage burrito, any size fountain drink.
Its success is unlikely to excite McDonald's rivals, who'll now have to double down on their own discounts. Taco Bell already fired back once this year by expanding its "Dollar Cravings" menu. It's suppose to grow to 20 items by year end, although for now it only has 13 — things like a Beefy Fritos Burrito, the Cinnabon Delights, a Spicy Potato Soft Taco, and a Cheesy Roll-Up that is just cheese slapped on a tortilla. Dunkin' Donuts CEO Nigel Travis has meanwhile warned investors that these value wars are creating an "increasingly challenging operating environment," but that of course hasn't stopped Dunkin' from rolling out Dunkin' Deals, which include two-for-$2 Wake-up Wraps.
The cheaper items are sort of working, if success is determined solely by sales traffic: Analysts tell Reuters that sales for value items industrywide rose 13 percent in the first three months of 2018. That's enough of a bump to reverse three solid years of value-menu traffic declines — i.e., basically a surefire sign that they'll soon recolonize every chain menu here shortly.
Such bargains have their drawbacks, though. Namely, even though the ingredients are cheap, they don't make a chain much money, and analysts have noted that companies these days are really battling for larger slices of a fast-food pie "that is not growing." Starbucks recently admitted that it summarily killed off its Frappuccino Happy Hour because people weren't spending enough on full-price drinks anymore to make it worth the company's while.