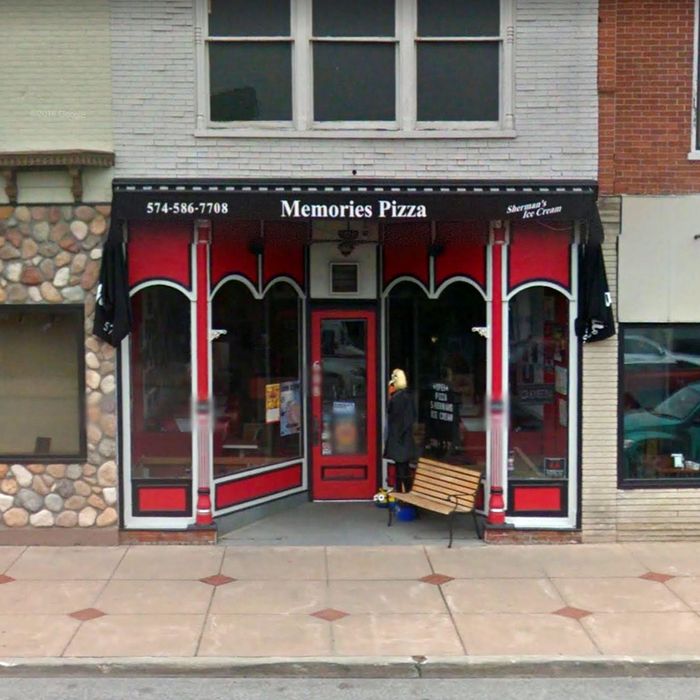 Memories became a focal point in the fight over Indiana's religious-freedom law.
Photo: Google
The tiny Indiana pizzeria that made national headlines in 2015 after declaring gay weddings couldn't serve its cheese pies or breadsticks has officially thrown in the towel: The South Bend Tribune reports that a sign out front of Memories Pizza informs patrons that they've decided to close. The spot's notoriety came in the run-up to the Supreme Court's landmark gay-marriage case: Memories was one of Indiana's first businesses to publicly refuse to cater gay weddings, precisely what LGBTQ activists feared would happen when then-governor Mike Pence signed the state's controversial Religious Freedom Restoration Act.
Memories' owners — Kevin O'Connor and his daughter Crystal — told press at the time that gay people were still within their technical rights to visit their eight-table restaurant in the 2,200-person town of Walkerton. But if the order was intended to celebrate a gay wedding, that would conflict with their Christian beliefs and they'd "have to say no."
The O'Connors' stance was met with such derision that the restaurant had to temporarily close. They got death threats (one local high-school coach was fired for tweeting, "Who's going to Walkerton with me to burn down Memories Pizza"), Walkerton police were put on constant Memories patrol, and the restaurant quickly became a conservative punching bag: It's almost inconceivable, for instance, that anyone planned on Memories catering their same-sex wedding, but the O'Connors' loud objections to the idea inspired at least one gay couple — two comedians — to trick the pizzeria into "accidentally" catering theirs anyway.
At first, this hectoring just seemed to provoke Memories' supporters. Glenn Beck's site TheBlaze created a GoFundMe for the restaurant that went on to raise $846,057. But the widespread mockery and general disgust apparently never subsided, a situation Kevin O'Connor reignited last year by appearing on Fox's You the Jury to debate a gay couple. The Tribune reports that the O'Connors didn't return calls seeking a comment about the closing, but that the word around town is that they were "simply ready to retire."