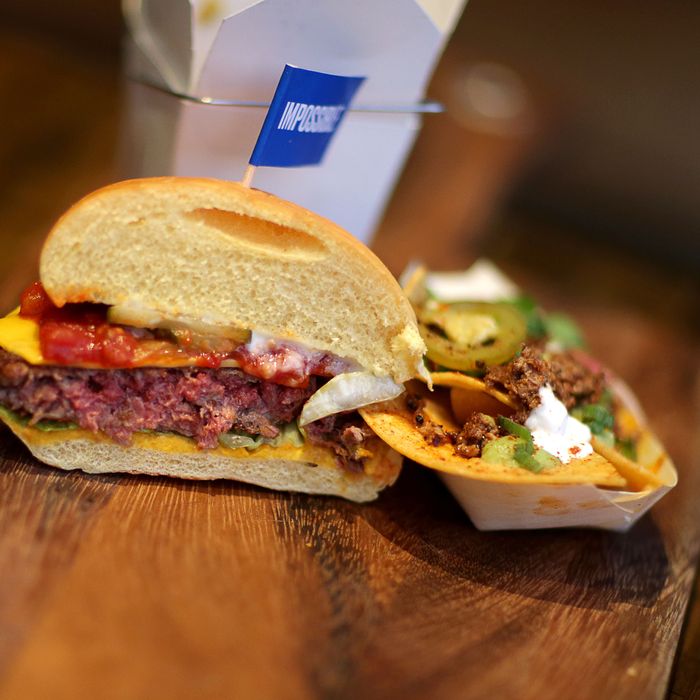 Probably already at a restaurant near you.
Photo: Jonathan Wiggs/Boston Globe via Getty Images
Few people may have expected a wheat-potato-coconut-fat patty to become perhaps the country's most famous burger, but the Impossible Burger is now an impossibly big deal. The "bleeding" meat alternative available in over 1,000 restaurants has been a hot-ticket item since bursting onto the burger scene a handful of years ago, and the momentum isn't slowing. This week, the California start-up that invented it, Impossible Foods, closed on yet another financing round, giving it a $114 million so-called convertible note to help fund "rapid expansion" both in the U.S. and overseas. That brings Impossible Foods' investments in the last 18 months to $214 million, and its total to date to $396 million.
Money it previously raised was used last fall to scale up production at its Oakland factory, meaning capacity is now around 7 million burgers per month. The company added a few days ago to expect another announcement about more partnerships with "mainstream American restaurants" later this month, and, also, that the plant burgers are debuting imminently in Asia, the continent that purchases 44 percent of the world's meat.
The beef industry has started to quiver, and rightfully so: Word comes out today that, flush with untold capital, Impossible Foods has apparently decided to spend some of it on a Washington lobbyist. Back in 2016, the Good Food Institute formed with backing from people at Memphis Meats, Just (formerly Hampton Creek), and other "clean meat" start-ups. Today, it's got a lobbying arm that represents the industry's interests, but Washington Post tech reporter Tony Romm tweeted this morning that Impossible Foods filed the necessary paperwork back on February 20 to hire its own dedicated team — suggesting it plans to start bringing the heat to win over elected officials to the high-tech meat-substitute cause.
Some sway on the Hill seems like a must-have for Impossible Foods at this point: It already ran into one governmental headache last year, after the FDA refused to definitively say that the burger's famous heme, a.k.a. its "secret sauce," is safe to eat. But it's now cranking out 2 million pounds of burgers a month filled with the stuff, and is deep into R&D on chicken, fish, lamb, and pork alternatives that would be similarly constructed. A top company executive told a group of conference-goers this week that they're also making headway on their goal to get products into the hands of millions of grocery shoppers.
* This post initially described the Good Food Institute's founding wrong. Industry executives later joined as advisers, but didn't help start it.