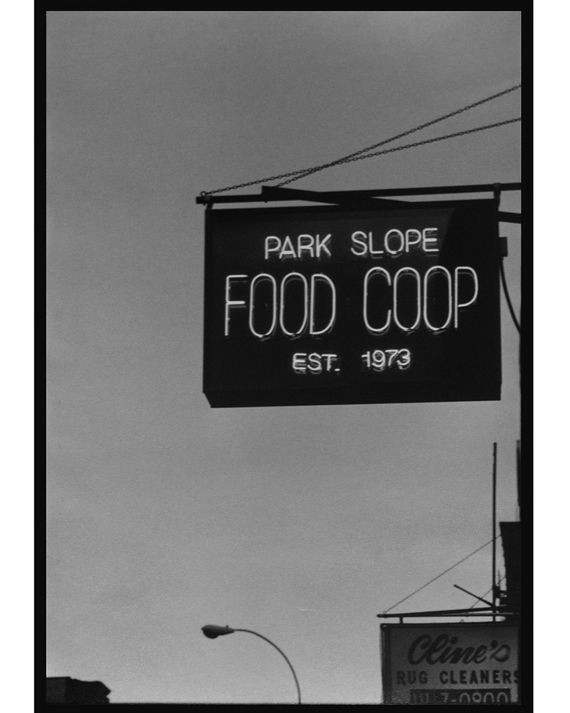 Photo: Photograph by Hazel Hankin/Courtesy of the Park Slope Food Coop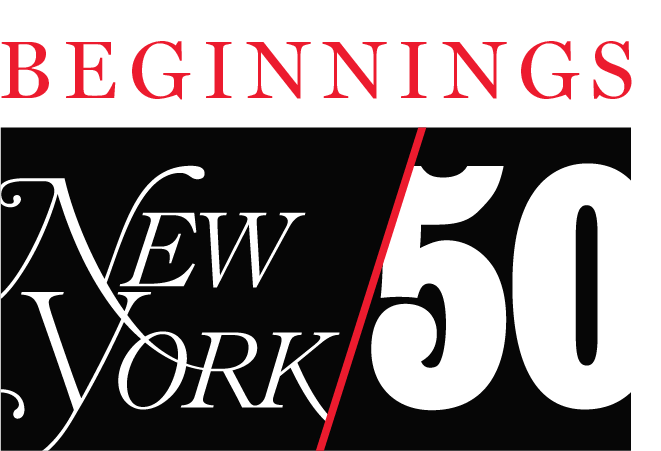 In celebration of New York Magazine's 50th anniversary, this series, which will continue through October 2018, tells the stories behind key moments that shaped the city's culture.
To better understand the inner workings of the Park Slope Food Coop, it helps to know that four weeks does not equal one month. This mundane fact might seem self-evident, but at the Coop — the thriving 17,000-member-strong Union Street grocery cooperative and living embodiment of the #Brooklyn brand of aspirational eating, which is also perhaps the most celebrated, and most divisive, food store in the entire country — the distinction is emblematic of the exacting, obsessive attention to detail that has been crucial to the store's success.
"We realized the mathematical imperfection of months," says Joe Holtz, one of the Coop's founders who became its first full-time employee over four decades ago. In order to earn the right to shop at the Park Slope Food Coop, members must work a 165-minute shift once every four weeks, and coordinators painstakingly explain to initiates during orientation that this does not mean once a month. The mandate that members must work reduces the need for paid labor (the Coop employs 76 full-time employees and two part-time employees), and the edict enacted early in the store's life ensures that prices remain surprisingly low and product quality remains blissfully high. (Others include a single tier of membership: Some co-ops allow members to work fewer hours in exchange for higher prices, but the Park Slope Coop strives to offer "a feeling of being a member-owner that one cannot get from merely investing one's money.")
The policy for missed shifts is particularly punitive: One absence and your shopping rights are revoked until you work two additional shifts. Delinquent members who haven't worked or shopped for a year may declare amnesty and wipe the slate clean — but only once in their lifetime. After that, even god can't help you.
It would be easy to dismiss such unforgiving rules as the outgrowths of a Draconian bureaucracy run by socialists gone wild. And you've probably already heard about the kale-shortage uproars, the infamous boycott debates, Adrian Grenier's controversial membership, and the scandalous families that sent nannies to work their shifts. The deeper truth is that the Coop may work in mysterious ways, but it always maintains one radically simple goal: to be the best grocery store in Brooklyn. This is an account of how a group of New Yorkers turned their wish for affordable food into a paragon of farm-to-table idealism.
—
In the early '70s, Park Slope's gentrification was in its infancy. One resident of Seventh Street described the "heterogeneous mixture of people on the block" for the Times in 1971: "Italians, blacks, Irish, Puerto Ricans, Polish, some elderly — everything, even a bunch of WASPS … Some people have money and others are on welfare, but everyone gets along." One thing the neighborhood lacked was fresh groceries, and in 1973, a crowd of 20-somethings who hung out at the local Mongoose Community Center — mostly New York natives who'd recently moved to Park Slope — saw an opportunity. "We wanted to eat better," Holtz says, "but we didn't have the money to do so." Their first efforts were effectively group Costco runs: Organizers met in each others' apartments and drafted lists of produce they wanted to buy, then a few guys drove to the Hunts Point Terminal Produce Market in the Bronx, returned to Brooklyn, and divvied up the goods.
Holtz estimates that, with low overhead, member-owned food cooperatives can cut market prices by 20 to 40 percent. In 1973, anything that lowered the price of food would be a happy alternative for ingredient-loving progressives who couldn't afford to shop at high-priced health-food stores. But the earliest efforts by the Mongoose group weren't sustainable; the trips took too long and required organized preordering. It was a constant struggle to simply maintain this arrangement.
"We studied why other co-ops failed, and in most cases, it's because they were too dependent on super committed members who eventually burnt out," Holtz explains. "One of our theories was to try and emulate what retailers do: stay at our place and have deliveries come to us. There were many other co-ops at the time, but they depended on their members getting into cars to get food." So, Holtz says, "we decided that if we were to last, we'd have to operate as a real store, with set hours and no preordering."
Food co-ops thrived in the '70s, and by 1973, a brick-and-mortar location for one was hardly novel. Holtz grew up in Sheepshead Bay, and remembers six co-ops on the Lower East Side alone. Those served as templates for the food lovers of the Mongoose Community Center, but Holtz and his partners weren't innovators in structure or ideolog — they just stuck with it. The Park Slope Coop's big innovation was thorough management, with a clear goal. Many co-ops formed as an expression of political activism, but Holtz says he and his partners organized with different ideals: "We wanted to build cooperation, have a community success in a country that puts too much emphasis on individual success. But it wasn't a do-gooder project; we were self-helpers."
With a few hundred dollars in membership equity, the group rented a second-floor space at the Mongoose, at 782 Union Street. On the Coop's first official day, its defining feature was its democratic spirit: "Everyone who walked in became a member. We didn't even write their names down; we just assumed they'd show up later to work a shift." Holtz estimates that between 100 to 200 people showed up that day. The early inventory, purchased from local wholesalers, was basic. The Coop had no commercial refrigerators, relying on a half-dozen kitchen fridges with the shelves taken out to house their eggs, yogurt, and the big blocks of cheese that they cut on-site, including a new exotic arrival all the way from Europe: Jarlsberg.
"There was no such thing as the local food movement in the '70s," says Bob Lewis, a co-founder of the New York Greenmarket. "No one knew what that was. The emphasis at Park Slope was on consumer power and collective action. They were pioneers of something rare, a true cooperative business, and sought to carry forward the principles of cooperation that were only expressed in a rudimentary way everywhere else."
Membership at the Coop expanded as available space allowed. The Coop took over the first floor at 782 Union, and eventually, adjacent buildings. Martha Siegel, who joined the Coop in its first year, remembers how amazing it felt when the Coop expanded to 782's ground floor, and she could roll groceries around in a shopping cart rather than hauling them up and down narrow stairs. "Each new addition — the elevator, the shopping carts — were overwhelmingly joyful. We'd become a real supermarket." In between growth spurts, a several-hundred-person-long waiting list developed, and by 1980, the operation ballooned to over 1,000 members. "Including as many people as possible to participate and benefit was essential," Siegel explains. As Marty Stiglich, a now-retired cheese buyer who joined the Coop in 1980 puts it, "Joe Holtz anticipated the arrival of Whole Foods in Brooklyn by decades."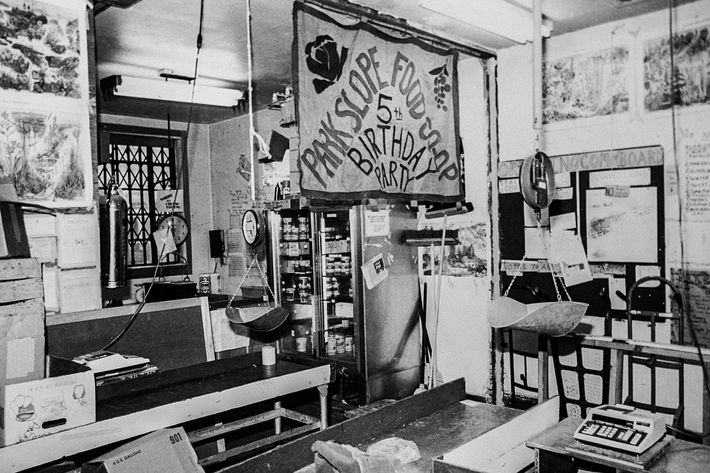 As the Coop grew, those members became fanatically obsessed with the organization's administration. More members meant more co-owners, which meant more conflicting opinions on how best to manage the store. Protracted debates over whether to stock controversial products would become a calling card for the Coop. In a 40th-anniversary retrospective in the Coop's own newsletter, the Linewaiters' Gazette, longtime member Felicia Glucksman explained that the presence of bacon in the fridge became a hot issue, and some members protested the sale of "rubbish" like "high-end potato chips." Holtz recalls a particular firestorm over the decision to carry beer. Why, some members protested, should the earthly avatar of virtuous eating peddle in so common a vice? (Eventually, those debates would make the Coop a tabloid target, painted to be an ideal breeding ground for stuck-up liberal infighting and misguided socialist agendas.)
The one detail that all Coop members seem to agree on is that the fruits and vegetables are really, really good. And they have one particular produce man to thank for solidifying the Coop's reputation as the city's finest purveyor of vegetal splendor.
As the Coop matured into a full-fledged grocery, the city raged. Crime in the early '70s was at an all-time high, and continued to climb through the '80s. In June 1973, just months after the Coop first opened its doors, Park Slope's streets erupted in battle as Italian and Puerto Rican residents hurled bottles, bricks, and bullets at each other. In November, the New York Times reported that riots in the neighborhood grew to as many as 500 participants. By 1975, after getting mugged twice by passengers in the cab he drove, Allen Zimmerman was ready for a change.
He left the cab industry and joined the Coop for the second time, after a short stint a couple of years earlier. "I was involved in the anti-war movement and union activism," Zimmerman says, "and when that ended, I felt like there was a vacuum in my life. I was living a block away from the Coop, and getting involved appealed to me." For Zimmerman, the Coop was about more than shopping in a grocery utopia; it was a channel for local activism during the most dangerous chapter in New York's history. "I didn't particularly think of the Coop as a food store," he says. "I was in search of a place that could support my belief that cooperative societies were possible, and the first way to see if it's possible is to try and grow a tiny example of it in your corner of the world."
Zimmerman became a full-time employee in 1988, learning how to buy produce so Holtz could focus on general operations for the burgeoning membership; five years later, Zimmerman became the head of the produce department. He retired in 2015, but he remains a folk hero among Coop members. It was Holtz who established the Coop's buying practices and standards — and began purchasing produce from local farmers at Hunts Point — but it's Zimmerman who was heavily responsible for maintaining the network of superlative fruits and vegetables that the Coop is known for today. He still cherishes the eight pages of handwritten notes Holtz gave him on his first day, and says they guided the entire way he ran the produce department.
"More than ten years before the rest of the world discovered kale, we were already selling ten cases of 24 bunches or more per week," Zimmerman boasts. "Mostly, I added items that members asked for; I tried anything for which I could find a supplier. Many of our members are vegetarian, or have fruit- and vegetable-centric diets, so I always tried to supply produce for our various appetites."
Catering to those member demands allowed Zimmerman and other buyers to operate in a completely different way from other groceries. A 2010 Fortune feature on the Coop highlighted its advantages over supermarkets that charge producers slotting fees to stock certain items: "Goods are on the shelves because members want them, not because manufacturers essentially rent shelf space through extra charges. The store can therefore capture most of the money its customers spend on food in any given week." (In 2017, the Coop generated over $56 million in revenue.)
Taigi Smith, who joined the Coop in 2011, still takes biweekly shopping trips from her home in Montclair, New Jersey. "I drive past two Whole Foods to visit the Coop, and every time I go, I think it'll be the last time I put up with the hassle, but then I get home and unpack these amazing groceries that I couldn't afford at other stores, and I say, 'I can't go anywhere else.'" As a point of comparison, a bunch of organic kale costs $2.27 at the Coop; at the closest Whole Foods, less than a mile away, a bunch of organic kale is $3.49. At Union Market, an upscale grocer on the same block as the Coop, organic kale costs $3.99 per bunch.
With year-round demand and centralized buying power, food co-ops can be a powerful source of income for small farms. That's especially true for Park Slope, which in 2015 counted over 16,000 members. By then, Zimmerman had established relationships with nearly 100 local farms, most of which grow organic food, such as Hudson Valley's Hepworth Farms just over 80 miles away. In a video produced for the Coop, Zimmerman lays out his philosophy: "I don't like to think of myself as a buyer. I think of myself as a shopper. It's easy to teach how much, or even what to buy, but the real question is, why we are buying. Is it sustainable? Does it serve our members? Does it provide us with a good relationship?"
Member requests have been the foundation of the Coop's purchasing decisions, but Zimmerman also allowed curiosity to be his guide, and there can be a sense of discovery when shopping at the Coop. Zimmerman always made a point to seek out unique produce — his first original purchasing decision was a case of Ugli fruit, an at-the-time obscure citrus hybrid from Jamaica — and forge connections with unconventional suppliers.
For the store, that approach ensures a steady flow of top-grade products. It also creates a market for delicious, unusual, and ecologically grown food that exists simply because people want it to. "In a way, co-ops were like the home cook's version of a chef going to the farmers' market and buying what was in season," says Blue Hill chef and local-food activist Dan Barber — by magnifying the individual demands of thousands of members, co-ops like Park Slope have become a force that slowly, but surely, raised public awareness of the value of high-quality produce.
How did this tiny co-op become the most prominent food cooperative in the world? Choose your reason: They were in the right place at the right time to develop a progressive, food-loving membership. The neighborhood is dense enough to support a major operation. The rules, and their exacting enforcement, are designed to keep members invested at all levels. And leaders like Joe Holtz, Ann Herpel, and Allen Zimmerman were crazy enough to make this improbable place a reality.
None of this is easy to replicate, and as far as Holtz is concerned, there's no point in trying to reproduce the Coop's meteoric success in other places with different circumstances. Regardless, people try, and one telling detail of the Park Slope Coop's legacy is the number of food co-ops that emerged in its wake. Many didn't last long, as key members burned out and organizational structures fell apart — exactly the failing Park Slope's notoriously meticulous structure is designed to avoid — but others are thriving. In Brooklyn, that includes co-ops in Bay Ridge, Greenpoint, Bushwick, and Windsor Terrace. The Park Slope leadership has consulted with most of them, to say nothing of interested parties that come from as far as Montreal and Europe to study what makes the Coop tick. (La Louve, a kind of sister co-op to Park Slope, opened in Paris in 2016.)
The Bushwick Food Co-op launched in 2010 and opened a retail store on Porter Avenue in 2012. At 35 years old, Jen Wilkins — who grew up in Bushwick and now lives in Williamsburg — is four decades younger than most of the Park Slope Coop's original leadership, but as a co-chair of the Bushwick Food Co-op's governance committee, she's wrestling with the challenge of using her food cooperative to help reconcile Bushwick's divided communities, and build the neighborhood solidarity that allowed the Park Slope Food Coop to prosper.
Similar to Park Slope, which asks $25 in equity investment and a $5 membership fee for applicants receiving government assistance, instead of the standard $100 and $10, the Bushwick Food Co-op gives a no-questions-asked 50 percent discount for members with documented income-based aid. New parents can waive their work obligations for one year, and unlike in Park Slope, nonmembers can shop at the store at an 83 percent markup. "The money we make from nonmembers won't make us or break us," Wilkins says, "but if we're going to be a community organization, we want the entire community to have access to the services we provide."
The challenges her co-op faces on food access and collective action are different from the problems the Park Slope crew dealt with in the '70s: There may not be riots in the streets of Brooklyn, but there are complicated conversations about gentrification to consider, intersectional issues of racial and socioeconomic inequality, and massive social upheaval aided as much by new technology as it is by increasingly fractured thinking.
For Wilkins, the true challenge of her co-op is balancing the realities of the neighborhood with the conflicting desires of its members: "A lot of the members are gentrifiers, and some say, 'If we had members speaking Spanish in the store, we could grow our membership.' I explain that it's not about the language, but what we carry and in what quantities."
What's the future of food co-ops in New York when all the goalposts have moved? For Wilkins and her fellow members, a thriving cooperative won't be measured by its panache at picking the next kale, or New York Times write-ups on infamous membership meetings. It will succeed or fail by its power to rally neighbors and energize them to take care of each other.
Order Highbrow, Lowbrow, Brilliant, Despicable: 50 Years of New York, a celebratory book chronicling the magazine's history with powerful images and behind-the-scenes stories from staff and subjects.