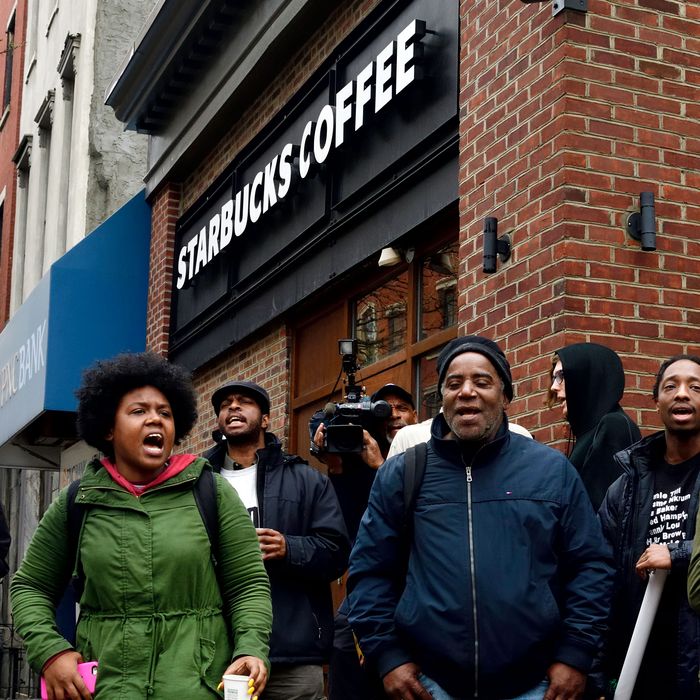 Protesters outside of Starbucks.
Photo: Bastiaan Slabbers/NurPhoto via Getty Images
The viral video of two black men getting arrested at a Philly Starbucks has understandably created an outpouring of anger. (Starbucks's own CEO Kevin Johnson also called it "reprehensible.") Philadelphia police commissioner Richard Ross has said the officers "did absolutely nothing wrong" and simply followed protocol in response to the store manager's 911 call. Late yesterday, the police department finally released audio of the actual call, so now you can decide for yourself.
The store manager's complaint is very to the point — her end of the call lasts about ten seconds. "Hi, I have two gentlemen in my café that are refusing to make a purchase or leave," she tells the operator, then proceeds to give the location's address. The operator responds, "All right, police will be out as soon as possible."
However, the department also released several minutes of communications between the dispatcher and responding officers, and in those, you hear the dispatcher ambiguously report that there's "a group of males" inside that location "causing a disturbance." (A Philly PD rep says the operator failed to specify in her notes how many men, likely leading the dispatcher to say "a group.") As the audio files show, patrolmen arrive at the store moments later, and within three minutes, one had called dispatch to request backup and a supervisor.
The two men who were arrested say they'd asked to use the bathroom while waiting on a third person to arrive, but employees told them the café's restrooms were for customers only. They went and sat at a table without making a purchase — not an unusual move, as any Starbucks-goer will attest, but grounds, the store thought, to be told to leave. When they say they can't because they're there for a meeting, the manager then calls 911.
No charges were ultimately filed, but the two men were reportedly held for multiple hours on trespassing charges, from late afternoon Thursday until 1:30 a.m. on Friday.