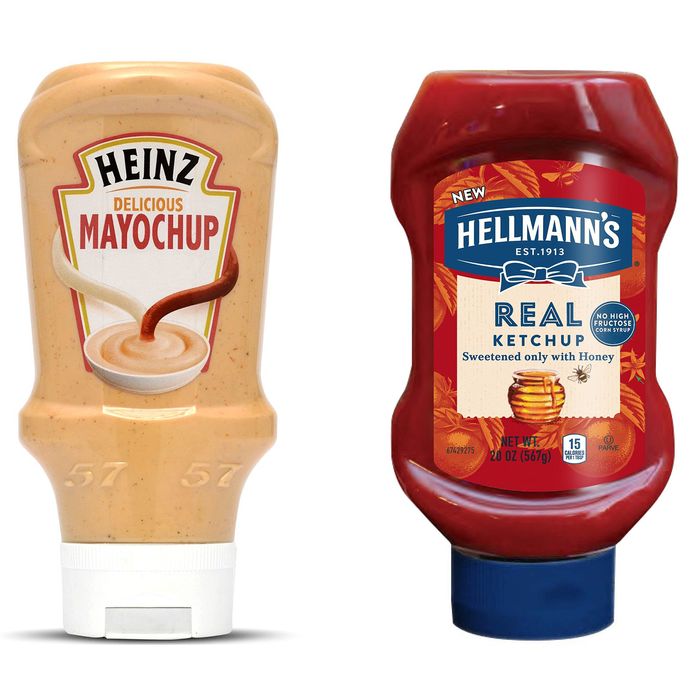 Two more bottles for the condiment aisle.
Photo: Heinz; Hellmann's
It is not even grilling season yet, but the country's reigning ketchup and mayonnaise titans are already going in for the condiment kill. Just last week, America's top mayo-maker Hellmann's declared that it had "reimagined" ketchup, of all things, by introducing a new product called "Real Ketchup." It contains only tomatoes, honey, vinegar, spices, onion powder, and salt, which is nothing if not a low-key, preservative-free, non-GMO swipe at Heinz. Hellmann's, in a press release, puts it like this (emphasis added): "Over time, food has continued to evolve, and it's time for ketchup to evolve too." The insinuation, of course, is that Hellmann's new, simpler ingredient list should make its ketchup the burger-topping choice for the modern tomato-paste connoisseur.
Yesterday, Heinz struck back — teasing something it's dubbed "mayochup":
Now, this isn't the first mayo-ketchup mix to get bottled and sold (not even for Heinz; it already sells a variation in the Middle East), but Americans sensed that something momentous had just occurred. Some loved the "beautiful squeeze bottle," while others considered this premade fry-sauce mash-up an abomination "from hell." The crux of the argument against premade mayochup is, of course, that it's something people have mixed at home for ages, and calling all sorts of names. Perhaps most famously, "fancy sauce":
Still, Heinz is being coy with its plans. In its press release pushing the hybrid sauce, Heinz teases the Twitter poll and asks, "Will Heinz Mayochup make its U.S. debut? Heinz lets America decide." And while that may be the case, Heinz probably didn't realize just what it'd started, as Heinz's hastily introduced mayochup has garnered lots of eye rolls from Latin Americans.
To Heinz's credit, it at least seems willing to adjust the product — or at least its name: